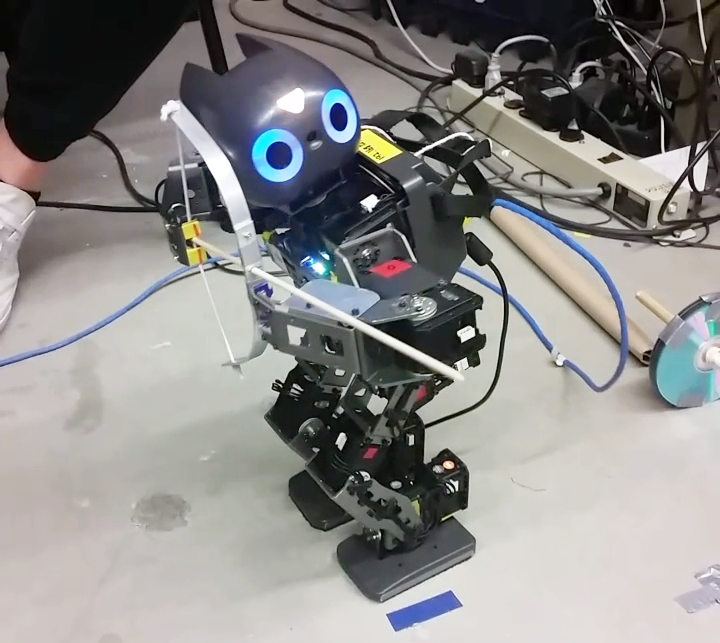 Bullseye! Robotics lab hits the mark at Taiwan 2017 HuroCup
September 7, 2017 —
The Autonomous Agents Laboratory in the University of Manitoba's Department of Computer Science won big at last month's FIRA HuroCup humanoid robot competition, walking away with three medals: two gold and one silver. Running from August 23rd to 27th, this world-class event was held in Kaohsiung, Taiwan and is a multi-sport contest for humanoid robots.
A broad range of events were highlighted, including feats of strength (weightlifting), speed (a sprint) and accuracy (basketball free throws). This year marked the debut of archery, in which the team did particularly well, competing with both kid- and adult-sized humanoids. Despite competition being much tougher, the team did better overall than previous years in terms of the individual event results.
As Professor John Anderson explains, "HuroCup was especially challenging this year, with many strong Taiwanese teams compared to previous years. The Autonomous Agents team came in fourth in Adult Size overall, setting a new record in the Teen Size long jump and taking gold in Small Size and silver in Large Size archery, a new event this year."
Although we humans might take for granted things like shooting a free throw, it is important to remember that such simple competencies took years for us to learn, with many failures along the way. Charging a single robot with learning an array of skills at once is a huge undertaking. Anderson says that once robots have mastered these talents, we will be able to get them to perform far more complex tasks, similar to humans.
Anderson continues:
"The point of all of these events is to serve as challenge problems to move humanoid robotics to the level of performance we see in ourselves. If we expect humanoid robots to perform in our world, helping around the house and office, they will need broad skills in motion planning, sensing, balance, and coordination beyond any one specialized task."
As with any major undertaking, many individuals contributed to the team's success.  Anderson is happy to give credit where credit is due.
"This is an enormous event that takes many people. Many thanks to all our student volunteers, without whom we would not have a team. In addition to myself, Jacky Baltes, and our Post-doctoral Fellow Meng Cheng (MC) Lau, many University of Manitoba students have been involved with this work," says Anderson, including computer science Ph.D. student Amir Hossenmemar  and the following undergraduate students:
Chi Fung (Andy) Lun,

Daryl Fung
Emanuel Wiens,
(Daniel) Wang,
Zheng Yu (Harry) Gu,
Kurt Palo,
Olayinka Basheer Adelakun,
Beom-Jin (Dylan) Park, and
Qiuting Gong (MITACS Globalink student).
In addition, the Autonomous Agents lab placed 3rd in the world at RoboCup 2017, a robot soccer competition, held this past July in Nagoya, Japan.
For more details, please visit the Autonomous Agents website.
Related stories:
Winnipeg Free Press – https://www.winnipegfreepress.com/local/universitys-robotics-team-ready-to-shoot-some-hoops-439356543.html
Metro Winnipeg – http://www.metronews.ca/news/winnipeg/2017/08/08/nothing-but-net-ai-developed-at-u-of-m-to-compete-in-international-robot-competition.html
CTV – http://www.mitacs.ca/en/newsroom/media-coverage/ctv-news-winnipeg-research-team-collaborates-international-students-compete
Global – https://www.mitacs.ca/en/newsroom/media-coverage/global-winnipeg-international-intern-developing-basketball-playing-robot