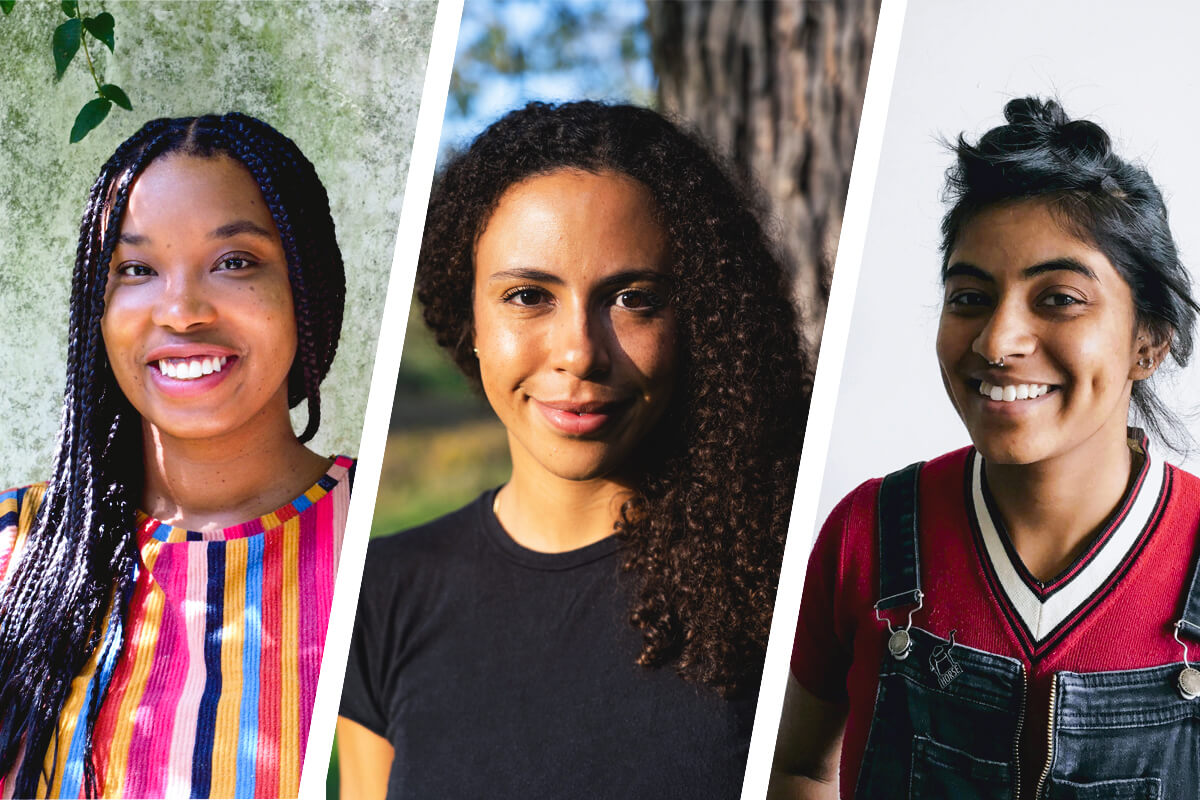 Building on their curatorial practice
Visiting curators exploring diverse perspectives at UM
September 22, 2022 —
In June 2021, the School of Art Gallery at the University of Manitoba launched its Visiting Curator Program. The Visiting Curator Program was designed to play a vital role in defining contemporary art and its attendant discourses in Western Canada and beyond.
Originally proposed and generously funded by Dr. Michael F.B. Nesbitt, a longtime supporter of arts in Winnipeg, and at the University of Manitoba, the program's intention is to raise the profile of the Gallery, the School of Art, the University of Manitoba and the city of Winnipeg. Through exhibitions, publications and ancillary programming that will radiate beyond the walls of the gallery and into surrounding communities, the program will broaden the reach and reputation of the School of Art Gallery through collaborations with other presentation venues.
The Visiting Curator Program will provide students, faculty, and other community members with meaningful opportunities to engage with curators charting new trajectories in the field, and through a significant mentorship component, will help to develop strong new voices in the field of art.
Grace Deveney, an internationally recognized curator and art historian, was chosen as the program's inaugural visiting curator. A former Assistant Curator at the Museum of Contemporary Art Chicago, Deveney recently worked as Associate Curator of the fifth iteration of Prospect, a New Orleans-based triennial, titled Prospect.5: Yesterday we said tomorrow (2021). She was recently appointed the David C. and Sarajean Ruttenberg Associate Curator of Photography and Media at the Art Institute of Chicago. We are delighted to announce that Deveney's exhibition, Open Structure, the first of three curated exhibitions, will open November 3, 2022 at the School of Art Gallery.
In addition to selecting a renowned visiting curator, the School of Art Gallery also selected two emerging curators – Shalaka Jadhav and Lillian O'Brien Davis – to receive mentorship from Deveney as all three research and present exhibitions, events and publications over the next two years.
Often exploring the relationship between landscape and language, Deveney's research explores how representations of the places we live in, and the language that is used to define our experience, are challenged or reconsidered by artists.
"When you're coming as a visitor to a space, it is important to listen and to engage with what you see," explains Deveney. "But you also have an outside perspective that shapes your impression of the place."
While travel complications related to the COVID-19 pandemic have impacted some of Deveney's travel to Winnipeg, she says she is finding other ways of connecting with the city through her art, curatorial practice and her role as a mentor.
"Something that I am keeping in mind as I organized the exhibition was finding ways to connect the artists with Winnipeg in ways that align with their practice," explains Deveney. "I would love for them to have an opportunity to go to Winnipeg and think through connections they might find between their work and the place. Obviously, that is not a substitute for lived experience in a place, and our impressions as visitors and tourists are always fleeting. But I think something that I found really rewarding with working in New Orleans was seeing how the impressions and residue from artist visits ended up adding to what they made for the show."
Originally trained in urban planning, emerging curator Shalaka Jadhav spent their childhood living between cities in India and Dubai before migrating to the Greater Toronto Area. As they continue exploring and building on their curatorial ethic, Jadhav is finding ways to incorporate their diverse work and education experience.
"Bringing together this role of facilitator, researcher and designer has been something I've been engaged with across my whole life," says Jadhav.
Jadhav says their work is guided by a walking methodology, carrying forward the work of their ancestors in tending for the land, and explores and dissects concepts of mobility, identity, connection and barriers to engagement.
"I'm really interested in this idea of who's allowed to engage with art," explains Jadhav. "I think of my family members who maybe don't feel they're allowed to engage with art, because it's distant. I'm learning more and more that my curatorial practice is about understanding that barrier for people. I really see art as a place that's free of the solution space. It's a place where you can dream and weave together things that maybe aren't physically or practically possible, and I think we really need those spaces more and more and they're disappearing from our lives."
An artist and writer based in Toronto, ON, emerging curator Lillian O'Brien Davis is the Curator of Exhibitions and Public Programs at Gallery 44 Centre for Contemporary Photography and has curated projects at Art Museum at the University of Toronto, Susan Hobbs Gallery, the Mackenzie Art Gallery, and the School of Art Gallery at the University of Manitoba. O'Brien Davis was motivated to apply to the Visiting Curator's Program because of the unique opportunity to work in professional settings while learning from established curators, discussing work with them and growing her own creative practice.
"This was an amazing opportunity to be able to talk about curating, learn how to evolve as a curator, and get more out of the work that I'm doing," says O'Brien Davis. "I think having [Grace] as a mentor has made this [experience] even better than I think either of us anticipated because it just feels like there's a lot of synchronicities in our interests."
O'Brien Davis, who is co-curating two exhibitions at the Mackenzie Art Gallery in Regina this year, characterizes her current art practice as one that is focused on learning and building relationships. She is fascinated with what she describes as "intuitive practices" and is exploring the relationships between spirituality, emotional intuition, class and power through her work.
"My research proposal for this program was interested in spiritualism and seances, specifically because of the Hamilton Archive at the University of Manitoba," explains O'Brien Davis. "I have a strong interest in intuition and how it appears in artist's practice."
As part of the Visiting Curator Program, Deveney, Jadhav and O'Brien Davis will also be crafting content that digs deeper into the process behind their School of Art exhibitions, exclusively for the online medium. Deveney says she is intrigued by the possibility of their research having a life online and expanding an audience's understanding of the scope of curatorial practices.
"The idea for that came from Blair [Fornwald] and I having conversations about how much curatorial work is kind of research and labor that doesn't end up on the walls. I think that we have an opportunity with this project to reveal as much as we'd like," says Deveney. "I'm always curious about how people engage with online components of exhibitions. I think that for some people, what is meaningful is what is on the walls and other people do want that deep dive behind the scenes. I am excited about us having the opportunity to figure it out."
Grace Deveney works as the David C and Sarah Jane Rutenberg Associate Curator of Photography and Media at the Art Institute of Chicago and is currently curating an exhibition for the School of Art in Fall/Winter 2022.
Lillian O'Brien Davis is currently co-curating two exhibitions with John Hampton at the Mackenzie Art Gallery in Regina: Pina: Why Is the Sky Blue? (Stephanie Comilang, Simon Speiser) which opened March 11, and Conceptions of White, which opens August 6. She is also curating an exhibition for the School of Art for the Spring of 2023.
Shalaka Jadhav is a freelance researcher and curator moving between the spaces of urban planning and service design. They are curating an exhibition for the School of Art, which opens in Fall/Winter 2023.