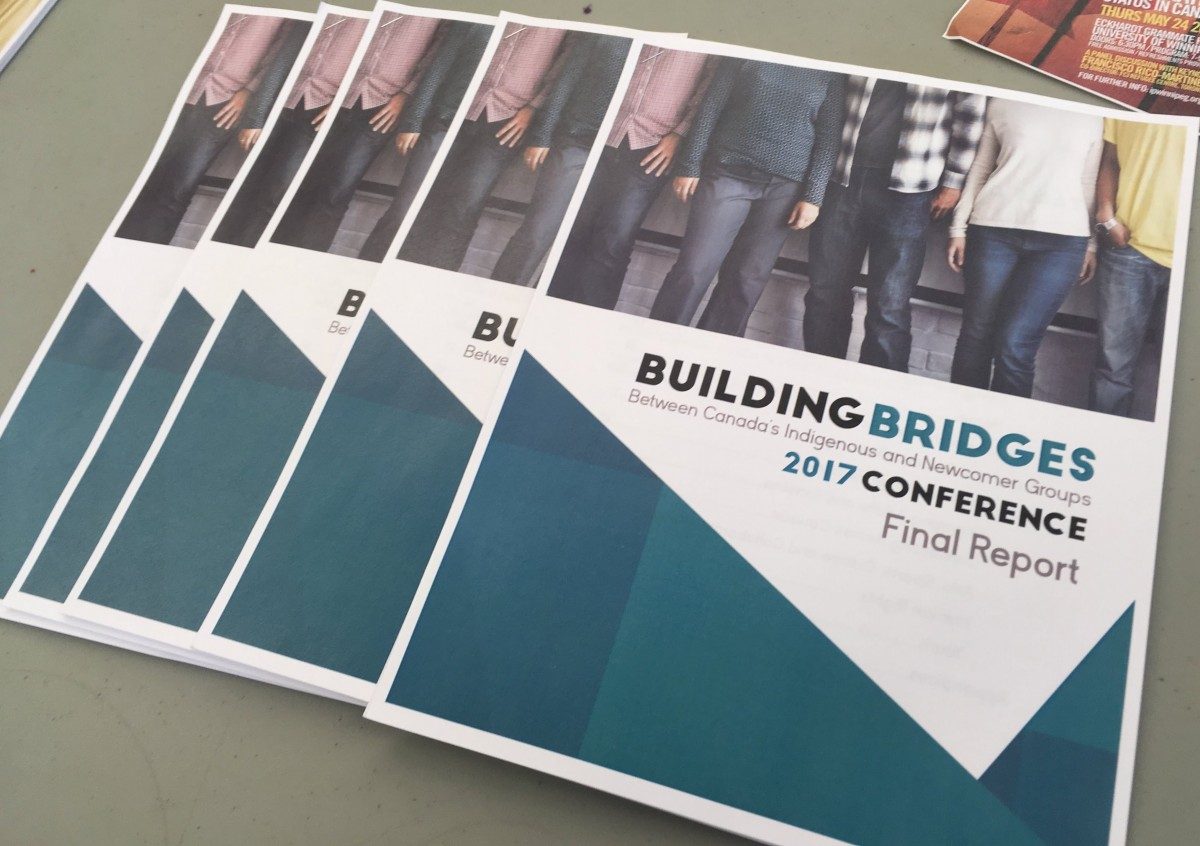 Building Bridges conference brings Indigenous and Newcomer communities together
May 17, 2018 —
Last year in May, 2017, a unique conference titled "Building Bridges Between Canada's Indigenous and Newcomer Groups" was held at Thunderbird House in Winnipeg. The event resulted from discussions on Canada's 150th and the conflicting senses of pride, frustration, pain and hope alongside the important work of welcoming and successfully settling newcomers to Canada; as well as the Truth and Reconciliation Commission's Calls to Action that mandated a more inclusive history of Indigenous experiences and the history of residential schools in the newcomer information kit, citizenship test and oath.
Robson Hall's Assistant Professor Shauna Labman led the conference organization on behalf of the Migration Law Research Cluster with support from Aimée Craft, then director of research for the National Centre for Truth and Reconciliation and Shereen Denetto, Interim Executive Director of the Immigrant and Refugee Community Organization of Manitoba (IRCOM).
Participants from all ages took part, who represented and worked with both newcomer and indigenous groups in Winnipeg and across Canada. Over the past year, the conference organizers created a report that compiles and offers reflections about what they heard, saw and experienced during the conference. The report was officially launched this past Friday, May 11th through a celebratory "Launch and Lunch" at IRCOM on Isabel Street in Winnipeg that included a Gallery Walk where participants could share "bridge building" initiatives. The conference's full report is available to read on the Robson Hall website.
Funding for the conference was received from the Legal Research Institute of the University of Manitoba, the University of Manitoba Conference Sponsorship Program and Robson Hall's Dean of Law. Volunteers from Robson Hall and IRCOM provided on-hand and note-taking support throughout the conference. Law students Danielle Morrison (2L) and Maddie Pearlman (3L) spearheaded the organization of the conference, report writing and report launch.
First-year law student Menal Al Fekih works at IRCOM and attended the conference last year. At the Report Launch she presented during the Gallery Work on her own bridge building initiative modeled on the conference design. Her summary is as follows:
On May 12th and May 13th of 2017, I attended the "Building Bridges Between Canada's Indigenous and Newcomer Groups" Conference at Thunderbird House as a volunteer from the Immigrant and Refugee Community Organization (IRCOM).
Feeling inspired by the gathering, I decided to "borrow" the idea of a building bridges conference, but to have it be an all youth affair. There has been a history of hostility between the two groups, especially among the youth, thus I hoped that such an event would be a positive step towards mutual understanding and respect.
I rallied ten youth leaders from IRCOM in September of 2017 and we began planning what would become the Building Bridges Youth Conference. On February 8th and February 9th of 2018, IRCOM hosted the event at our Isabel location and Freighthouse (a community centre across the street from one of IRCOM's buildings that is predominantly used by Indigenous and newcomer groups). Over the two days, forty youth aged 15-19 from IRCOM, Spence Neighbourhood Association, NEEDS and Ma Mawi Wi Chi Itata attended.
On the first day, we had an Elder share his knowledge with us and a couple of youth lead us through the blanket exercise. On the second day, we focused on the newcomer experience as we did a refugee experience simulation exercise, which was also facilitated by youth. Throughout the two-day event, a few of the youth shared their thoughts on what divides the two groups and what brings them together.
The gathering ended with a dance party where the youth connected over their shared love of rap/hip hop music, which can perhaps be used in future events to continue building bridges. In the end, the youth in attendance left feeling like they knew their neighbours a little better. Hopefully, we'll be able to secure more funding in the future to plan another Indigenous and newcomer youth gathering – only bigger and better!