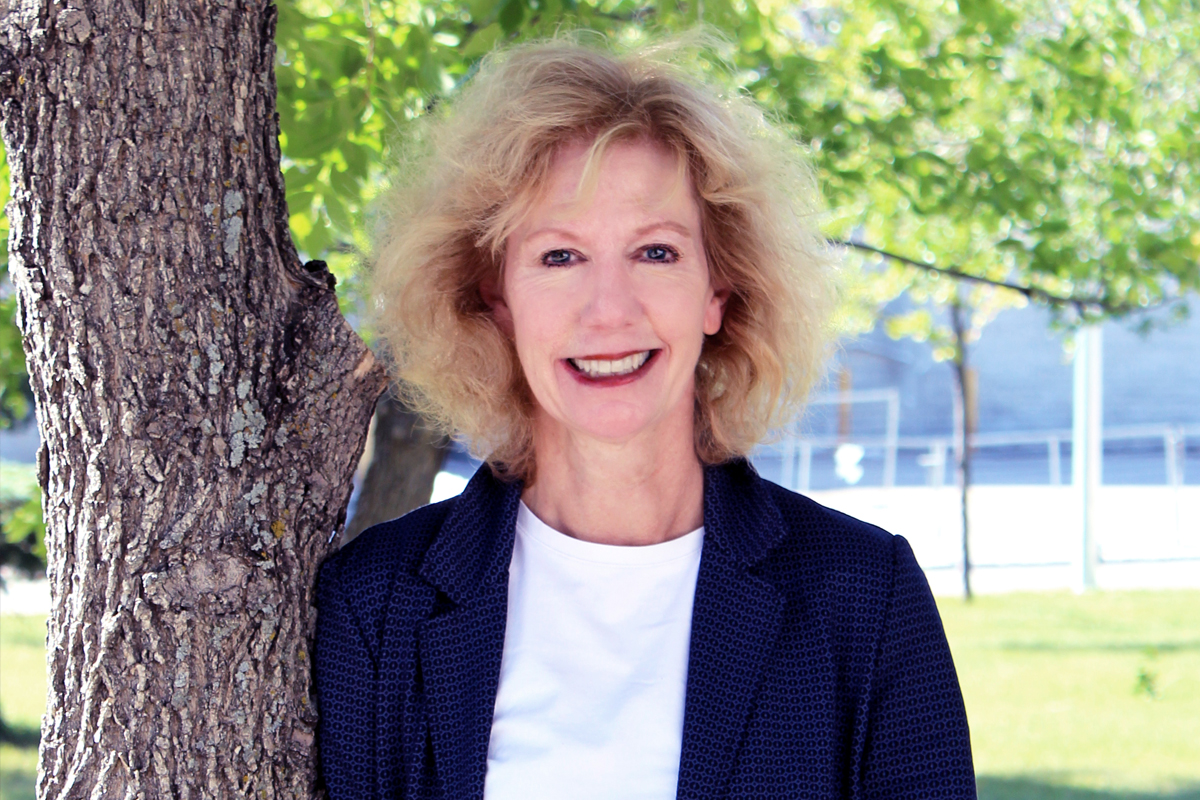 Building a 'community of learners'
Experiential learning is big part of this professor's visionary teaching practice
February 25, 2021 —
Kathy Levine's love for her subject matter and for her students is readily apparent.
"I really love people, so in the end that's kind of how you teach," says the associate professor who teaches in the Faculty of Social Work.
"I teach social workers [that you] really have to like people, because if you don't it's probably not a good fit," she laughs.
Levine has taught a foundational course in clinical and applied social work protocol in the faculty for 28 years. She estimates more than 1,500 students took the introductory courses with her.
In fact, when she approached the podium to address a recent conference of Manitoba school social workers, she had a startling realization — she recognized 90 percent of the crowd as her former students from almost three decades as a UM professor.
"It was just so good to see the students that have evolved into these amazing practitioners, all sitting in front of me," Levine says. She says the Yiddish expression—nachas—describes the special combination of pride and happiness she feels for these former students who've achieved such great things.
"It was really meaningful for me."
Levine started her UM career as a field instructor in The Pas, Man., providing practicum supervision for Indigenous child welfare workers. After completing her PhD in 2003, she continued to teach practice-based and family-focused social work courses, eventually becoming an associate professor in the faculty.
Children and adolescents have always been Levine's passion, including issues around mental health and child welfare, which are part of her current research.
In the disability community, she volunteers as the chairperson of Opportunities for Independence, an agency that works with cognitively impaired individuals who find themselves in conflict with the law.
Visionary practice as an educator
As a teacher, Levine places a high value on experiential learning.
"I've always infused my teaching with practice examples from my social work career, mostly my mistakes, which provide lots of learning. And I always bring my research into it," Levine says.
"I think at the post-secondary level, the critical difference is that we are bringing our applied practice and our research into our teaching so that it makes it real. It highlights some of the ethical dilemmas we encounter on a daily basis as social workers."
Levine also invites community leaders into her classroom to recruit student volunteers. First year students are eager for the real-world experiences these agencies and organizations can provide, she says.
Levine's visionary practice as an educator was recognized in 2020 when she received a Scholarship in Teaching and Learning (SOTL) funding award.
The award allowed her to create a cutting-edge, interdisciplinary course with colleagues from the Faculty of Education to develop a shared understanding of how kids can be supported within the child welfare system. The unique course is the first of its kind to bring together these two key professions of educators and social workers, she says.
A 'community of learners'
It's important to Levine to help build a community of learners.
"Our job is to learn from each other. [The] job for students is … to learn from each other and to connect with each other because, in practice, they will need each other. My teaching philosophy is we will all do better when everybody does better in this world. And so I think that's teaching a life philosophy."
Levine applauds the University for keeping classes small and promoting inclusion and cooperation between students. She says an attitude of care sets UM apart from other institutions where these goals are not always a priority.
"Just making yourself available to students is really critical. I love getting to know students. I love inviting students to share their personal experiences within the class setting," says Levine, who has been recognized for her consistently high student ratings.
Levine says she's proud of UM social work graduates who are now professionals in Manitoba as well as those who work outside the province.
"Students have gone off and done amazing things across the world," she adds.