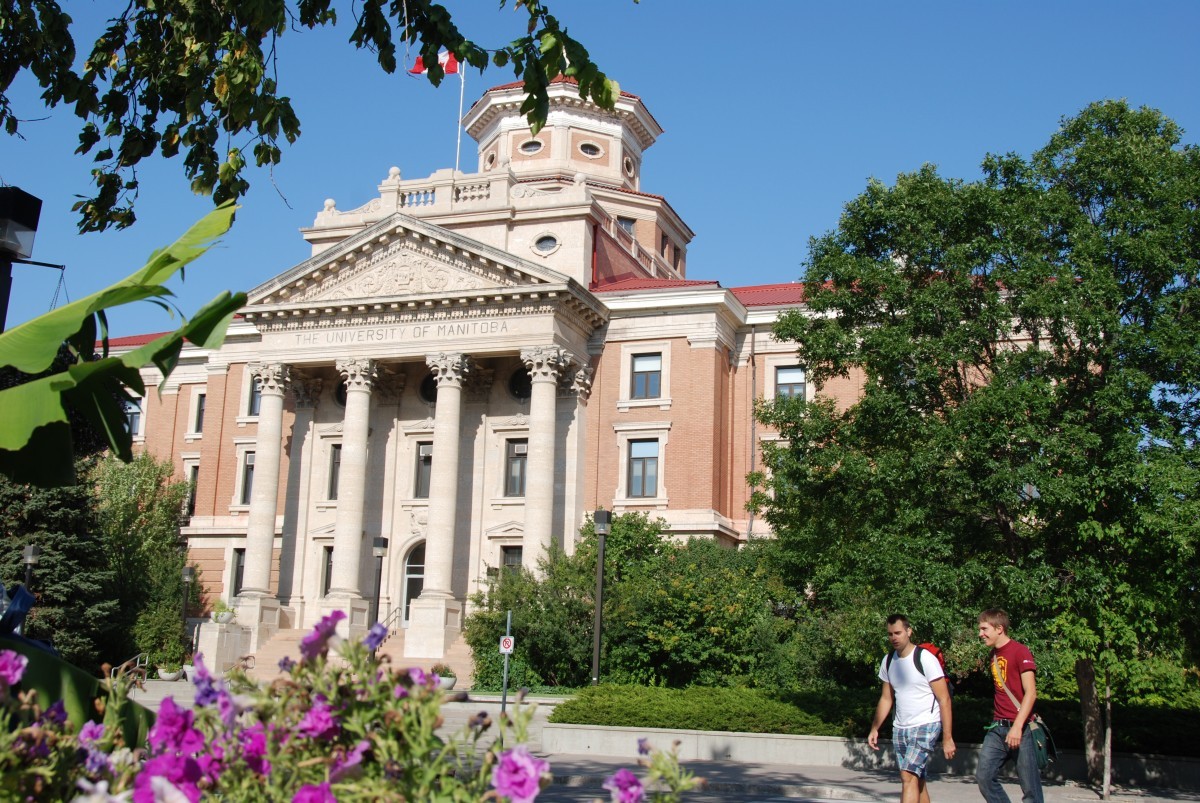 Budget focuses on enhancing student, academic success
May 19, 2015 —
The University of Manitoba's balanced budget, focused on enhancing the student experience and advancing the University's strategic priorities, was approved by the Board of Governors on May 19.
Overall, Budget 2015/16 makes more fiscal funds available than last year's budget. After incorporating feedback from extensive community consultations, Paul Kochan, Vice-President (Administration), tabled a budget allocating increased support for teaching services, libraries, and campus infrastructure upgrades.
Exceptional student experience
The University of Manitoba will continue to deliver an exceptional student experience. This is a budget priority. The University is increasing support to areas that will ensure more opportunities for students to learn, thrive and grow. It is investing over $22 million into strategic priorities, such as increasing student financial support ($2.3 million) and support for student research initiatives ($1.3 million).
The University is increasing funding to programs that train professors and instructors in innovative teaching methods. The University is also improving IT and security services, and enhancing the spaces within which students learn, study and play.
In accordance with the Province's guidelines on tuition increases, the University will increase tuition fees by 1.9 per cent to align with inflation. This increase will be effective in Fall Term, 2015. Even after this modest increase, tuition fees at the University of Manitoba will remain among the lowest in Canada.
In keeping pace with other jurisdictions across Canada, the University will increase the international graduate student differential fee multiplier from 2 to 2.2, effective Fall Term, 2015. Increases to the international undergraduate student differential fee surcharge will range from 10 to 18 per cent, effective Fall Term, 2015.
Undergraduate international differential rate increases, by program:
10 per cent increase: Faculties of Agricultural and Food Sciences (degree program), Social Work, College of Nursing
15 per cent increase: Faculties of Agricultural and Food Sciences (diploma program), Arts, Engineering, Human Ecology, Education, Architecture, Law, Kinesiology and Recreation Management, School of Art, Asper School of Business
18 per cent increase: Faculty of Science, Desaultels Faculty of Music, Clayton H. Riddell Faculty of Environment, Earth, and Resources
A portion of these fees will go to improving programs specific to international students, such as orientation, transition programs, summer bridge programs, cross-cultural counselling services, academic learning support for EAL students, and English language workshops.
The increased revenue from the international graduate differential surcharge will be allocated to scholarships and bursaries for international graduate students.
International student fees at the University of Manitoba remain some of the lowest in the Commonwealth. And graduates who stay to work in Manitoba are eligible for a 60 per cent tuition tax rebate of up to $25,000 CAD and may be eligible for priority assessment when applying for a Canadian Permanent Resident Visa – allowing international students to stay in Manitoba after graduation to live and work.
Unit Specific Allocations
In preparing the 2015/16 operating budget, the following unit-based needs were identified for special funding:
Mosaic Journal will receive a three-year commitment of funding. Year 1 allocation is $130,000, with Year 2 and 3 subject to reductions
Black Hole Theatre will receive $300,000 for upgrades
Chown Building Renovations will be supported with $1,800,000
Library Acquisitions: $500,000 will support the purchase of back-files
Allocations to Areas of Strategic Priority
Budget 2015/16 allocates an additional $22 million specifically to the "Taking our Place" strategic priorities:
Inspiring minds through innovation and quality teaching ($5,425,000)

Enhanced graduate student financial support
Enhanced international student financial support
Service teaching support
Classroom renewal
Driving discovery and insight through excellence in research, scholarly work and other creative activities ($1,250,000)

Research initiatives support
Undergraduate research awards
Creating pathways to Indigenous achievement ($250,000)

Indigenous scholarships (principally for Native Studies)
Indigenous community-based research
Building community that creates an outstanding learning and working environment ($15,271,314)

Approved information services technology project requirements
Teaching laboratory renewal fund
Space planning renovation and relocation projects
Preventative maintenance
Security enhancements – closed circuit TV, card access
Visionary (re)Generation support
Faculty Services Hub
This year's funding increase comes after the Government of Manitoba announced a 2.46 per cent increase ($8,184,000) in its operating grant to the University of Manitoba. After combining this renewed support with other revenues, the University is projected to have an additional $21,463,324 in increased revenue to put towards programs and services.
Despite this, the University still faces a budget shortfall. First claims (money that is first allocated to high-priority costs) on this $21-million sum total over $35 million, leaving the University with an operating baseline budget shortfall of $14,455,057. The University anticipated this and began consultations with units in spring 2014 to identify sustainable ways of reducing costs without sacrificing the integrity and breadth of our research and teaching services.
The largest first claim on available funding is faculty and staff salaries. In its commitment to attracting and retaining the best faculty and staff, the University negotiated competitive salary increases with the University of Manitoba Faculty Association (UMFA) and other unions. As a result, salaries are projected to increase by $12.7 million (74 per cent of which is in academic units) this year. In short, the cost of ensuring our students have access to the best professors is increasing.
"Although we welcome the increase in funding for the post-secondary education sector, all our costs, especially salaries, have increased," says President and Vice-Chancellor David T. Barnard. "The University and the unions arrived at this point together. We must continue to work with each other to ensure we remain a place where people engage in meaningful and fulfilling ways, making lasting, positive impacts in our communities."
To offset increasing costs and investments in strategic priorities, Budget 2015/16 requires, on average, baseline budget reductions of four per cent in faculties and units. The University has made efforts, where possible, to not make across-the-board reductions, but rather to reallocate funds, to the extent possible, to strategic priorities. To maintain excellence in teaching laboratories and classroom renewals, the University made investments in these areas a priority, with respective allocations of $6 million and $2.8 million.
To this end, the University used $2.1 million in baseline savings it accumulated through the academic position management process, using $900,000 to partially offset baseline budget reductions for academic units, and investing the remaining $1.2 million in the "Taking our Place" strategic priorities.
Financial Accountability and Commitment
This year's budgeting process began earlier than normal in order to accommodate numerous points of consultation, including, for example, the President's Town Hall held on the budget on January 21, 2015; senior administrators also met with student and union representatives on a number of occasions to solicit feedback and answer questions about the budget
The University of Manitoba is mandated to deliver a balanced budget in accordance with provincial legislation
The University of Manitoba is committed to being fiscally responsible and transparent
The University of Manitoba financial statements are prepared by professionals, in accordance with Canadian public sector accounting standards, and receive an unqualified audit report from the Auditor General of Manitoba
According to 2012/2013 Canadian Association of University Business Officers (CAUBO) comparative data, U of M administrative costs and external relations costs are in line with those of other U15 Canadian universities
The University pension plan has been managed so as not to be vulnerable to the extent of other university pension plans; in 2008 after the economic crash, the U of M was able to fulfill its pension plan obligations and continues to make it a priority to maintain the long-term sustainability of our plan
The U of M is committed to developing a process for determining and ensuring program sustainability