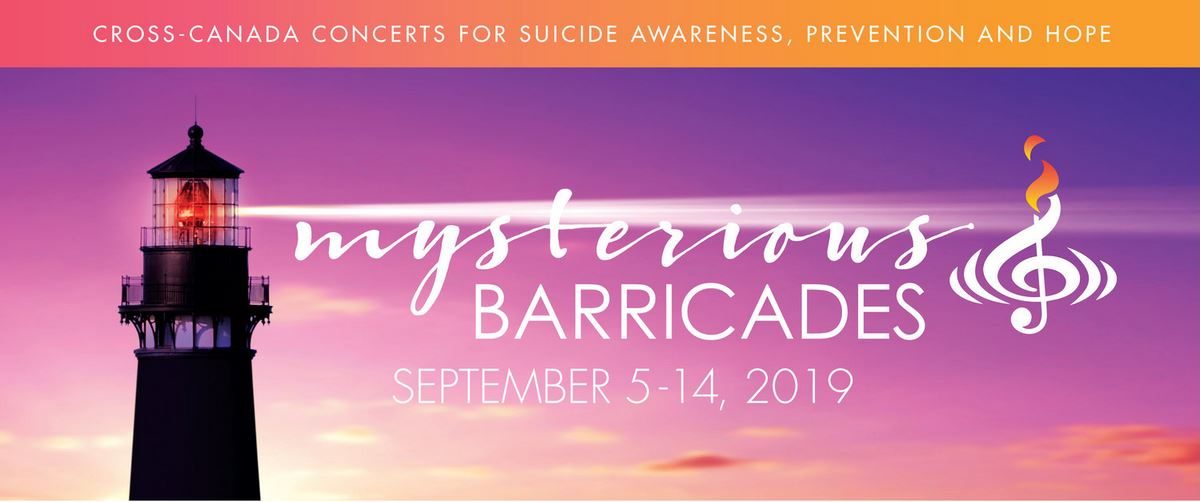 Bringing down barricades
Desautels Faculty of Music professors and alumni shine a light on mental health issues
September 5, 2019 —
There is very little in the world that can silence an opera singer, but on September 15, 2015, renowned opera singer Elizabeth Turnbull found herself at an unexpected coda: That day, her husband Chris Kubash died by suicide.
"It was very hard to talk about," Turnbull told Global News in an interview in 2016. "It's still hard to talk about. My husband was an amazing man… I think he was truly a genius."
Kubash had struggled with his mental health for years before he died as a result of depression. He suffered from stress and anxiety, though Turnbull says that he didn't show symptoms that many people associate with depression.
"He was always busy," she told Global News. "Even through his periods of stress and anxiety, he didn't stay in bed or get overly emotional about things – things you might stereotypically and perhaps incorrectly use to describe someone suffering from depression."
After the couple moved from Ottawa to Edmonton in 2009 for Turnbull's new job, Kubash, an engineer, tracked his mental health issues in a journal, improved his physical fitness and nutrition, and received medical help for his mental health issues.
"In spite of all of those efforts with him and his doctors, like any other illness that you fight with everything at your disposal, the illness took him," said Turnbull.
An end and a beginning
It would be understandable if her husband's death caused Turnbull to turn inward, retreated from life, or refrained from talking about the way her husband died. Grief is a powerful force, and it can be difficult to do little else but grieve when we lose a loved one. However, as her friends and peers in the music community reached out to offer solace, care, and help, Turnbull began to see a way to draw attention to the often stigmatized issues of mental illness and suicide. With scores of musicians ready to assist her, Turnbull saw what they could do.
She would create a concert for her husband. She called it Mysterious Barricades.
And Mysterious Barricades would not be just any concert. It would be a single, free concert composed of thirteen individual concerts that spanned Canada, called Mysterious Barricades. The inaugural concert was held on September 10, 2016, World Suicide Prevention Day, which, sadly, closely corresponded with the first anniversary of Kubash's death. The concert was designed so that, as a concert in one city ended, a concert in the next city would begin. The first, live-streamed concert began in St. John's, Newfoundland at sunrise, and that last note of the final concert was played in Victoria, British Columbia at sunset. It was, ultimately, an 18-hour concert that carried a torch across Canada to shine a light on the horrors of depression, show people that we are not alone in our battles, and remind us that people want to help.
"I want people at risk of suicide to know how much their lives matter, and that we as a country and a community wish for the stigma of mental illness to become a thing of the past," Turnbull says. "More and more, people are coming forward with their personal struggles and this is exactly what needs to happen. People need to feel safe in talking about their mental health and encouraged to seek help."
"Our hope is that fewer people will suffer in silence, more resources will be dedicated to preventing suicide, and, ultimately, fewer people will die this way," she adds.
The band plays on
Mysterious Barricades is now in its fourth year, with the Winnipeg leg of the concert hosted by Desautels Faculty of Music associate professor Laura Loewen.
Laura is a friend of Turnbull's, and remembers how the music community originally came together to support her and remember Kubash.
"The opera community in Canada is an incredibly nurturing environment. As musicians tour, they regularly stay in the homes of their peers, and friendship and close quarters turn us into family," says Loewen.
"When Chris died, we all wanted to help Beth, and wanted to find a way to help lift up and celebrate his life," she says. "He was an amazing man – a woodworker, a lover of music, and a wonderful friend to many, many people."
Loewen has been involved with Mysterious Barricades since its inception, and was delighted to put together the programme for this year's concert.
The program
Mysterious Barricades – Winnipeg will be held on September 14, 2019 on the University of Manitoba Fort Garry Campus at 3:30pm, in the Tache Arts Complex's Vocal Arts Room, (T2-266). The concert is free, and space can be reserved HERE. Many Desautels faculty members, instructors, and alumni will be featured, including Tracy Dahl (soprano), Monica Huisman (soprano), Mel Braun (baritone), James McLennan (tenor), Victoria Sparks (percussion), Oleg Pokhanovski (violin), Laura Loewen (piano), Richard Gillis (trumpet), Steve Dyer (trombone), Judith Kehler-Siebert (piano, Elizabeth Hoyt-Surdhar (mezzo-soprano), Karly Epp (jazz vocals), Karl Kohut (bass), and Darryl Friesen (piano). Winnipeg musicians Lara Ciekiewicz (soprano), Rosemarie van der Hooft (mezzo-soprano), and Anne Christopherson (soprano) will also perform, with textile art by Cathie Ugrin displayed in the performance space.
The performers
Desautels voice instructor Jamie McLennan said he chose to get involved in the concert because of his concern for the growing number of stressors that today's students face.
"Studies show that suicide is a growing concern among university students today, due to the pressures they face from increased financial burdens, the environmental crisis, and an uncertain job market," McLennan says.
"You are not alone," he adds. "There are resources on and off campus to help you, and while mental health issues are common, you don't have to suffer in silence. Depressive feelings can tend to feel more 'real' and 'true' than positive feelings, but being aware of this can help you take the first step in dealing with depression – reaching out!"
McLennan will be performing "Not While I'm Around," from Stephen Sondheim's Sweeney Todd: the Demon Barber of Fleet Street.
"It's a song that speaks to the importance of stepping up and being there for friends in need," says McLennan of his reason for his choice of song for the concert.
"Sadly, [depression and suicide] are issues that many people have personal experiences with, whether it's a family member, friend or colleague," says Desautels alumna Elizabeth Hoyt-Surdhar.
This past summer, Hoyt-Surdhar played Dido in the Manitoba Underground Opera's production of Dido & Aeneas, an opera that deals with issues of suicide.
"It was humbling to hear how many people in the cast had been affected by [suicide and depression], she says.
"You are not alone," says Hoyt-Surdhar, of what she wants students facing depression and thoughts of suicide to know.
"There are people who want to help. There are valuable [campus] resources available."
Hoyt-Surdhar's piece for the concert will be "Facing Forward," by Jake Heggie, a duet she is performing with Desautels instructor Tracy Dahl.
"I chose this song because it is healing for both the person dealing with mental health issues and the person who is the caregiver for that person," says Dahl.
"Although the piece is meant to be mother and daughter there are times when I think that the mother was also a daughter and that circle of love and caring never ends," she adds. "We want people to be free of their mental illness. Maybe the message is simplistic but it seemed to be that it spoke to both those who suffer and those who care for them."
"I believe that sometimes our role as artists is to support someone else in the way that they have asked for support," says Desautels percussion instructor Victoria Sparks, who also will be performing with Dahl.
"I think that sometimes my job as an artist and a human to always be the person who says 'what do you need from me and how can I support you?'" she adds.
"I want all of the people in my life to know that if there is something that I can do to help them or support them, all they have to do is let me know, and I will do what I can to help fill that need," says Sparks. "Sometimes it's having a cup of coffee together or lending an ear. And sometimes, like in the case of Mysterious Barricades, it's giving a performance. I'm just happy to be able to give where I am asked to give."
Dahl and Sparks will be performing Memories, part 2 by New Rosauro and Katie Johnson.
"Tracy and I have wanted to work together and this piece, for marimba and voice, has a sweet message of memory being a place you go to remember times of joy and love, to help you get through difficult times," says Sparks.
"Suicide and mental health awareness are important because people are important," says Desautels Professor Richard Gillis (trumpet), who will be performing with Desautels instructor Steve Dyer (trombone)."Everyone has something valuable to contibute to community. It's not always readily apparent what that 'something' is, and this can lead to discouragement."
"Everyone needs hope, faith, and patience – in ourselves and others – and we all need personal connections and opportunities to communicate,"he added.
For this year's concert, Gillis selected the song "Duologue," which is composed for trumpet and trombone.
"It's features sections that are in unison, in harmony, dissonant, transparent, and rhythmically unpredictable – just like any good relationship," he said of his reason for choosing the piece for this concert.
The textile art from Cathie Ugrin's 2018 solo exhibition "Feeling from Without and Within," will be displayed at the concert. The quilted pieces all depict various emotional states and feelings like sadness, identity, friendship, sadness, isolation, faith and hope. The pieces are all drawn from her own life experiences.
"When I was spending time with and thinking about fear, all I saw in my mind's eye was overwhelming huge drippy blobs of blue," she said in her artist's statement about her piece FEAR: Without. "According to the experts, blue is the colour of depression, which is as terrifyingly familiar to me as the illness I watched both my mom and grandmother struggle with for years. Maybe it's not a coincidence that, for me, the colour of depression and that of fear are identical."
"'Music is what feelings sound like.' This has always been my mantra," says Desautels voice instructor Monica Huisman, who will also be performing at Mysterious Barricades – Winnipeg.
"We all struggle with challenging moments, seasons or lifetimes. Moments we don't see coming, and ones we know we have to face," she adds. "We all travel different journeys and only live in our body and mind. Living up to expectations can be challenging, whether from others or our own. Music allows me the vehicle through which I can transport myself and others, somewhat magically, to an understanding where words can fail, yet feelings are informed. Music heals. Period. Music can change you, and hopefully in turn it can change the circumstances surrounding you."
The University of Manitoba is here to help
"It is great to see so many talented members of our musical community dedicating themselves to raise awareness about mental health issues by bringing people together through their performances," says Don Stewart, University of Manitoba's executive director of Student Support, of the concert.
"We know early interventions are the most effective, so we encourage students who are experiencing difficulties to reach out at an early stage – either to their friends and family or, when that isn't enough, to consider the many resources we have on campus to help students," he adds.
Stewart says that the University of Manitoba offers an array of mental health resources for students who require additional support. These include peer health educators in the Healthy U program, health and wellness consultations, spiritual care services, crisis support, and professional counselling at the Student Counselling Centre or through Student Services at Bannatyne Campus.
New for this year, the Student Counselling Centre is offering a front-line service that includes intake and triage specialists who can evaluate students' needs and direct them to the most appropriate services. This service is an excellent resource for students who are exploring mental health assistance for the first time, and don't know where to start.
"We hope this new approach will increase initial accessibility and ensure that we are able to provide the best possible care to as many students as possible," says Stewart.
For University of Manitoba faculty and staff who are seeking mental health services, the University of Manitoba offers the Employee Wellness Assistance Program.
"All UM staff and faculty are encouraged to access the Employee Family Assistance Program, which provides free, confidential, 24/7 mental health and wellness supports, at www.workhealthlife.com or 1-800-387-4765," says Arlana Vadnais, the university's employee wellness specialist and campus mental health facilitator.
This service provides a range of services and immediate, confidential help for the employee and all members of the employee's family. Services include finding child and elder care, managing relationships, legal advice, help for workplace challenges, addiction counseling, nutrition services, and much more.
Mysterious Barricades – Winnipeg will be held on September 14, 2019 on the University of Manitoba Fort Garry Campus at 3:30pm, in the Tache Arts Complex's Vocal Arts Room, (T2-266). FREE tickets for the concert can be reserved at Mysterious Barricades. Please allow extra time for travel to the concert, as there is construction on University Crescent. Please consider traveling to the Tache Arts Complex via Dysart Road (off of University Crescent) to avoid the construction.