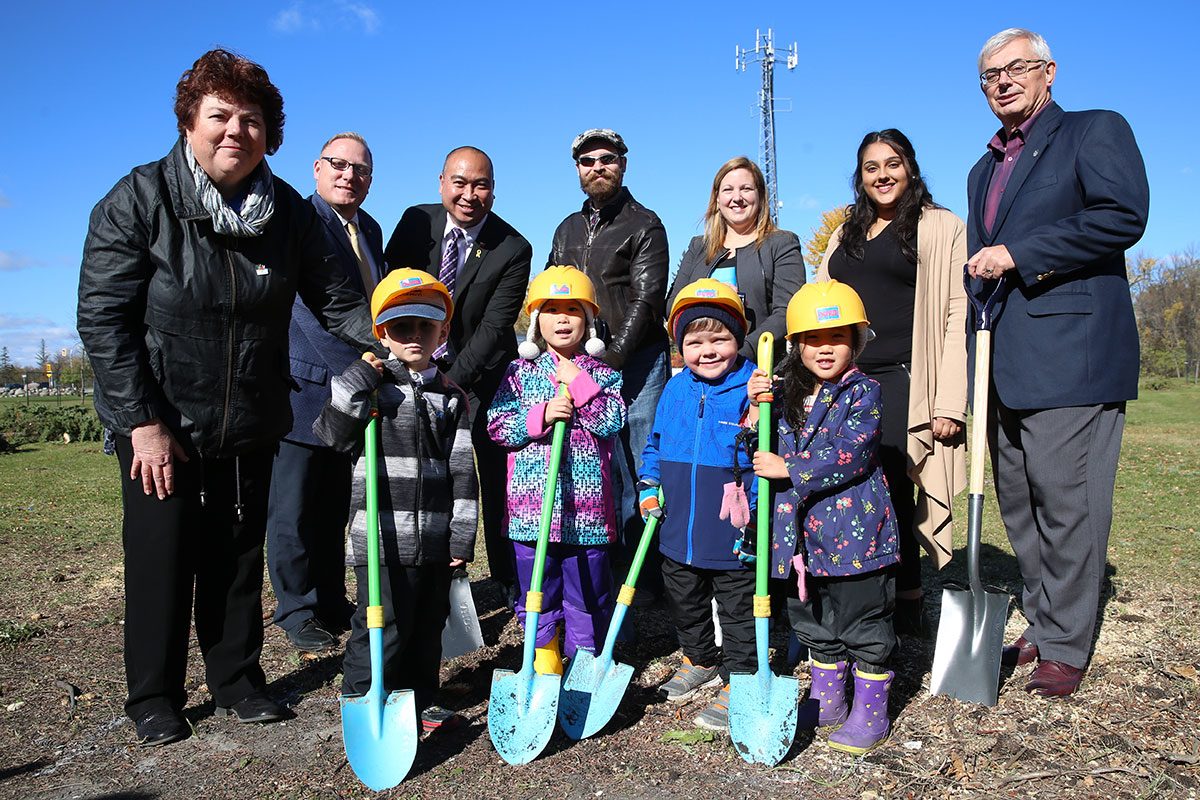 Breaking new day care ground
'This is really a dream come true'
October 5, 2017 —
The University of Manitoba officially began construction of the Campus Day Care Centre expansion at a groundbreaking ceremony on Oct. 5. When complete, the day care will have up to 52 new childcare spaces and new programming that will advance reconciliation. This expansion is possible in part thanks to gifts to the university's Front and Centre campaign.
"This is really a dream come true to have extra spaces and a gym for those students to play in on days where it's too cold, too hot or there are too many wasps for students to be outside," said Dawn Montebruno, the Director of Campus Day Care Centre Inc.
Turning the soil to start this important initiative were Manitoba Minister for Families Scott Fielding, U of M's President and Vice-Chancellor David Barnard, Vice-Provost (Students) Susan Gottheil, University of Manitoba Students' Union (UMSU) president Tanjit Nagra, University of Manitoba Graduate Students' Association (UMGSA) president Carl Neumann, and Dawn Montebruno, the Director of Campus Day Care Centre Inc.
"The Manitoba government is proud to be a funding partner in the University of Manitoba Campus Day Care Centre and we are excited to watch the centre take shape," said Minister Fielding. "This project supports our province's goal of modernizing the child-care system Manitobans rely on while creating up to 52 new spaces for children."
Indigenous students will have priority access to the new spaces this expansion will create. Campus Day Care will also develop new programming that weaves traditional teachings into the day care's curriculum, preparing the next generation to continue the process of reconciliation, which is a core value of the University of Manitoba.
"Greater access to childcare on campus is a need that we have heard expressed directly from members of our student body. We know that providing affordable childcare is critical to helping our students succeed. This was the reason we launched the university's Childcare Initiative in 2013," says Gottheil, who is also co-chair of the Childcare Initiative. "Thank you to the Province for providing capital funding for this project, and to our student leaders who have listened to their constituents and acted to support student parents."
The University of Manitoba has identified childcare as an important component in supporting its institutional priorities of offering an exceptional student experience, promoting Indigenous achievement, and creating an outstanding workplace.
"Students are proud to be supporting the expansion of the childcare centre. We are happy to have more services for student parents available to enhance their experience on our campus by breaking down some of the barriers they may face when looking for affordable and convenient childcare options," said Nagra.
"Much of the groundwork was laid by my predecessors, including Jeremiah Kopp and his executive," she said. "I'm very glad that undergrad and Indigenous students will be given priority, helping to make our campus diverse and inclusive."
The current UMGSA president also thanked his predecessors.
"It makes a difference having affordable and accessible childcare available right here on campus," Neumann said. "Thank you to my predecessors, especially Kristjan Mann. We have made a significant contribution and know it will make a significant difference to students."
This project received $600,000 of capital funding from the Province of Manitoba. And through the Front and Centre campaign, UMGSA provided $300,000 and UMSU gave $2.4 million.
About the Childcare Initiative
The Childcare Initiative is the second phase of a project that began with a 2013 report prepared by a childcare working group comprised of students, staff and faculty at the University of Manitoba. In response to the report, the University committed to creating childcare options to support students, staff and faculty. A consultant was hired in 2014 to study child care at U15 (peer) institutions, review business models for delivering child care services, assess possibilities for the University of Manitoba and make recommendations for action. With support from partners like the Government of Manitoba the University of Manitoba Graduate Students' Association and the University of Manitoba Students' Union, the U of M is moving forward on implementing the recommendations of experts and our community members.