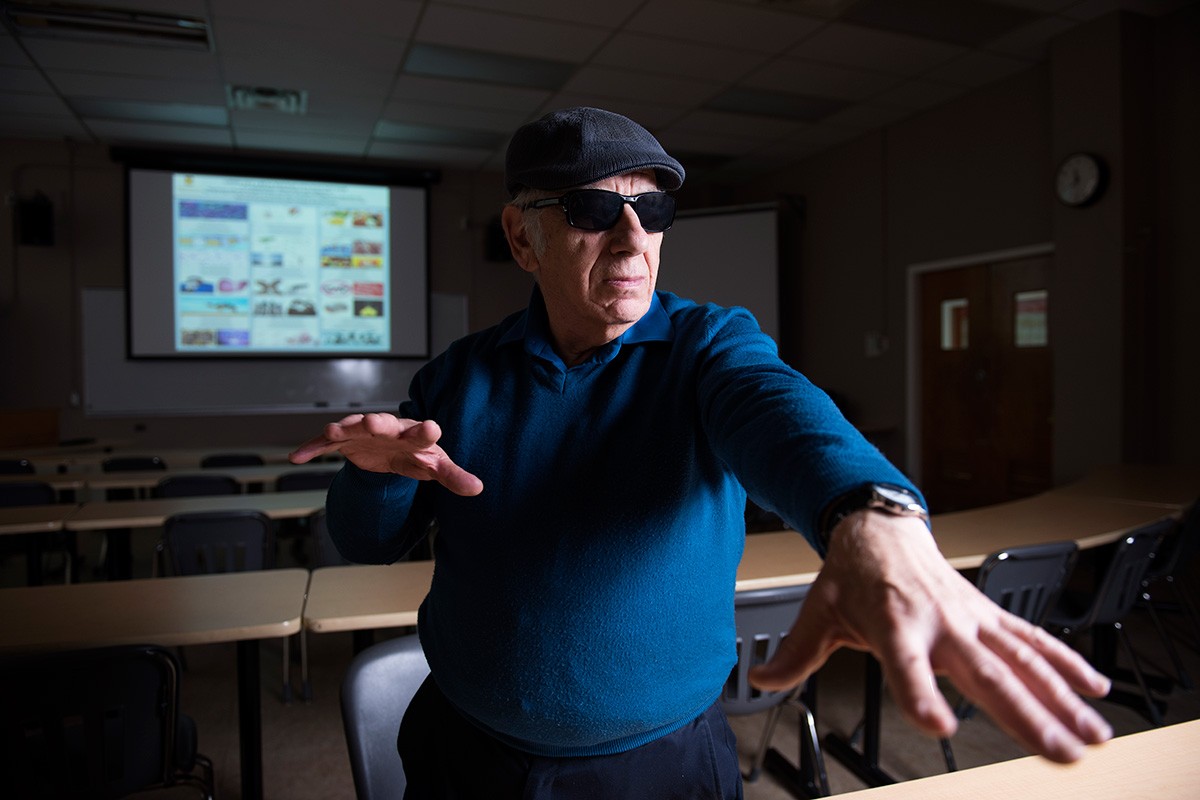 Breaking it Down
The professor who puts the phat in fats
April 18, 2016 —
When Michael Eskin wants to make a point about his favourite subject, lectures, overhead projectors and handouts aren't enough.
Like Eminem, Snoop Dogg and Ice-T, the University of Manitoba nutrition chemistry professor breaks into rap. Eskin's masterpiece? A little ditty called Lipids Get a Real Bad Rap.
Not only does the professor and researcher rap for his students a cappella, he has a beat-heavy music video to accompany his song. It features graphics, special effects—and the 74-year-old grandfather's formidable dance moves.
"My son did the music and we recorded it…. It was quite a hit," says Eskin, a YouTube star.
His fans include students and colleagues at the U of M and around the world.
"Cholesterol, cholesterol gets all that bad attention. Without you there would be no lipid digestion. They are needed in the bile to emulsify the fats so the body gets all those polyunsaturates," chants Eskin in his English accent while wearing a wool cap.
Later in the song: "Cholesterol, cholesterol we need you real bad. Without you we wouldn't be a mom or dad. You make those sex hor­mones we can't do without so civilization continues when we seniors all die out."
Eskin's goal? To simplify complex nutrition chemistry concepts and make them fun for his students. "Science can be very dull…. You almost have to be a bit of an entertainer," says Eskin, a professor in the department of human nutritional sciences.
He is thrilled when his students get a kick out of his humorous classroom quips. The professor's office, located on the fourth floor of the Human Ecology Building, is lined with nutrition books and packed with piles of papers, many of which are nutrition-themed cartoons—and one-liners that he might deliver in class.
"The omelet trap: to eat or not to eat," he recites, in a Shakes-pearean tone.
"Then there was another one which was called 'Is this a hot dog I see before me?'"
Eskin grew up in Second World War Birmingham, England. (He says rationing was commonplace.) His father, who immigrated to England from Russia, was a cantor. His mother was a teacher. Teach­ing is a family tradition; one of his three sisters is a teacher as are his two sons.
Eskin graduated with a biochemistry doctorate from the Univer-sity of Birmingham and eventually went on to teach in London. That's when he saw an advertisement for a position at the U of M. "I applied for the job. The dean of the faculty came to London and interviewed me. Before I knew it, I was on the plane to Winnipeg. I had never heard of Winnipeg before," he says. Four decades later, Eskin is happy to call the city his home.
Why his fascination with food chemistry? "I really like to know what is going on beyond the superficial level," says the professor, who has spent years researching canola oil. He was one of the first to measure its shelf life and explore its capability to lower blood cholesterol. He is also co-editor of the journal, Lipid Technology, and has written 13 books, including one that is considered a classic food biochemistry text.
He discovered his love for rapping a few years ago when he recorded Passover Rap in his kitchen. It's a song he created to entertain and educate Jewish kids with learning disabilities. The rap number is on his CD, Mostly Genesis with A Little Exodus.
Writing lyrics comes easily for Eskin who wrote the draft for his lipids rap in under two hours. Perhaps it's his musi­cal education; he's a classically trained singer who studied at the Birmingham School of Music. The award-winning chemist even wrote a spot for Sesame Street 15 years ago.
He says an attention-getting first sentence is the key to any rap song. "In any of [my raps], the open­ing statement is really crucial."
What's next for Eskin? A rap on saturated fatty acids—a once villainized substance he says scientists are touting as beneficial to health. He says while folk and classical are his favourite, he has a certain respect for rappers and their music.
"I listen to some. I mean it is a sort of poetry really. Much of that, particularly, [is] very much about protest and about inequity and frustration that unfortunately is in society," says Eskin.
While his lipid rap isn't exactly a protest about social injustice, he says it is intended to de-stigmatize the bad reputation some nutrition experts—and governments— have given dietary fats.
"They were so paranoid about lipids. [Yet] they never had such obesity ever."