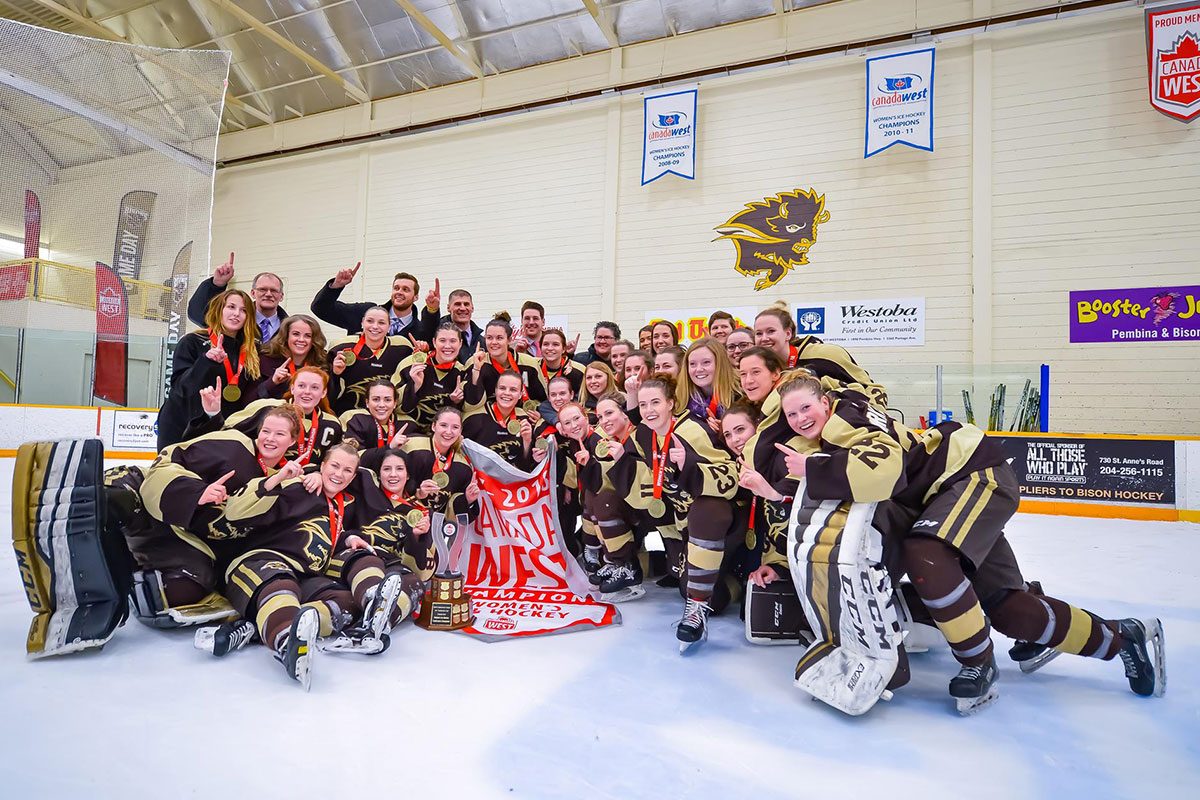 Bisons win Canada West Championship, next stop: Nationals
March 5, 2018 —
In front of a packed house at the Wayne Fleming Arena on March 3, the number one ranked Bison women's hockey team captured the Canada West Championship for the third time in program history and for the first time on home ice.
Following an epic conference semi-final the week before, the herd held their composure going into the weekend series defeating the Saskatchewan Huskies 2-0 in the best-of-three with a 1-0 overtime win on Friday and a commanding 5-2 victory on Saturday.
"I am so happy right now, I can't even describe it. I am just overwhelmed with joy right now," said Bisons fifth-year captain Caitlin Fyten right after the game.
It's been seven years since the last Canada West title for the women's program taking it on the road against the University of Alberta Pandas in 2011 and before that in 2009.
Bison women's hockey head coach Jon Rempel, named 2017-18 Canada West Coach of the Year last week reflected on the win.
"To do it at home finally is so special for this group. It's been a long time since we have had one, and all the hard work for the last four or five years for this group paid off," said Rempel.
Peppered with veterans who have been the core of the team for the past four and five years, this Bison squad is ready, focused and determined to make their mark at the National tournament.
The team has a bye week to prepare for the U SPORTS Women's Hockey Championship being held this year at Western University from March 15-18.
Rankings from the tournament will be released in the coming weekend but the Bisons will expect to play their quarter-final game on either Thursday, March 15 or Friday, March 16. Full details for the tournament are available on the tournament website.