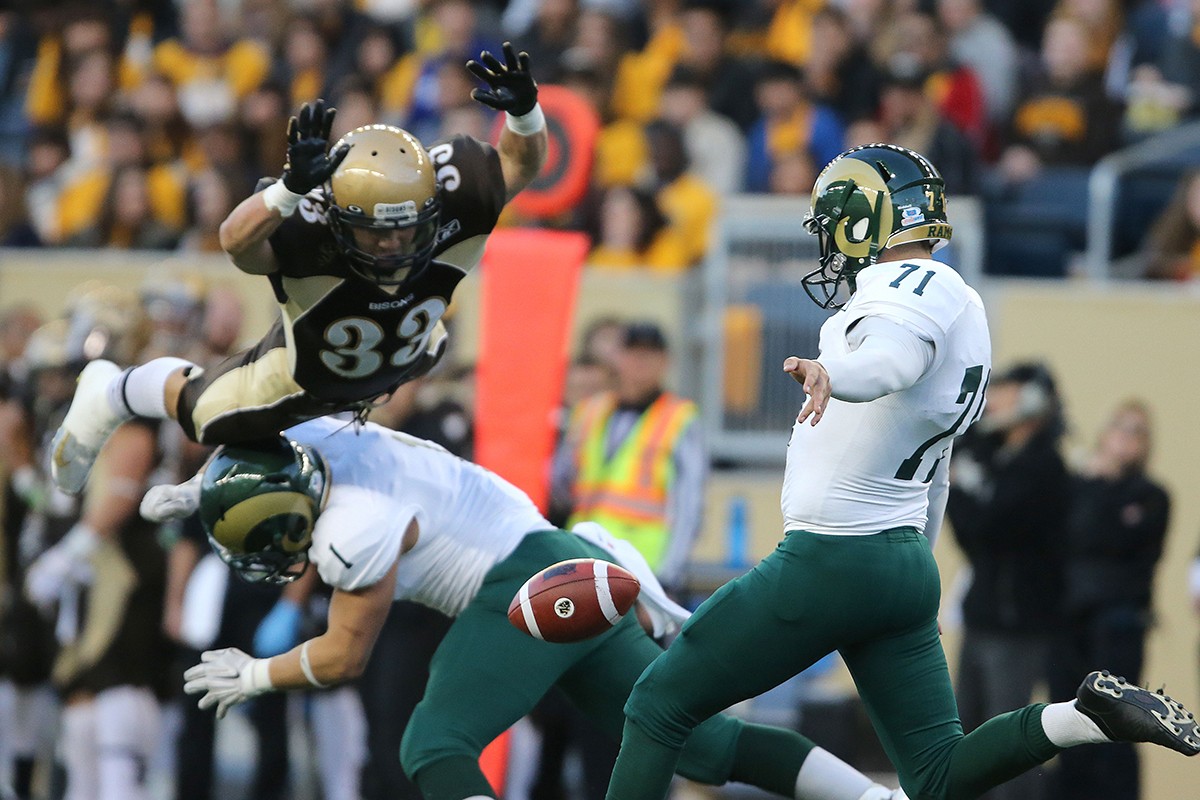 Bisons trample Rams in home opener
42-18 win brings Manitoba's season record to 1-1
September 15, 2014 —
Quarterback Jordan Yantz was a major factor as he rushed for two touchdowns and passed for two more scores as the Manitoba Bisons trampled the Regina Rams 42-18 on Friday night at Investors Group Field. The home win brings the Bisons season record to 1-1.
After a slow start, the Bisons took control in the second quarter with three consecutive touchdowns. Alex Christie got the home team going by blocking a Regina punt attempt, which led to a one-yard rushing touchdown by running back Kienan LaFrance. Shortly after the score by LaFrance, Bisons' linebacker Jonathan Jones intercepted a pass and scampered 52 yards for a touchdown. Manitoba closed out the second half with a four yard rushing touchdown by Jordan Yantz, putting the home team ahead 27-2 at halftime.
The domination continued as Manitoba put up two more touchdowns in the third quarter (a 26 yard pass to Nic Demski and an eight yard run by Jordan Yantz) before Regina could come up with an answer. The Rams finally got on the board with a 47 yard touchdown pass to close out the third quarter. At that point it was too late for a Regina comeback; the Bisons held their own to finish the game by a score of 42-18.
The Manitoba Bisons will take only a moment to enjoy the win before they get to work preparing for their next match-up. The Bisons host the UBC Thunderbirds this Saturday, September 20 for their annual homecoming game. Kick-off for Saturday's contest is 2:00 p.m. Tickets are only $8 for students and $15 for adults, available at Ticketmaster.ca.
Find more Bisons stories and information at www.gobisons.ca.