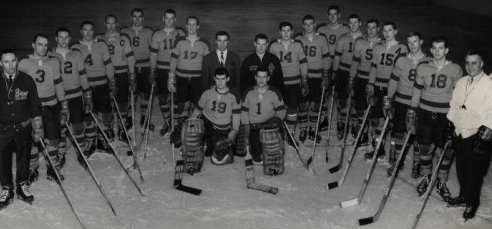 Bisons This Week
July 24, 2015 —
The University of Manitoba 1964-65 Bison men's hockey team will be front and centre at the Manitoba Sports Hall of Fame's induction ceremony this fall.
The team from 50 years ago, led by Captain Chuck Meighen and all-star forward Dr. Jim Irving, finished first in the Western Intercollegiate Athletic Association with a 10-2 record before going on to win the national title.
Goalie John Shanski, Defense John Trojack and Edgar Rivalin and forwards Irving, Leo Duguay and Gavin Speirs were named to the WIAA all-star teams the same year.
Olympic rower and U of M alumnus Jeff Powell [BA(Hons)/99] will also be inducted into the Hall of Fame.
The induction ceremony takes place on November 7, 2015.
U of M at Pan Am Games
University of Manitoba Bison alumna Taylor Pischke finished 4th in women's beach volleyball at the Pan American Games in Toronto. Pischke and her partner Melissa Humana-Paredes are among Canada's top women's teams and contenders to quality for the 2016 Olympics next year in Rio.
In men's indoor volleyball, former Bison stars and U of M alums Dan Lewis [BA/01] and Toontje Van Lankvelt [BA/13] won the bronze medal versus Argentina.