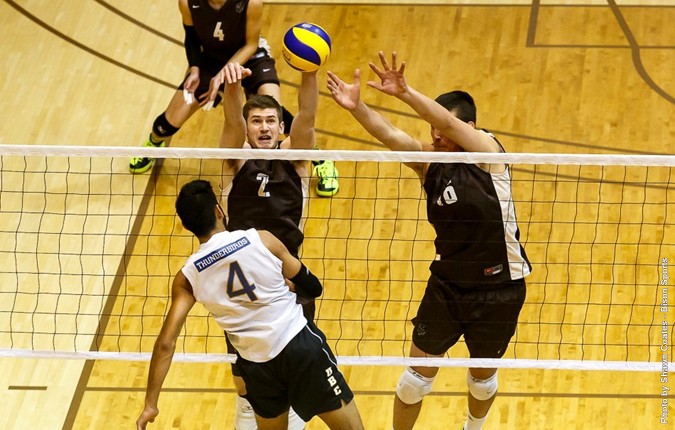 Bisons this week
January 16, 2015 —
Last weekend the men's and women's volleyball teams were perfect on the road against Mount Royal. This weekend both squads will face a major test when they host top-ranked Alberta on January 16 and 17 at Investors Group Athletic Centre. With the 2014-2015 season winding down, this is a critical time to earn wins.
Bison third year libero Caleigh Dobie was selected as the Canada West Female Second Star of the Week, and hopes to lead her team back to the playoffs. The defending champion Bison women's volleyball team currently sits in seventh place, while the visiting Alberta Pandas hold on to second place in the Canada West conference.
The men's volleyball team currently holds sixth spot in the conference with a record of 9-7, while the visiting Alberta Golden Bears own the top spot with a record of 15-1.
The women's hockey team won two games on the road against Lethbridge last weekend and has grabbed hold of third place in the conference. On January 16 and 17 they return to Wayne Fleming Arena at the U of M to host Regina. The Bisons boast the top goaltender in the conference in Rachel Dyck, who holds a GAA of 1.07 and a .955 save percentage.
On the Road:
The men's hockey team heads to Regina for two games against the Cougars.
The men's and women's basketball teams are in Alberta for a set of games on Friday and Saturday.
The U of M track & field team heads south for the Bison Classic hosted by North Dakota State University in Fargo, ND on Saturday, January 17.
For tickets and more information about the Manitoba Bisons, visit www.gobisons.ca