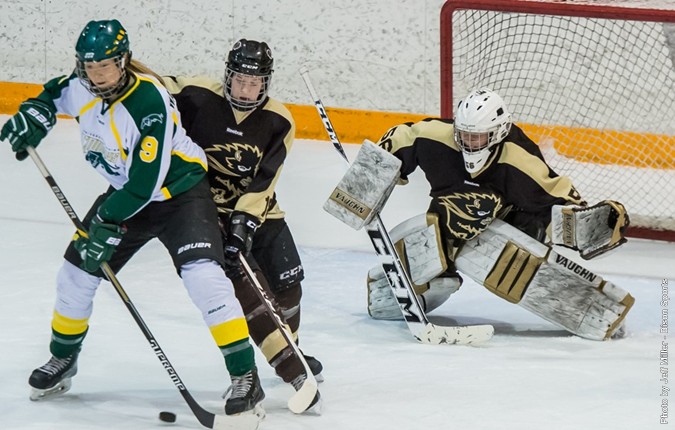 Bisons this week
February 26, 2015 —
An exciting 3-2 overtime win over Regina on February 22 catapulted the Bison women's hockey team into the Canada West semi-final. The team will now travel to face the UBC Thunderbirds in a best-of-three series February 21 to March 1.
All games will be played at the Doug Mitchell Thunderbird Sports Centre on the UBC Campus in Vancouver, BC. Live webcast of all games is available at canadawest.tv.
During this season, Manitoba went 2-2 against UBC as they swept the Thunderbirds at home, but dropped their two match-ups on the road. The Bisons earned an impressive 6-3-2-1 record in the second half of the regular season, and have won four of their last six games on the road.
Manitoba is looking to advance to the conference championship series for the first time since 2010-11 season when they captured the Canada West Championship.
At home the Bison track & field team hosts the Canada West Championship on February 27 and 28. The Bison men's team is tied for second in Canada West while the women's squad is fourth in the conference.
"As always, we are excited to be hosting the conference track and field championship and we are expecting our athletes to perform well at home like we have in the past," said head coach Claude Berube. "We expect to gain valuable experience and compete for a Top 5 team result. In addition, we want to qualify as many athletes to the 2015 CIS Track and Field Championship."
All Canada West Track and Field Championship events take place on the U of M Fort Garry campus beginning on Friday, February 27.
For more information about the Manitoba Bisons, visit www.gobisons.ca.