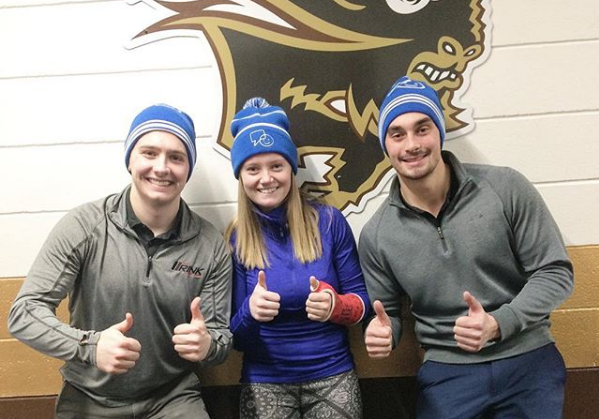 Bisons support Bell Let's Talk campaign
Men's hockey and men's volleyball in action at home this weekend
January 22, 2019 —
The Bison men's hockey and men's volleyball teams will host a Mental Health Awareness & Suicide Prevention evening in support of Bell Let's Talk on Friday, January 25. Both games start at 7 p.m. with hockey facing off at the Wayne Fleming Arena against the Lethbridge Pronghorns and volleyball taking on the Thompson Rivers Wolfpack at Investors Group Athletic Centre.
Mental health advocacy groups will be set up at both venues and #BellLetsTalk toques will be handed out to fans on entry (while supplies last). Billy the Bison will also be in attendance encouraging fans to support the Bell Let's Talk campaign by signing the giant #BellLetsTalk banner and sharing photos.
Come out on Friday and cheer on the Bisons and back their efforts to support this great cause. Tickets are $10 for adults. U of M students and fans 17-and-under get in free!
Bell Let's Talk Day
On January 30, #BellLetsTalk Day, for every text, mobile and long distance call made on the Bell network, tweet using #BellLetsTalk, social media video view, or use of the Facebook frame or Snapchat filter, Bell will contribute 5 cents more to Canadian mental health programs.
Upcoming Bison Events
February 1:
Duckworth Challenge | Alumni Night | Pride Night | Spirit Cup
Bison Volleyball vs. University of Winnipeg
Men at 6 p.m. | Women at 7:45 p.m.
Tickets: General $10, UM Alumni $5, UM Students and fans under 17 get in FREE.
February 2:
Spirit of the Bison Day: Indigenous Sport Day
Bison Basketball vs. University of Winnipeg
Women at 1 p.m. | Men at 3 p.m.
Bison women's hockey vs. UBC at 2 p.m.
The day will include intermission performances by the Walking Wolf Singers drumming group, a fancy shawl dancer, a grass dancer and an Indigenous fiddler.
Tickets: General $10, UM Students and fans under 17 get in FREE.
For full schedule information, visit gobisons.ca