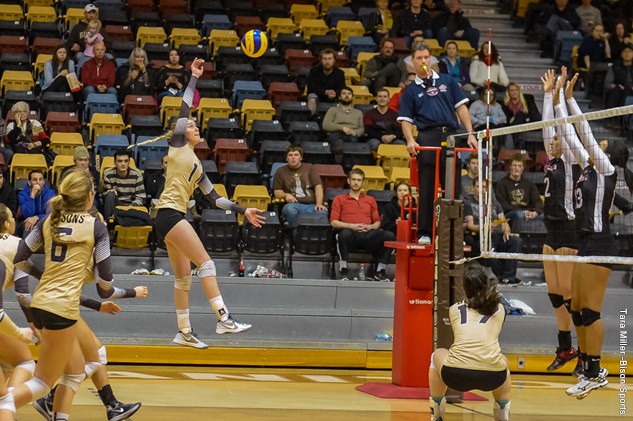 Bisons look to spike Bobcats
Final volleyball regular season home games coming up February 12-13
February 9, 2016 —
The University of Manitoba Bison volleyball teams wraps up their regular season home games at Investors Group Athletic Centre this weekend.
The Bison men are in third place in Canada West standings with a 16-and-4 record. They have won ten of 11 home matches so far this season.
The Bison women's volleyball team (2-18) faces the 11-9 Bobcats. The Bisons seek their second home match win of this 2015-16 season. On Sat., Bison fifth year setter Sydney Purvis will be recognized.
Men's action takes place at 6pm Friday and 3pm Saturday. The women play at 7:30pm Friday and 4:30pm Saturday.
HOCKEY:
The Bison women's hockey team hosts the UBC Thunderbirds to wrap up their home games this regular season.
This series is crucial as Manitoba is in fifth spot in the Canada West standings entering the weekend with a 12-12-0-2 record for 38 points, two points out of fourth place, held by Saskatchewan, and hosting a playoff round.
Puck drop is at 7pm Friday and 1pm Saturday at Wayne Fleming Arena.
The Bison men are on the road this weekend in BC for a couple games against the Thunderbirds.
BASKETBALL:
The University of Manitoba Bison basketball teams are on the road at Trinity Western this weekend.