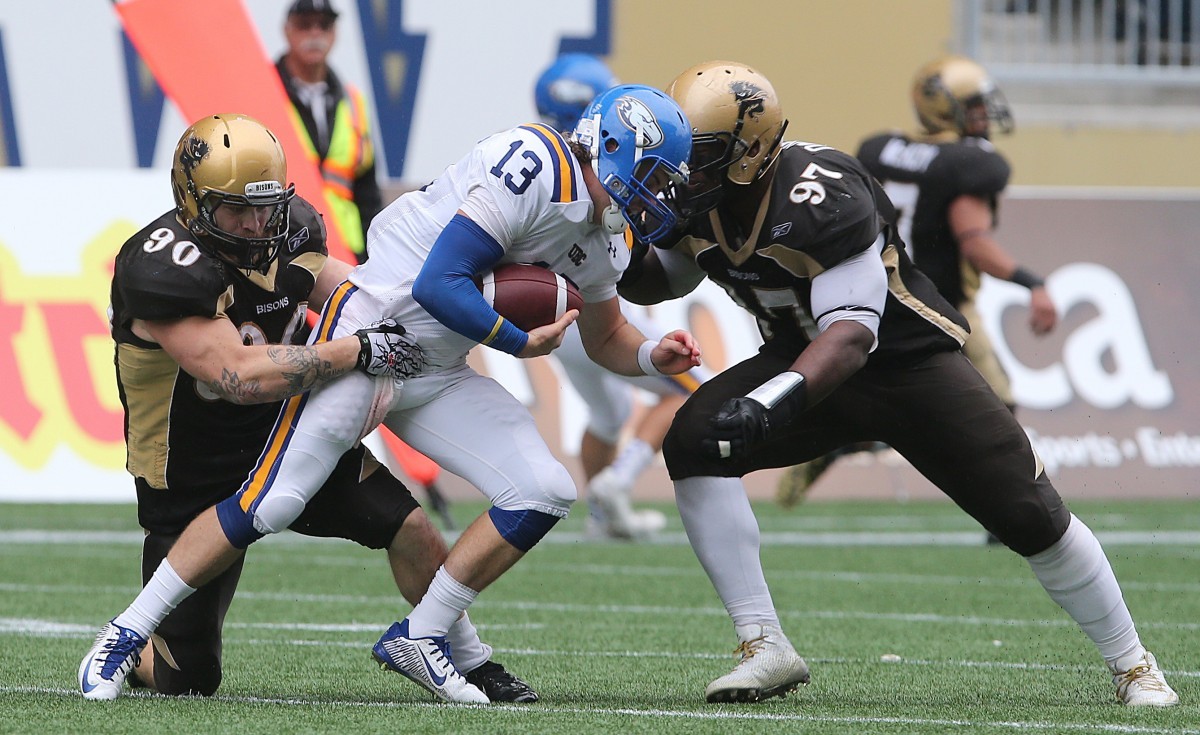 Bisons Football secures 20-10 win over UBC at annual Homecoming Game
September 21, 2014 —
2014 Homecoming celebrations reached a peak with the annual football game on the afternoon of Saturday, September 20. The #9 ranked University of Manitoba Bisons defeated the UBC Thunderbirds by a 20-10 score in 2014 CIS football action at Investors Group Field.
In front of a hearty crowd of 1,826 who braved rain for the majority of the game, the home side stayed ahead in a game that saw only two touchdowns but had three-time CIS All-Canadian Nic Demski churn out 224 all-purpose yards with receiving, rushing, punt return and kickoff return yards.
Manitoba took a 9-0 lead after the first quarter when running back Kienan LaFrance had a 22-yard touchdown rush for his fifth score of the season. UBC answered back in the second quarter when Terrell Davis ran in from four yards out and a UBC field goal closed the gap to 12-10 at halftime.
In the second half, the Bisons slated away the win with a couple more field goals by Ryan Jones (40, 19) and a key interception by safety Tyler Fong that snuffed out a late Thunderbirds drive and secured a 20-10 home win for Manitoba.
Next week, Manitoba travels to play Calgary on Friday, Sept. 26 at 6:00 p.m. (MT) in the Canada West Shaw TV Game of the Week.