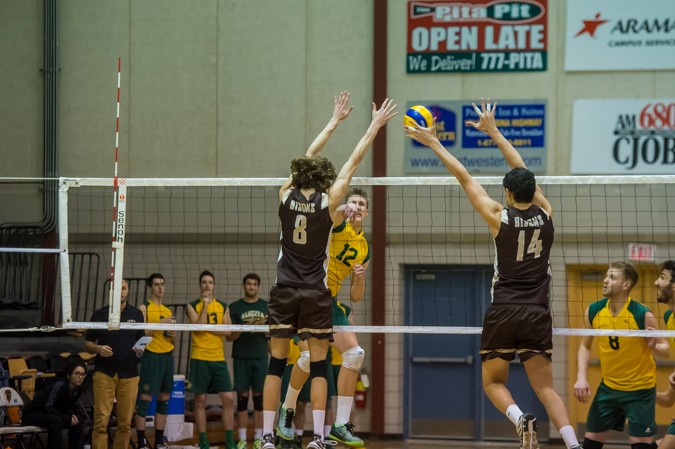 Bisons at home this week
All Bison games to be played as scheduled during strike
November 2, 2016 —
Bison sports will continue through the UMFA strike.
The Manitoba Bison volleyball teams make their home debut of the season on November 4-5 at Investors Group Athletic Centre against the Regina Cougars.
The Bison men are 1-1 heading into their home opener.
This year's captain is Ken Rooney, who is into his fifth and final year with the team.
"Everything Ken does on and off the court is phenomenal," said head coach Garth Pischke. "He has been a leader throughout his five seasons of play."
Kevin Falconer and Adam DeJonckheere are the assistant captains.
The 0-2 Bison women look for their first win of the season on the weekend.
Head coach Jon Hykawy, who is leading the team in the head coach spot while long-time head Ken Bentley is away on a 6-month research/study leave , named Caleigh Dobie, Sarah Klassen and Kearley Abbott as team captains.
"Caleigh and Sarah bring experience and both won a national championship at Manitoba," he said. "They are great role models for the younger players to look up to and guide them on and off the court.
Kearley is a captain for the future. Her intensity and fierce competitiveness is contagious and rubs off on to the other players and will be a big part of the team in her rookie season."
The Bison men play at 6pm on Friday and the women play at 7:30pm. On Saturday, the men play at 3pm while the women play at 4:30pm.
Hockey
The Bison women's hockey team look to make the Calgary Dinos part of the extinction this weekend at Wayne Fleming Arena.
The herd is red hot going 6-2 on the season.
Puck drops on Friday at 7pm. Saturday's game will hit the ice at 1pm; join the team in their fight against cancer. All proceeds of Saturday's game are being raised for CancerCare Manitoba. Tickets are $5 at the door.
For more info, check out GoBisons.ca.