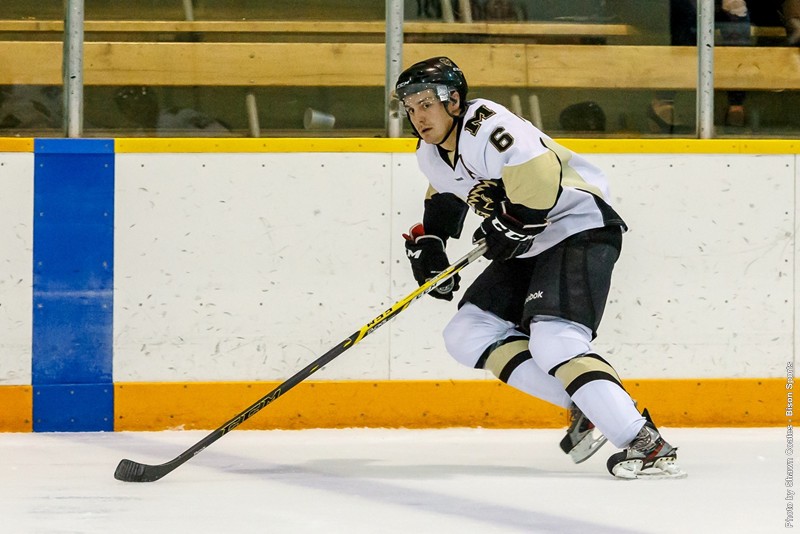 Bisons are back in action this weekend
Wayne Fleming Legacy Athletic Scholarship to be presented before January 9 hockey game
January 9, 2015 —
After over a month off the Bisons are back in action this weekend (although a number of varsity teams played non-conference games, and the men's hockey team hosted a pair of games against UBC on January 3 & 4).
The men's hockey team will host the Lethbridge Pronghorns for a back-to-back weekend series beginning on Friday night. With eight games remaining in the regular season, a couple of wins against last-place Lethbridge would certainly improve the Bison's playoff hopes.
Puck drop is at 7:00 p.m. on Friday, January 9 and 1:00 p.m. on Saturday, January 10. Both games take place at Wayne Fleming Arena at the U of M Fort Garry campus.
Prior to the men's hockey match-up on Friday, January 9th the Wayne Fleming Legacy Athletic Scholarship will be presented to second-year defenceman Luke Paulson. The scholarship was established in 2013 in honour of Wayne Fleming, a former player and head coach of the Bison men's hockey team. Wayne was highly respected internationally as an exceptional coach and mentor who positively touched the lives of so many people in so many countries. The award will be presented by Wayne's wife, Carolyn Fleming.
The basketball teams are also at home this weekend, hosting the Victoria Vikes at Investors Group Athletic Centre. The Bisons women's team closed out 2014 with their first win of the season on December 29. Meanwhile, the Victoria squad has lost six straight games to find themselves at the back of the pack along with Manitoba.
The Bisons men's basketball team currently sits in second place in the conference with eight wins. They are in for a challenge this weekend as the Victoria team is just below Manitoba in the standings. Look for the high-powered Bison offence to make a mark this weekend.
On the road:
The women's hockey team faces the Lethbridge Pronghorns on Friday and Saturday night.
The men's and women's volleyball teams begin 2015 on the road against Mount Royal on January 9 & 10.
For tickets and more information about the Manitoba Bisons, visit www.gobisons.ca.