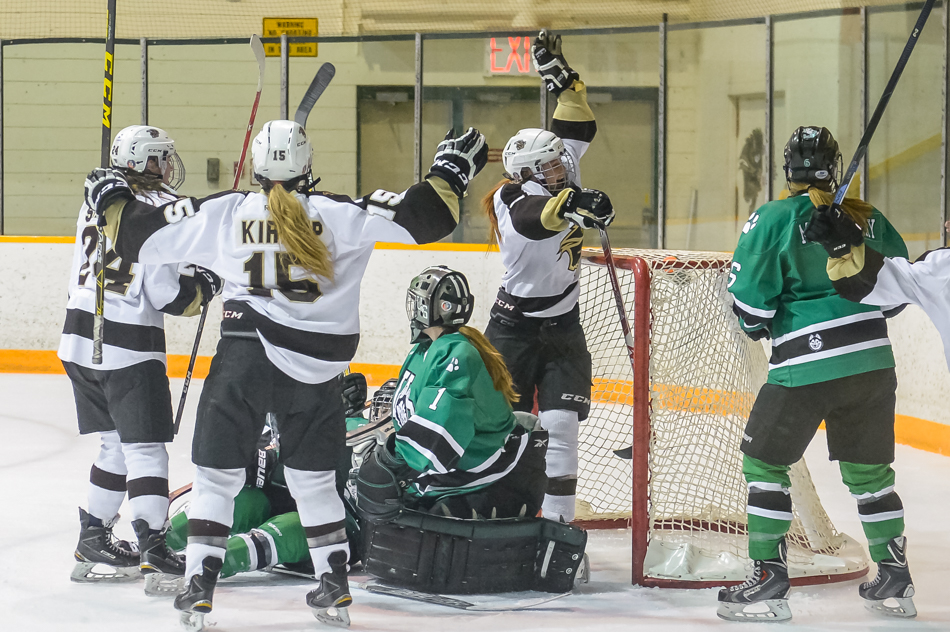 Bison women advance in playoffs
Thrilling 2-1 series win move women's hockey team to semi-final series
February 22, 2016 —
The University of Manitoba Bison women's hockey team kept their playoff run alive over the weekend.
The herd won the best-of-three series two games to one against the Saskatchewan Huskies.
Game three was the longest in Canada West women's hockey history as it went to a fifth overtime period (139 minutes, two seconds).
In game three, Bison Venla Hovi scored the series winner off an Alanna Sharman pass who had added another assist to U of M's earlier goal. Bison Lauryn Keen had a goal and an assist while Bison starting goaltender Amanda Schubert had 66 saves.
The women continue their post-season with a visit to Edmonton next weekend (February 26-28) when they face-off against the University of Alberta Pandas.
The Bison men were eliminated from the playoffs after a tough 2-1 series loss to the Calgary Dinos.
VOLLEYBALL:
The Bison men lost to Calgary over the weekend but still secured a playoff spot finishing their regular season with a 19-and-6 record.
Bison Scott Vercaigne recorded 14 kills while setter Luke Herr added 27 assists.
The men will host the Canada West quarter-final series at home on February 25, 26th and 27th (if necessary) against the Mount Royal University Cougars. All matches will be at 7pm.
The Bison women's volleyball team ended their season on a positive note.
The herd won three sets to two at home against the University of Calgary on February 20.
The women finished their season with a 3-and-21 record.
Bison Alhaji Mansary achieved CIS Standard in men's high jump at the Bison Grand Prix #2 at James Daly Fieldhouse over the weekend.
SWIMMING:
Our Bison swimmers spent the weekend at the Pan Am Pool competing in the 2016 Speedo Western Canadian Open with Kimberly Moors and Dillon Perron racking up the hardware.
Both swimmers are in their final years with the Bison program and have continued to produce results setting them apart.
Moors managed to collect two silvers this weekend in the 50m butterfly and 50m freestyle while on the men's side, Perron gathered two silver medals in the 50m fly, 100m breast stroke and a bronze in the 50m breast stroke.
For full results visit: http://results.swimming.ca/2016_Speedo_Western/
BASKETBALL:
Men's basketball have been working hard preparing for their home stand in the Canada West Quarter-Finals against the University of Fraser Valley Cascades. Games will be at the Investors Group Athletic Centre March 3 & 4 at 7pm at March 5 at 3pm if necessary. Full details at gobisons.ca