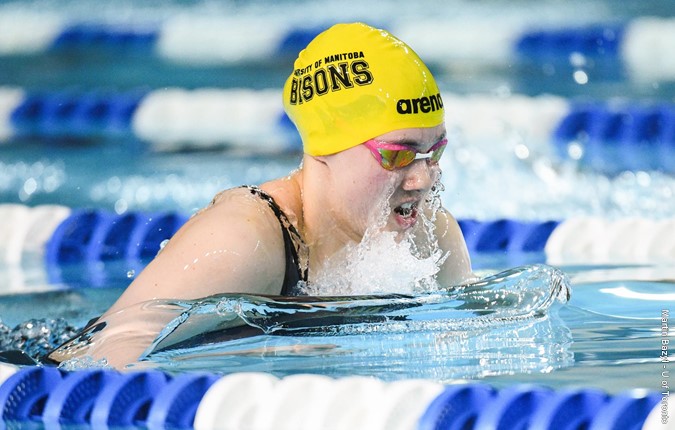 Bison swimmer Kelsey Wog dominates at Canada West Championships
Wog sets new conference record and finishes with four gold medals
November 25, 2018 —
After the third and final day of the 2018 Canada West Swimming Championships in Calgary, the Bisons saw a phenomenal weekend conclude for third-year Agricultural and Food Sciences student, Kelsey Wog.
The Winnipeg native finished her weekend with a gold medal in the 200m breaststroke, setting a new conference record in the process. Her 2:22.28 broke the old record, set in 2012 by Martha McCabe (UBC).
The medal was Wog's fourth of the weekend, as she also won gold in the 50m and 100m breaststroke, along with the 200m freestyle. She was named Canada West Female Swimmer of the Meet for the second straight year, also earning a 2018-19 Canada West First Team All-Star recognition.
Wog is also now the Canada West record holder in all three breaststroke events, as she set the 50m record in 2016 (30.54) and the 100m record in 2017 (1:05.59).
Other Bison highlights included a fourth-place finish for second-year Dora Modrcin in the women's 100m backstroke (1:01.68). Though just off the podium, the time qualifies her for U SPORTS in the spring; Modrcin finished the weekend with the other two Manitoba medals, a silver in the 50m backstroke and a bronze in the 50m butterfly.
Overall, the Bison women's team finished fifth in the standings (264 points), while the men finished seventh (141.5 points).
Highlighting the men's team on Sunday was fourth-year Anthony Iliouchetchev, who had two top eight finishes. Iliouchetchev finished seventh in the 100m freestyle (51.62) and seventh in the 100m backstroke (56.37).
Full recaps of Day 1 and Day 2 of the championships available.
There were eight Bison women's swimmers at the conference championships, plus six men's swimmers. The next Bisons swim meet is the Man/Sask Short Course Championships in Winnipeg at Pan Am Pool from December 14-18. This year's 2019 U SPORTS Swimming Championships take place Feb. 21-23 in Vancouver, BC (UBC campus).