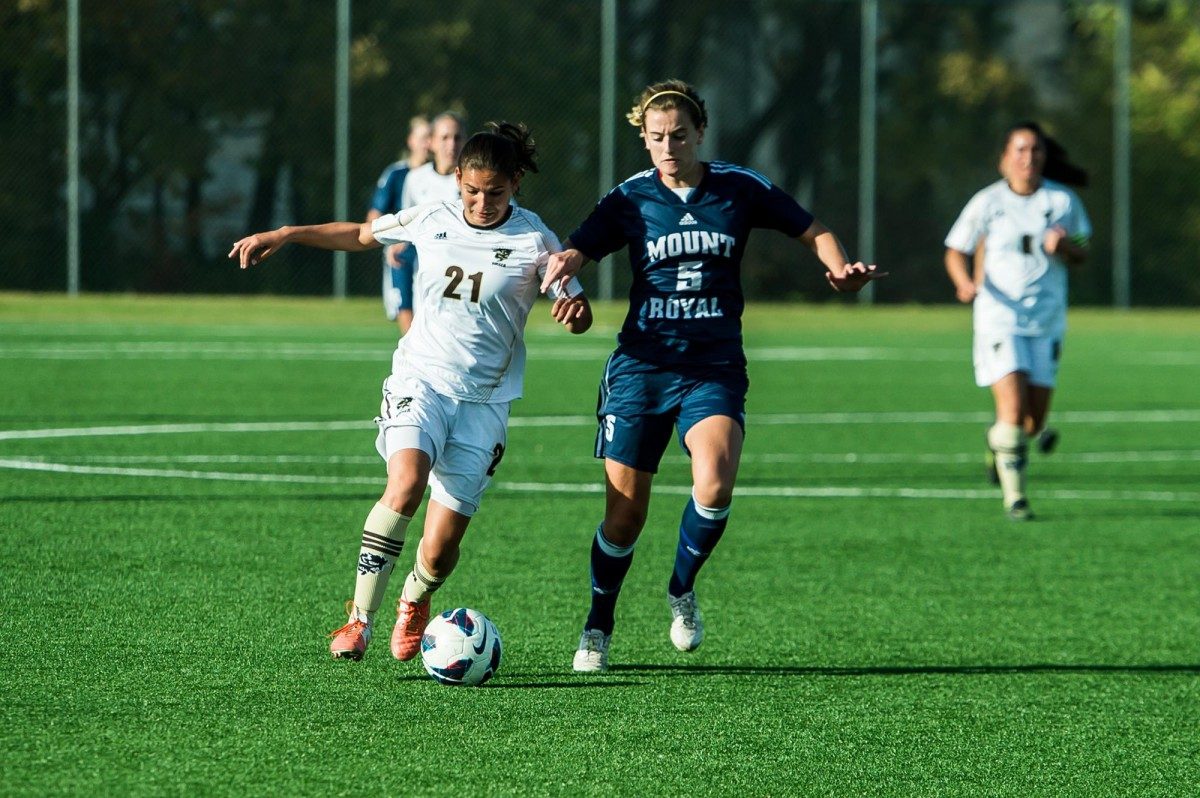 Bison Profile: Bruna Mavignier returns to the pitch ready to lead
In third week of competition, soccer looks to improve on its 1-1-2 record
September 18, 2018 —
This season the Bison soccer team's experience will play a significant role in their quest for success. Their story is one of dedication and persistence.
For Bruna Mavignier, it is one of resilience.
This Bison journey began in 2014 when the then 21-year old Brazilian debuted on the U of M roster.
Growing up young Bruna always watched soccer but never played. Instead she honed her skills at futsal – a variant of soccer that is mainly played indoors and on a smaller field.
"When I got here, I had no idea what to expect. I was just going to give it a try and see how it went," Mavignier says.
"It was really hard to adapt at first for sure, because futsal is a smaller field, there's less players and you don't have to run for that long, you just sprint basically. So that transition was really hard, but I had so much passion and excitement [for soccer] that it made me play well."
To say the forward performed well in her rookie season would be an understatement. She started in 12 regular season games, and led the team with eight goals.
Needless to say Mavignier's expectations were high going into her second U SPORTS season, but early in the pre-season she was dealt her first obstacle after suffering an osteitis pubis injury, a severe form of tendonitis in the groin.
Fighting through the pain, Mavignier played the first six games again leading the team with six goals. But in the seventh contest tore her ACL in her left knee and was finished for the year.
Bruna returned to the pitch for the 2016 season, playing in all 14 games but injuries continued to follow: she tore her other ACL during the last contest of the season.
Despite the multiple setbacks Mavignier continues to demonstrate her positive personality and outlook.
Already notching a goal and an assist in the Bisons' opening weekend (and featured as Female Athlete of the Week Sept. 10-14), Bruna is looking forward to finishing her university career off in style as a leader both on and off the pitch.
"In past years, I was always the one looking up to other players," she says. "This year, I've got to be the role model and I feel it's making me a better player. When you teach, you learn more and that's how I'm feeling."
Cheer on Bruna and her divisional fourth-ranked Bison herd in a pair of home games this Friday and Saturday afternoon (Sept. 22 and 23) against Lethbridge and Calgary respectively.
Both matches start at 2 p.m. at the West Turf Field (beside the indoor soccer complex).
Tickets are $5 at the gate, while U of M students and fans 17 and under are free.
For more about Bison soccer, visit gobisons.ca.