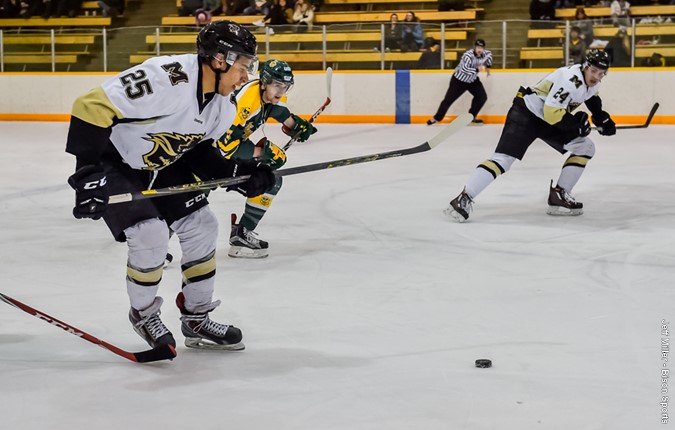 Bison men sweep Alberta
Two wins for the herd in men's hockey over the weekend
January 11, 2016 —
The Manitoba Bison men's hockey team sent the Alberta Golden Bears packing with a couple loses over the weekend.
On Friday, the Bisons won 7-4 and on Saturday, 3-2.
For Saturday's game, the biggest difference-maker in the Herd's victory was goaltender Justin Paulic, who kept his team in the game with 46 saves.
"It's pretty crucial beating those guys [Alberta] twice," Paulic said. "We've just have to build off of it going forward and learn from it."
Manitoba will stay home over the January 15-16 weekend as they host the Mount Royal Cougars.
Bison Basketball
The Manitoba Bison men's basketball split their series with Victoria over the weekend.
The herd was defeated85-77 in overtime on Friday but won 65-59 on Saturday.
The men are 7-and-3 on the season and face UBC at home on January 15 and 16.
The Bison women's basketball team fell to the Victoria Vikes 73-64 on Friday and 86-75 over the weekend.
The women return home to take on UBC January 15 and 16.
Bison Volleyball
The Manitoba Bison men's volleyball team were on fire over the weekend earning a couple victories against UBC.
The Bisons won 3-0 and 3-1 over the weekend.
Manitoba's Devren Dear led both teams with 16 while fellow Bison Adam DeJonckheere had 10.
Bison head coach Garth Pischke said both teams defence also shone.
"We did a good job blocking," he said. "There were good plays on both sides."
The 12-and-2 Bison men are back in action at home January 22-23 against Trinity Western.
The Bison women's volleyball team didn't fare so well. They fell to UBC 3-0 on both Friday and Saturday and with the bye weekend ahead it will give the squad time to regroup when they also host Trinity Western on January 22-23.