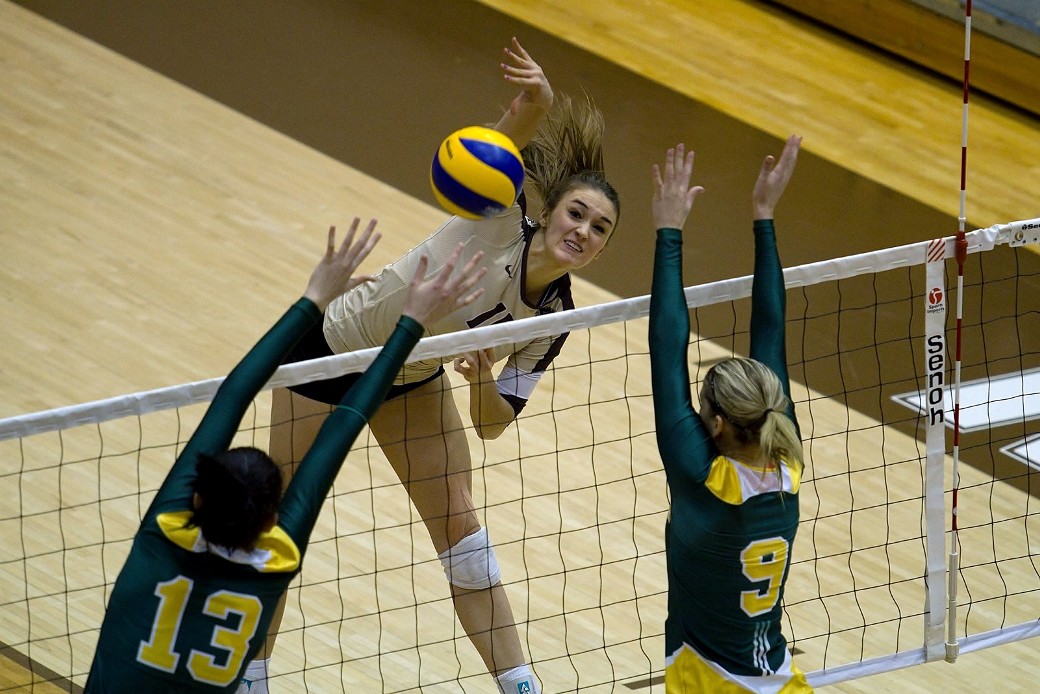 Bison bonanza today
Five Bison teams play today, and staff can watch the afternoon games for free
November 15, 2013 —
Heading into the fourth week of competition, the Bison women's volleyball team is giving us every reason to be optimistic.
With head coach Ken Bentley in his 28th year at the helm, this Bison team is poised to be at the top of the rankings come playoff time.
On the heels of a weekend sweep against the Saskatchewan Huskies, the Bisons, led by volleyball phenoms Taylor Pischke and Rachel Cockrell, who are backed by a star-studded cast of returning players, are ready to host a cross-province rival who is emerging as a contender.  The Brandon Bobcats find themselves in a fourth place Canadian Interuniversity Sport (CIS) ranking with the Bisons clipping at their heels in sixth spot as they take to the hard court Friday and Saturday night just before the men's matches at Investors Group Athletic Centre.
"We face a formidable opponent in Brandon as the Bobcats come into Investors Group Athletic Centre this weekend," says Bentley. "They are ranked ahead of us and have a better record heading into the weekend series, so we are in for a difficult challenge."
The volleyball match-up is positioned to be the highlight of the weekend, but not the only show in town.  Both men's and women's basketball teams — and men's hockey — also have home court advantage hosting the Calgary Dinos and Lethbridge Pronghorns respectively.
Bison Sports has invited all faculty and staff to attend the afternoon basketball games free of charge by simply showing your staff ID at second floor ticket table in Investors Group Athletic Centre.  Go Bisons!
An intriguing twist on this year's season: four Bison head coaches have their children participating for the Bisons this season.
Schedule
 Investors Group Athletic Centre
Basketball
Friday: Women at 1 p.m., Men at 3 p.m.
Saturday: Women at 12 p.m., Men at 2 p.m.
Volleyball
Friday: Women at 6 p.m., Men at 8 p.m.
Saturday: Women at 5 p.m., Men at 7 p.m.
Wayne Fleming Arena at Max Bell Centre
Hockey
Friday: 7 p.m.
Saturday: 6 p.m.
Full ticket and Schedule information available at gobisons.ca