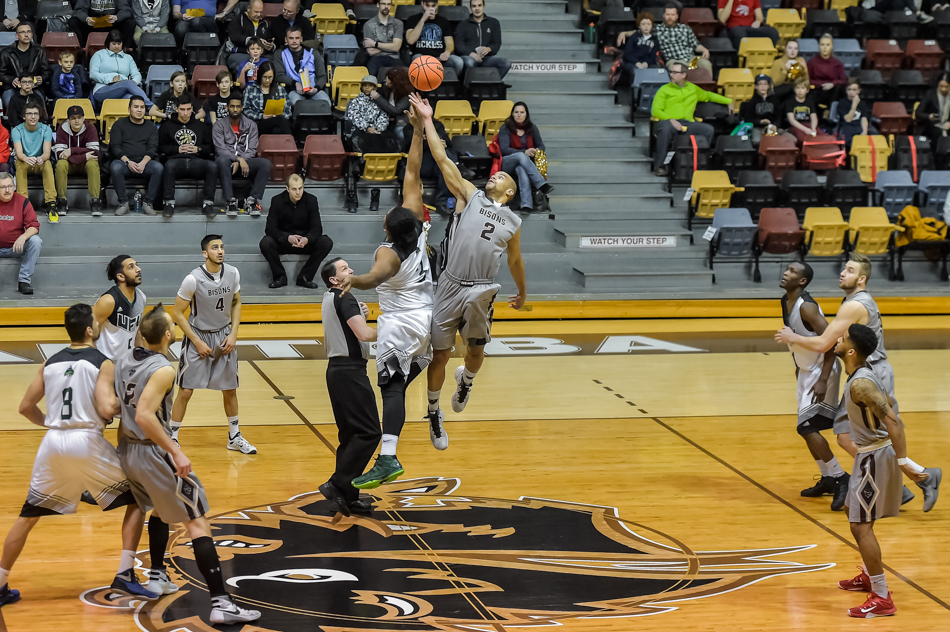 Bison Basketball playoffs continue
Herd headed to final four after a sweep of Fraser Valley
March 7, 2016 —
The University of Manitoba Bison men's basketball team is headed to the Canada West final four after defeating Fraser Valley in two games over the weekend.
The win marks the first playoff series sweep for the Bisons since they joined Canada West in the 1999-00 season.
It's also their first series win since 2001. The final score in the winning game was 77-72 in overtime.
"We were playing not to lose," said Bisons head coach Kirby Schepp. "The guys just didn't want to make a mistake, instead of attacking aggressively as we did earlier in the game."
The final four will start on March 11 in Calgary.
TRACK AND FIELD:
The University of Manitoba Track and Field athletes are heading to Toronto this weekend for the CIS Championship.
The Bison women's 4×200 relay team is ranked third while the 4×400 relay team is ranked fourth. The 4x400m team is ninth.
Individuals to watch for are second-year Bison Rachael McLeod. She is ranked fourth while second-year Tegan Turner is fifth in women's 60m.
Fifth-year Bison Melissa Richards is tied for fourth in pole vault while fifth-year Allison Balasko was ninth in weight throw.
"We are pleased with the number of women competing at this year's CIS Nationals," said Bison head coach Claude Berube. "We expect to gain even valuable experience with our newcomers at this event and have chances to score in multiple individual events and with all three relay teams and strive to be Top 12 or even Top 10 in team standings."
HOCKEY:
The University of Manitoba Bison women's hockey season came to an end over the weekend with two losses against the UBC Thunderbirds.
The women went 18-and-19 on the regular season.
Their playoff run included the longest conference game in Canada West hockey history when the herd beat Saskatchewan in fifth overtime.
VOLLEYBALL:
The Bison men's volleyball team wrapped up their post-season play after a loss against Alberta this weekend.
The men had a phenomenal regular season going 21-and-7 on the season.
Recently, men's volleyball setter Luke Herr was selected as the Canada West Male Third Star of the Week.