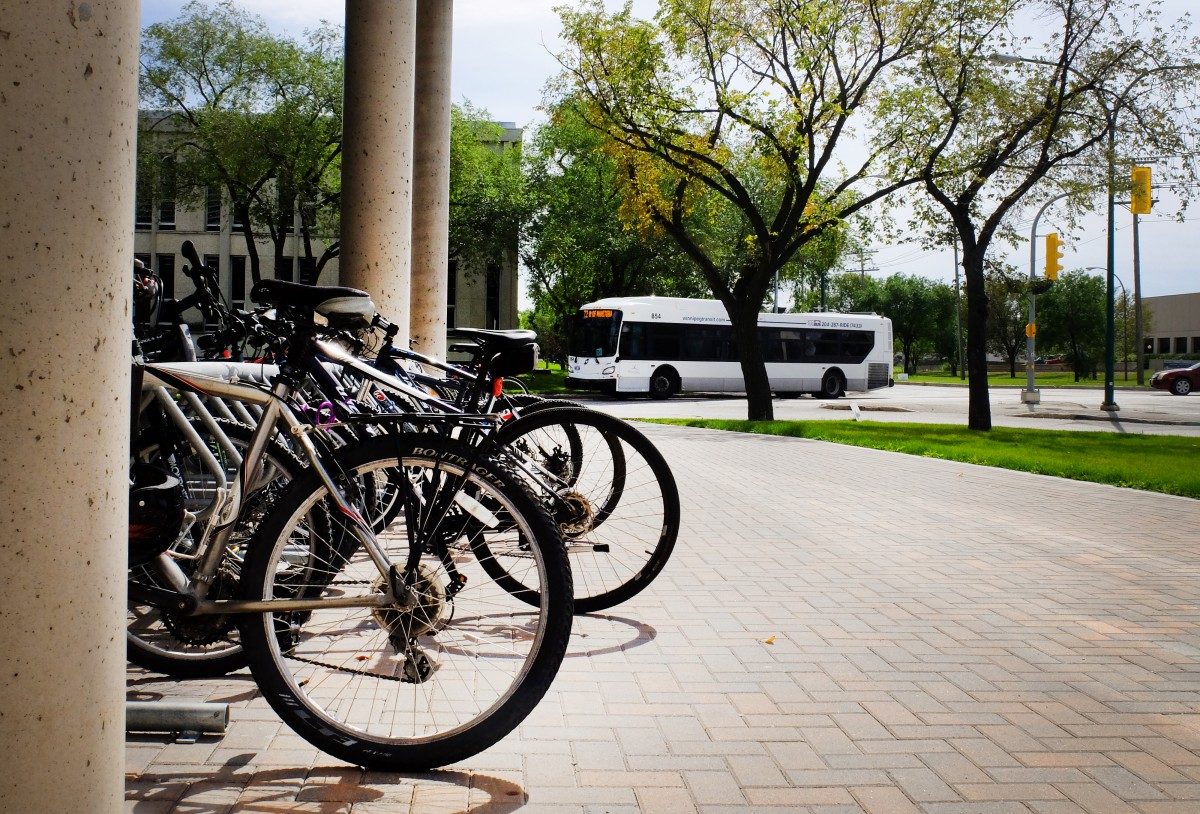 Bike to Work Day 2018
June 11, 2018 —
Grab your helmet, clean your brakes, and oil your chain, because Bike to Work Day 2018 is on its way!
Monday, June 18th is Bike to Work Day! From 6:30 AM to 9:00 AM, cyclists can stop at pit stops along their route to grab fun giveaways and enjoy the morning with a refreshing bike ride! The University of Manitoba is looking forward to participating in the fun by hosting pit stops at both the Fort Garry and Bannatyne campuses.
For those travelling to Fort Garry, stop by the UMCycle Kiosk at Sidney Smith and Curry Place. The Office of Sustainability and UMSU are cohosting the pit stop that will feature snacks and drinks, activities and giveaways! Needing a tune-up? No problem! UMCycle mechanics will be offering FREE tune-ups from 6:30-9 AM. UMFM will be there with a live DJ, and the ever-popular bike blender will be available to whip up some tasty smoothies and blended ice coffee.
Bannatyne campus staff, faculty, and students can stop in at 727 McDermot in front of the Brodie Centre main entrance. The pit stop will have mechanics around for free tune ups, snacks, drinks and a bike trivia game with plenty of giveaways!
If you visit either pit stop, you will be entered to win some serious prizes. Each campus will have a draw for 2-$20 gift cards from food vendors such as Starbucks and Tim Horton's, bike accessories, and grand prizes of $100 from UMCycle for each campus!
Pit Stops are located throughout Winnipeg as part of Bike to Work Day, and cyclists can get prizes for visiting eight or more locations by participating in Ride and Go Seek. Be sure to plan your route with Bike Week Winnipeg's handy Pit Stop map and we hope to see you on your bike for Bike to Work Day!
---
Fort Garry Campus Pit Stop, UMCycle Bike Kiosk – Corner of Sidney Smith & Currie Place, 6:30 – 9:00 AM
Bannatyne Campus Pit Stop, Brodie Centre Entrance – 727 McDermot Avenue, 6:30 – 9:00 AM
---
These videos might be useful.