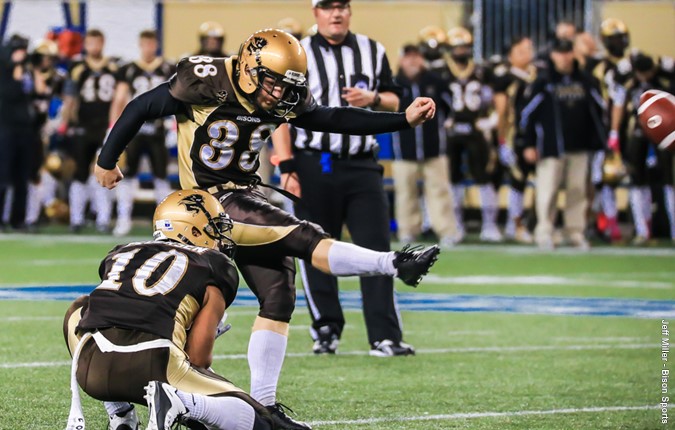 Big win for Bison football
University of Manitoba took a 49-46 win in a wild Canada West football game at Mosaic Stadium
October 19, 2015 —
The University of Manitoba Bison football team is home after a thrilling 49-46 game against the Regina Rams over the weekend.
Bison quarterback Theo Deezar completed 29 of his 39 pass attempts while Jesse Walker had eight catches for 105 yards.
Bisons second year kicker Ryan Jones was selected Canada West Special Teams Football Athlete of the Week. He now sits third in conference in points with 65 and third in field goals with a 76% average, having gone 13-for-17 in six conference games.
The Bisons improve to 4-and-2 on the season and play their final regular season home game this Friday, October 23 against the Alberta Golden Bears at 7:00pm. For ticket info, click here.

MORE WEEKEND RESULTS:
For more info on Bison Sports, visit GoBisons.ca.