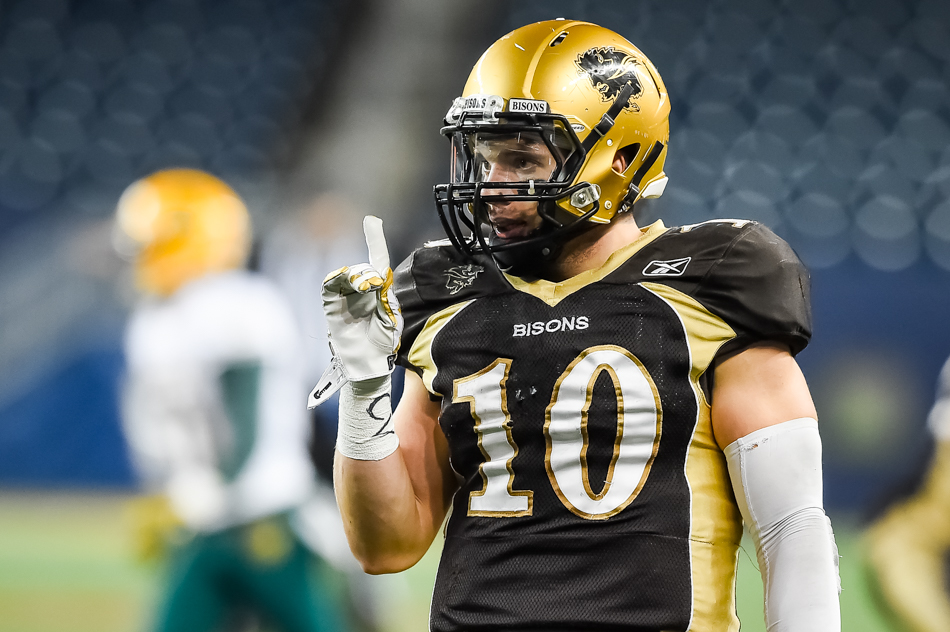 Big kudos for Bisons
Three athletes bestowed with major year-end awards
November 25, 2016 —
Bison Football fourth year linebacker DJ Lalama has been selected as 2016 Presidents' Trophy award and awarded to the Outstanding Defensive Player of the Year in U Sports for the 2016 season.
Lalama was named 2016 U Sports First Team Football All-Canadian at the linebacker position.
With over 70 tackles in 2016, Lalama broke Manitoba's previous single-season record of 65 in his Presidents' Trophy campaign. An eighth-round selection of the Edmonton Eskimos in the 2016 CFL draft (70th overall), he also moved to second place on the Bisons' all-time list with 184 career tackles.
"I am very happy and this is a well-deserved honour for DJ," said Bison football head coach Brian Dobie. "A leader on our defence, he is also a leader in the locker room and our community as he was a finalist for the Russ Jackson Award last season. He is an outstanding player and person."
Bison fifth-year defensive back Cam Teschuk earned the Russ Jackson Award for exemplifying the attributes of football skill, academic achievement and citizenship in U Sports.
In the classroom, Teschuk is a four-time Academic All-Canadian with a cumulative GPA of 4.13 in the faculty of management, and is well on his way to receiving the honour once again this year. Involved in multiple student associations, the Rhodes scholarship applicant has been selected to represent the University of Manitoba at eight different national and international business case study competitions.
Bison Geoff Gray was named the 2016 U Sports First Team Football All-Canadian.
Gray, a student in the Faculty of Engineering, who completed his fourth season with the Bisons, has been instrumental in opening holes for the running game and providing protection for the quarterbacks during the 2016 campaign. He is ranked number 11 in the CFL's Scouting Bureau – initial prospect Top 20 list for the 2017 CFL Draft.