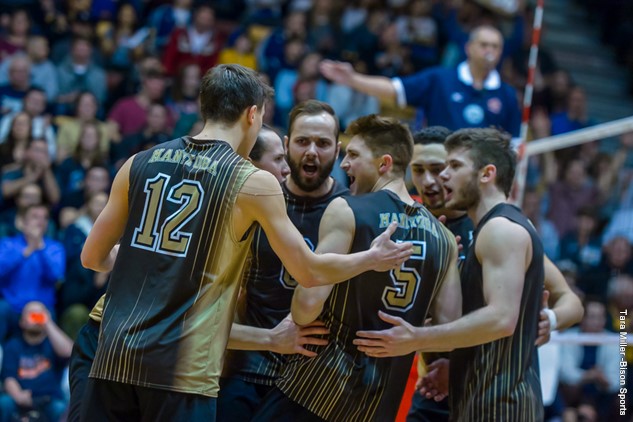 Big finish
Awards dished out to Manitoba Bison volleyball teams from U Sports
March 21, 2017 —
The #2 seed Manitoba Bisons men's volleyball team won 3-1 over the #4 seed Université Laval Rouge et Or in the Consolation Final match on March 19 at the 2017 U SPORTS FOG Men's Volleyball Championship in Edmonton.
With the match win, the Bisons end the championship in fifth place.
This was the 12th match-up between Manitoba and Laval in a U SPORTS championship.
Bison men's head coach Garth Pischke was named U SPORTS Men's Volleyball Coach of the Year. In his 35th season at Manitoba, coached his 1,300th win, guided the squad to a 21-3 conference regular season record and finished first in Canada West, while ranking number one the country for four weeks.
Manitoba had the longest conference win streak this season at 20 matches and were host of the Canada West Final Four for the second time in program's history.
Bison Ken Rooney was named as the Dale Iwanoczko Award winner. The fifth year Management student-athlete has been a three-time U SPORTS Academic All-Canadian (2013-14 to '15-16) and has been a team captain for the last four consecutive seasons.
"Ken is a fantastic role model for all of our student-athletes. He has taken on a leadership role both on and off the court and is always involved in some form of giving back," said coach Pischke. "He has been one of my favourite athletes to coach over my career and his incredible work ethic is truly inspiring."
Bison Devren Dear was named First Team All Canadian while Luke Herr was named Second Team All Canadian.
In women's volleyball, Bison Kearley Abbott was named to the U Sports All Rookie team.