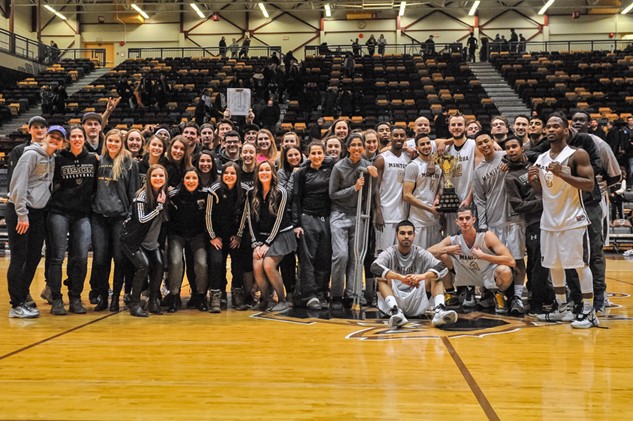 Big Bison victory
Manitoba Bisons win 25th annual Duckworth Challenge.
February 8, 2016 —
The Manitoba Bisons won the 25th annual Duckworth Challenge against the University of Winnipeg Wesmen after a split of basketball matches over the weekend.
The Bison women were defeated 69-64 by Winnipeg but the Bison men's basketball won 79-65 over Winnipeg to clinch this season's Duckworth Challenge title for Manitoba.
Manitoba now holds a winning Duckworth Challenge overall record of 13-6-6 in the contest's 25 year history.
The winning streak stayed alive for the Bison men on Saturday with a big win over Winnipeg.
The herd won 82-74 in overtime over the Wesmen.
The teams were deadlocked at 70 after regulation.
The win improves the Bisons to 13-and-5 on the season.
The Bison women lost on Saturday to the Wesmen.
TRACK AND FIELD
The Manitoba Bisons hosted the seventh annual Bison Classic two-day track and field meet on Friday and Saturday at the James Daly Fieldhouse and won the combined team title.
Manitoba finished with 300 points in the combined team scoring and distanced second place Calgary, who ended up with 213.50.
The Bisons were also top in the women's team score with 140 points. The men's team score had Manitoba in first with 160 points.
VOLLEYBALL
The Bison men narrowly defeated the Winnipeg Wesmen in five sets over the weekend.
"Winnipeg is a good team," said Garth Pischke, Bison head coach. "They're right behind us in the standings so this was obviously a big win for us."
The Bison women were defeated in five sets and fall to 2-and-18 on the season.
HOCKEY
The Bison men's hockey team swept the Calgary Dinos in a pair of games out West.
On Friday night, the herd won 6-4 and on Saturday they won 5-2.
"We all felt this weekend was arguably our best performance of the season," said Bison head coach Mike Sirant. "We played really well defensively. We're doing an amazing job with four defensemen and our forwards."
The Bison women split their series in Calgary with a 2-1 win on Friday followed by a 4-2 loss on Saturday.