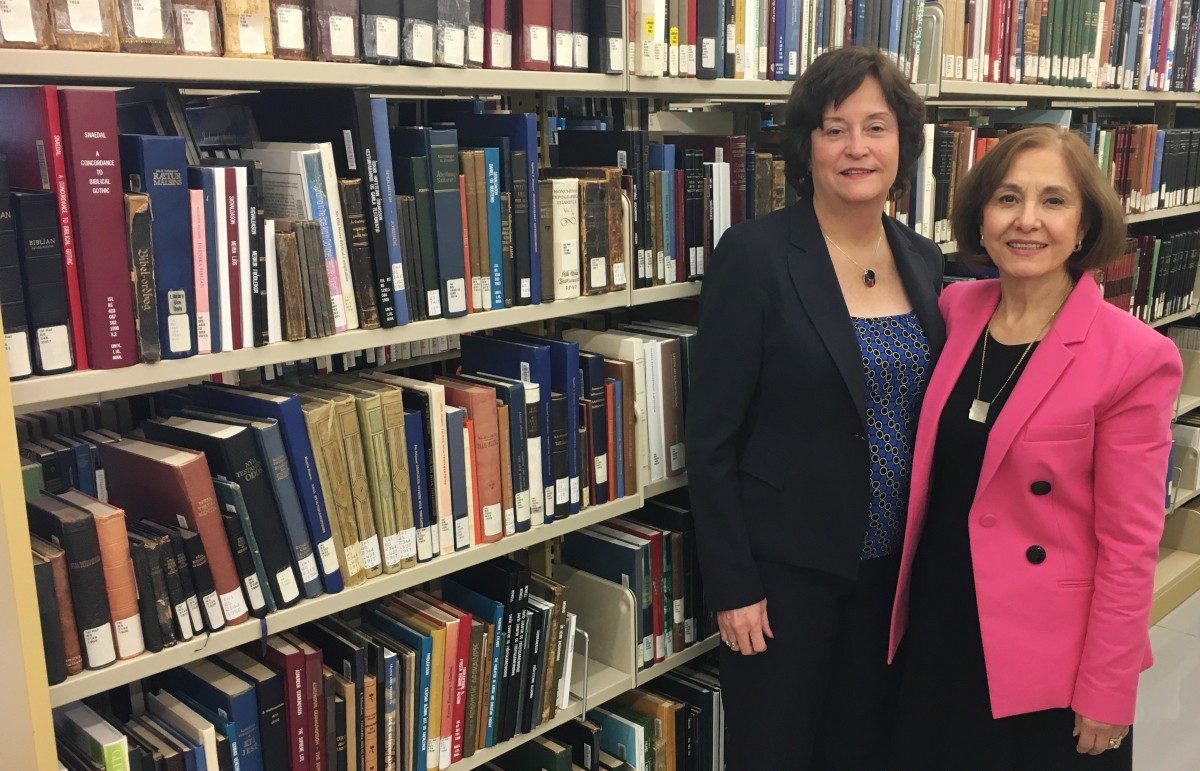 Beyond the stacks: Retirees create research fund for librarians
March 25, 2019 —
For Ada Ducas and Nicole Michaud-Oystryk, it was like getting struck by lightning – twice. That's how rare it is for librarians like them to receive research funding in Canada, considering the mere handful of grants available.
Now, the newly-retired librarians want to pass along their good fortune to others by establishing an endowment fund to support the research activities of librarians and archivists at the U of M.
"If you look at the hundreds of millions of dollars available for other research in the country, there is essentially no money for librarian research," explains Ducas. "Nicole and I have been lucky, because we applied for the U of M's Social Sciences and Humanities Research Council grants twice and got them both times."
In the many cases where they couldn't secure funding, Ducas and Michaud-Oystryk did what many librarians do – use their professional development allowance and personal funds to support their work. With this new fund, they hope that burden can be alleviated for future librarians and archivists.
Michaud-Oystryk [BèsA/74, MA/88], who was the unit head of Elizabeth Dafoe Library, explains that "the research librarians do adds to the body of knowledge, which benefits all library users. Some librarians have produced literary works, poetry, artwork or historical books. I recently did a bibliographical and archival survey of works about women in French Manitoba. If you have funds, it opens up the possibilities of what you can study."
In a world that now thrives on data, librarians also contribute their own analytics by conducting benchmarking studies, applied research, service assessments and systematic reviews.
Ducas, who was head of libraries in the Rady Faculty of Health Sciences libraries, notes that librarians now play a bigger role in supporting faculty, which requires its own set of resources.
"The whole profession is changing; it's really an information science profession now. One of the new roles for librarians is providing research support to faculty by managing their data and making it available to others," says Ducas. "They also work hand in hand with faculty in terms of scholarly communication, digital scholarship and instruction. Librarians become involved in course planning, as well as delivering teaching related to library resources and how information is structured and organized."
The Ada M. Ducas & Nicole Michaud-Oystryk Librarians Research Endowment Fund is unique to the U of M and one of the only library research funds in Canada funded by private donors.
Both women are thankful for the "exciting" and "energizing" careers they had at the U of M, and hope that like-minded retirees, faculty and staff will do the same as them and pay it forward.
"If you've had a good career, maybe it's incumbent to give back a little bit too to help it become better," says Ducas. "You have to help the place that helped and nurtured you."
The Faculty, Staff and Retirees Giving Campaign is a year-round initiative which raises funds for all areas of the university, including libraries. Learn more about how you can support the campaign and initiatives like the Ada M. Ducas & Nicole Michaud-Oystryk Librarians Research Endowment Fund and build brighter futures for our U of M community.