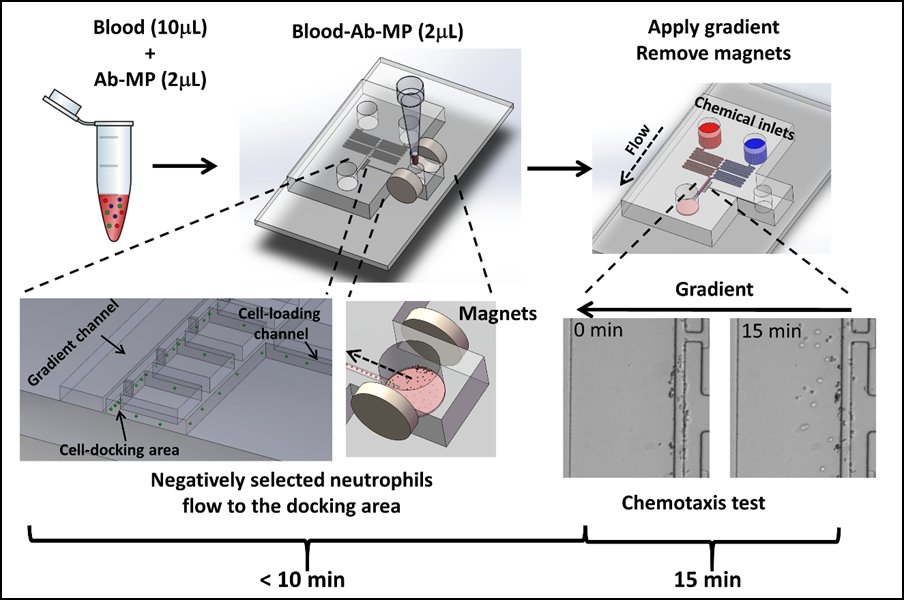 Better Testing for Pulmonary Disease Using Microfluidic Chips
Researchers create an all-on-chip alternative to complex testing for Chronic Obstructive Pulmonary Disease
May 25, 2016 —
A team of researchers at the U of M's Immunotrafficking Lab in collaboration with Winnipeg clinical scientists have developed a method of testing for Chronic Obstructive Pulmonary Disease (COPD) in humans using a microfluidic chip and small samples of blood.
Rather than complex testing that requires specialized facilities, the scientists – led by Francis Lin of the University's Department of Physics and Astronomy – have developed a method of taking sputum (coughed-up mucus from the lower airways) from COPD patients and applying it to a chip to create a chemical gradient.
Then a small sample, only a few microliters, of blood from a healthy donor is added to the chip and the white blood cells from the donor blood will be attracted to the COPD and move across the gradient. Based on the number of cells that move up the gradient "slope" the chip can diagnose COPD.
An advantage of this method is that the blood does not require additional handling, a small drop of whole blood is used and the procedure does not require specialized facilities for processing and testing of the samples. This means that the cell-migration-on-a-chip test is simpler, can be done on-site, and takes approximately 25 minutes – not days.
"The relevance of studying white blood cell migration and chemical gradients using a microfluidic device to understand COPD was first discussed in my Ph.D. work in 2004," said Lin.
"The idea of using microfluidics-based white blood cell migration as a diagnostic marker for COPD was stimulated during a meeting with Dr. Ricardo Lobato de Faria from Seven Oaks General Hospital back in 2011."
After several years and the addition of Jiandong Wu working as a Ph.D. student (now a MITACS postdoc fellow in the Lin lab), "The project moved forward leading to a PLoS ONE paper in 2015 reporting the first use of microfluidic device to evaluate our method in testing for COPD, and later the patent for the all-on-chip rapid cell migration test and the publication in TECHNOLOGY." (You can read the article here http://www.worldscientific.com/doi/abs/10.1142/S2339547816500035)
Now that the method has been established, Lin said that this will lead to a practical solution for clinical testing in the next stage. "We hope to better define the criteria of diagnosing COPD and assessing the disease stage from the cell migration test."
"In fact, we hope that the cell migration test can provide more diagnostic information (such as earlier prediction for the risk of disease progression) than the traditional diagnosis methods."
Ultimately, they hope to introduce the chips to clinics for on-site testing.