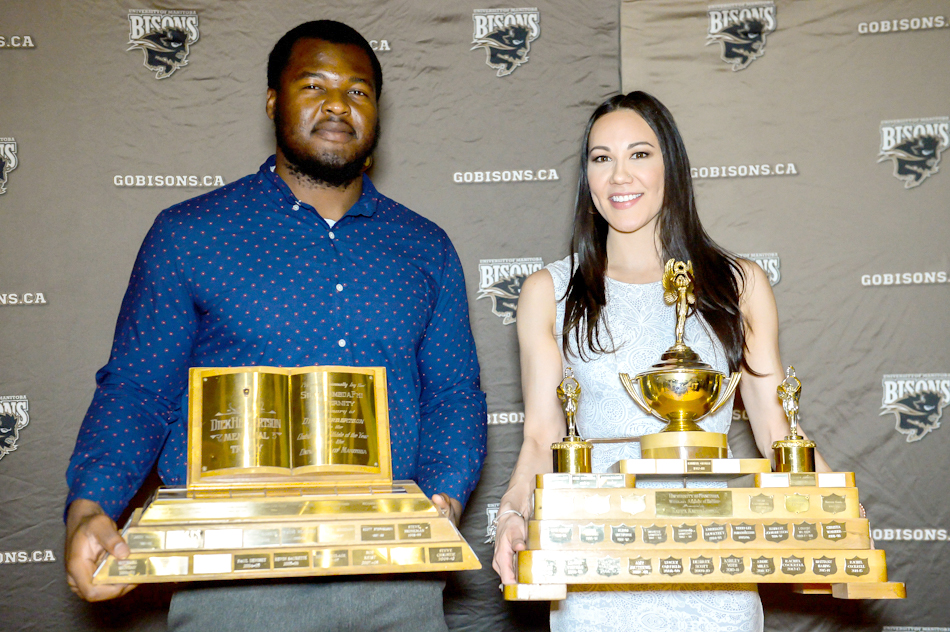 Best of the Bisons
Year-End award-winners announced
April 5, 2016 —
The University of Manitoba Bison varsity teams finished another successful season that had two teams reach the Canada West conference Final Four and another team earned a spot in the conference final.
In the 2015-16 season, six of the eight teams in fall and winter sports qualified for post-season.
On top of team success, there were several individual accolades plus major CIS (Canadian Interuniversity Sport) and conference award-winners along with international recognition.
Bisons Kimberly Moors and David Onyemata were named as Bison Sports Female and Male Athletes of the Year.
Men's Basketball Head Coach Kirby Schepp was selected as 2015-16 Bison Sports Coach of the Year. Bison Sports Rookie of the Year award-winners were Bison hockey's Sydney Booker and Brett Stovin. The fourth annual Pat Gill Legacy Award was presented to long-serving Bison basketball coach Randy Kusano.
Along with the major awards, Bison Sports recognize team MVP from each team, each year.
Bison Sports Team MVPs for the 2015-16 season:
Women's Basketball – Jenilyn Monton
Men's Basketball – Justus Alleyn
Women's Cross Country – Rebekah Sass
Men's Cross Country – Abduselam Yussuf
Football – David Onyemata
Men's Golf – Devon Schade
Women's Hockey – Amanda Schubert
Men's Hockey – Jordan DePape
Women's Soccer – Bruna Mavignier
Women's Swimming – Kimberly Moors
Men's Swimming – Dillon Perron
Women's Track & Field – Rachel McLeod
Men's Track & Field – Matthew Fitkowsky
Women's Volleyball – Sarah Klassen
Men's Volleyball – Devren Dear
To see pictures from the Brown and Gold Banquet, click here.