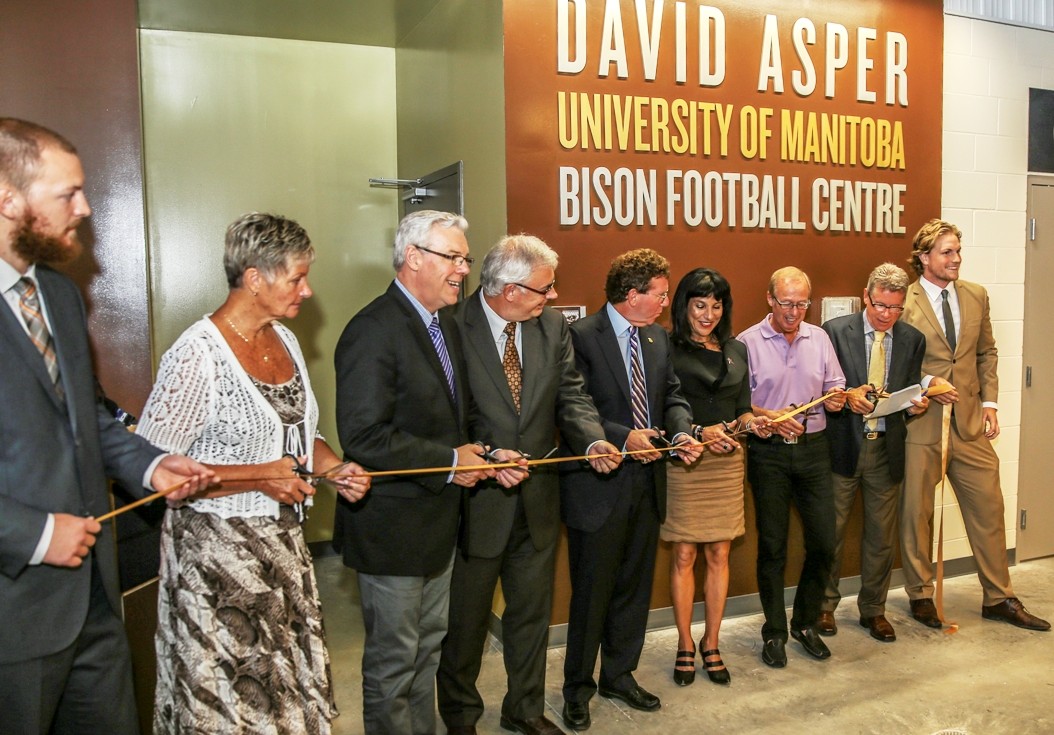 Best facility of its kind opens
August 28, 2013 —
On August 28 dignitaries and guests joined University of Manitoba President and Vice-Chancellor David Barnard in officially opening the "David Asper University of Manitoba Bison Football Centre", the new home of Bison Football at Investors Group Field.
"Today, you are getting an opportunity to see what we are so excited about: the best playing, training and learning facility for intercollegiate football in Canada and one of the best stadiums in North America," Barnard said to the audience before the facility tour began.
This premier space is the new benchmark for any team playing in the Canadian Interuniversity Sport union. It was made possible through the leadership of alumni like David Asper [BA/80] and the provincial and municipal governments. The facility is named after David Asper to recognize his contributions to sport in Manitoba and to his commitment to University of Manitoba athletes.
"As a Bison Football fan, I am so pleased to be a part of this and to contribute to the success of the team," says David Asper. "It's a great feeling to know that our players have access to these excellent training facilities, the best in Canada."
Premier Greg Selinger, Mayor Sam Katz, and Bison Football players and coaches also praised the new facility.
"Investors Group Field showcases the best of Manitoba.  It was built through a cooperative effort and benefits the university, the Bisons football club, their fans and the community at large.  I'm looking forward to another great season of Bison football- best of luck to Coach Dobie and the team as they settle into their spectacular new home," says Premier Greg Selinger.
"The City of Winnipeg is proud to be home to some of the finest athletic facilities in Canada – at the University of Manitoba alone, we have Investors Group Field, with the David Asper University of Manitoba Bison Football Centre, the Winnipeg Soccer Federation Indoor Soccer Complex, and soon, the 100,00- sq.-ft. Active Living Cente," says Mayor Sam Katz. "These modern facilities will provide our young athletes with the support they need to enhance their skills and achieve their very best."
Since 2008-09, The University of Manitoba has invested $614 million in spaces for learning, research, living and recreation.
These projects, Barnard said, help recruit students, attract and retain faculty and staff, improve our learning and working environment, and help us better serve the broader community.
The David Asper University of Manitoba Bison Football Centre is a 17,405-square-foot space featuring a 5,059-square-foot dressing room with 84 lockers and a custom Bison logo on the floor. The space also has a customized equipment room and a 3,842-square-foot weight room. Throughout it all, a visitor will spot audio-visual equipment that will be used for training and presentations.
"As this facility opens, it not only instantly changes the professionalism and quality of our program for student athletes, but impacts the environment and culture for the campus and all students," says Bison Football Head Coach Brian Dobie.
This Bison training facility is complemented by the 100,000-square-foot Active Living Centre, which will open in 2015.
"These projects are the product of the vision and hard work of our faculty and staff and are possible thanks to the generosity of our alumni, donors, partners and friends," Barnard said. "On behalf of the University of Manitoba, I want to wish Coach Dobie, his players and coaches great success in their first season at Investors Group Field. I am pleased they now have facilities that are worthy of their passion and commitment."
For  Bison Football tickets click here. Go Bisons!