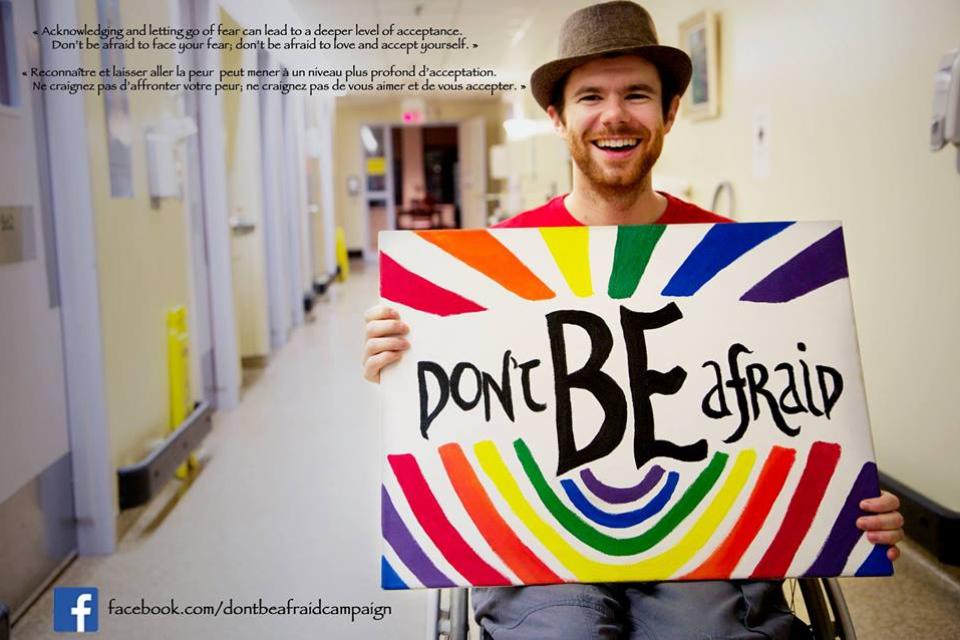 Benefit concert tonight for attacked student
February 3, 2014 —
On October 12, 2013, former University of Manitoba student Scott Jones was leaving a Nova Scotia bar for the night when a man grabbed him from behind, stabbed him twice in the back and slashed his throat. The neck wound was superficial but the stabbings severed his spinal cord and Jones is now paralyzed.
Jones has told media he is convinced he was attacked because he is openly gay and in the town of New Glasgow there are few openly gay men. A 19-year-old man was arrested on Oct. 13 and the case is now awaiting trial.
Jones was in the Masters Conducting program in the U of M's Desautels Faculty of Music and was the Assistant Conductor of the Women's Chorus in 2009.
To support him, at 7 p.m. on Feb. 4 at Knox United Church (400 Edmonton Street, Winnipeg),  the Desautels Faculty of Music members will perform a benefit concert for him. Cash and cheque donations will be accepted for the Support Scott Jones Fund.
Performers include: Edmund Dawe, Larry Roy, University of Manitoba Choirs, University of Manitoba Musical Theatre Ensemble, Donna Fletcher, Elizabeth Humphries, Rainbow Harmony Project, and Sisler High School Chamber Choir and Winnipeg Boys' Choir directed by Carolyn Boyes.
"I met Scott Jones in 2004 when he was one of my piano students in the Department of Music at Mount Allison University in New Brunswick," Desautels Faculty of Music Dean Edmund Dawe says.  "Scott is one of the most naturally gifted musicians I have worked with in my teaching career. Furthermore, he is genuine, kind and generous in everything he does.
"Despite being the victim of this terrible crime, Scott's attitude remains positive and kind. This concert is a fitting opportunity for university, alumni, and community members to support Scott in his journey."
Don't be afraid
As Scott wrote on a website dedicated to him:
DEAR FRIENDS, FAMILY AND SUPPORTERS,

This year was one of the hardest years of my life. It was also one of the most enlightening and emotionally profound.

After the attack on October 12th left me paralyzed, I didn't know what to do. I was scared of what my life was going to be like. Initially, all I could feel was my fear. I was so angry at my situation, and the man who attacked me. Some days it was hard to breathe.

Then love started to pour in around me- and it poured hard! People were so, so helpful- visiting, sending messages, donations, bringing food, organizing events. People empathized deeply with my pain and wanted to help in any way they could. There is something so beautiful about human beings trying to help other human beings in need.

I can't adequately explain what my heart felt during that time. It was as if- every time someone would visit me, or call me, or send a card, or organize something- I could literally see love surrounding me in my hospital bed. I could feel it, hear it, and breathe it. I know that sounds ridiculous, but it's true. The love that poured in enveloped me and carried me out of my fear. I was, and continue to be, overwhelmed by the response.

Although it is unimaginable to me to be able to articulate a thank you big enough for what I experienced, I hope you all know, no matter what your part was in my recovery, you have helped me and I am so grateful for it. I am in awe of the human experience. I am in awe of all of you and your potential to love and care for those in need.

-Scott-

**Something beautiful that grew out of this experience is a campaign called Don't BE Afraid. It is an awareness campaign that aims to dissolve the fear that surrounds homophobia and promote a deeper level of acceptance. I am mentioning it to you because this campaign was an integral part of my recovery, and it continues to motivate me to face my own fears in this new chapter of life. It is moving to see all of the photos of people standing against homophobia, especially after what happened to me this year. I invite you to visit the page, like it, and share the message on your wall. The hope is for the campaign to eventually hold events that incorporate art in communicating the Don't BE Afraid message. In the meantime, please talk about homophobia, shine a bright light on it, so that the fear it spreads can be dissolved. If you would like to get involved, please send a message to the Facebook group, or send an email to dontbeafraidcampaign [at] gmail [dot] com.
"Everyone thinks it's 2013 and it shouldn't be happening," he said of homophobia to the CBC. "When you go on Facebook and you see an article about what's going on in Russia, usually the tag line is 'How's this happening, it's 2013.'
"But it's happening. It's like racism. It's always going to be there unless you talk about it, and there's education, and there's a non-judgmental discussion about the topic.
"If people don't talk about these things, then yeah, it will continue to happen everywhere."