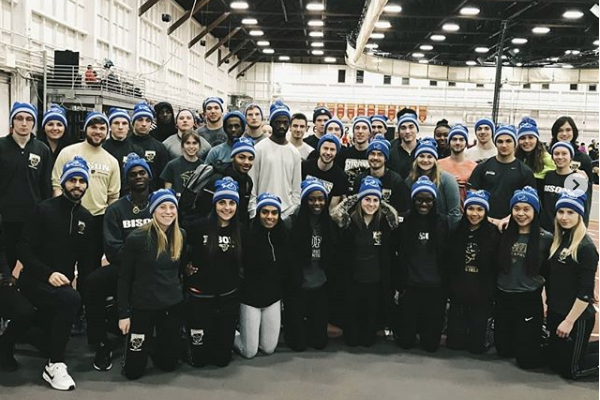 Bell Let's Talk: A conversation worth having
Jan. 30 is Bell Let's Talk Day; see what's happening across campus
January 25, 2019 —
This year the University of Manitoba will be among the more than 200 post-secondary institutions across Canada to join the mental health conversation with Bell Let's Talk.
Since 2010, the campaign dedicated to moving mental health forward in our country has raised close to $100 million to support mental health programs. The strategy is built on four pillars: anti-stigma, improving access to care, supporting world-class research, and leading by example in workplace mental health.
"Financial support, innovative learning environment and experiential learning opportunities are always top of mind when it comes to providing an outstanding student experience," says David Barnard, President of the University of Manitoba. "But in order to focus on their studies, be present in class and explore new paths, students must have healthy, active minds. We applaud Bell's efforts in this area and encourage students to seek out ways to maintain positive mental health through on-campus services."
On January 30, #BellLetsTalk Day, for every text, mobile and long distance call made on the Bell network, tweet using #BellLetsTalk, social media video view, or use of the Facebook frame or Snapchat filter, Bell will contribute 5 cents more to Canadian mental health programs.
Join us and take part in any number of events have been planned on campus leading up to and on January 30:
January 25, 7 p.m.
Bison men's hockey at Wayne Fleming Arena
Bison men's volleyball at Investors Group Athletic Centre
Mental health advocates and community members will be on site, fans will receive Bell Let's Talk toques (while supplies last)
Fan activities and giveaways!
January 28-Feb 1
UMSU Students Let's Act mental health awareness week
January 30
Bell Let's Talk Day
Mental health advocates and community members in UMSU University Centre
Wellness Sharing Circle (International Centre & Spiritual Care), 3:30-4:30 p.m.
Bell Let's Talk at Bannatyne, 11:30 a.m. – 1:30 p.m.
Come meet the staff from Services for Students at Bannatyne Campus and get information, resources, and giveaways in the Brodie Atrium.