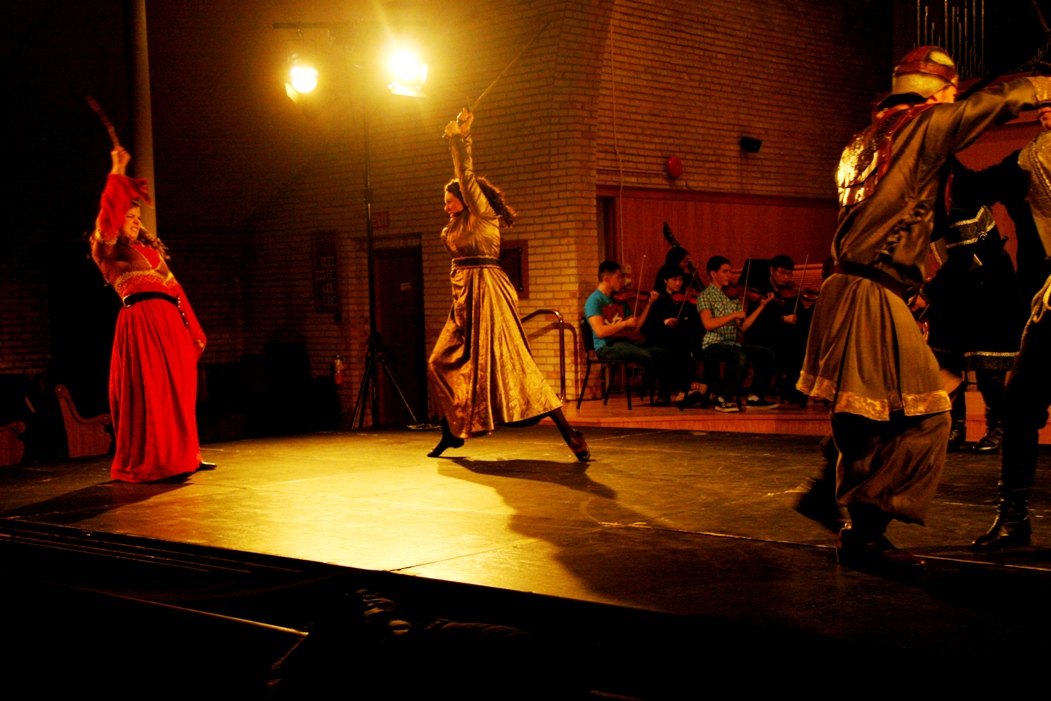 Rinaldo: Battling views on good versus evil
New opera surprises with fresh interpretation
November 18, 2013 —
The Desautels Faculty of Music's Opera Theatre and Symphony Orchestra students are collaborating once again in an epic tale of battles for empires and hearts, told through G. F. Handel's glorious music in Rinaldo November 20th and 21st at St. Andrew' s River Heights United Church.
Katherine Twaddle, Rinaldo director and Opera Studies Coordinator, has taken the traditional baroque opera and placed the focus on the very human qualities of the characters. "Most plot summaries of this opera tell the story from one side, dividing the characters into heroes and villains.  But Handel's music tells another story; a story that takes us beyond religious wars and magical kingdoms into the heart of humanity, with all its vices and virtues."
"Rinaldo is a complicated story. It is vaguely based on historic events at the end of the first crusade in 1099, interpreted through an epic poem by the classically inspired, renaissance-born Torquato Tasso, and finally turned into a super spectacular music theatre piece for London audiences in 1711, involving flying chariots drawn by fire breathing dragons. The original production was filled with so many special effects that it could be viewed as a precursor to the modern day Andrew Lloyd Webber mega-musical.  Handel's music is also full of exciting pyrotechnics, but what attracted me to this opera was the humanity he gave the characters through his music.  During the course of the opera all of the characters fight a battle within themselves as they experience doubt for the first time, taking us on an emotional roller coaster ride."
The Christmas-season classic Messiah is Handel's best known work, but during his lifetime Rinaldo was the most frequently performed of all the composer's musical dramas.
The story of Rinaldo tells of a colossal army that descends upon an underpowered kingdom. In one corner, a general prepares for victory, while his knight longs to win the hand of the general's daughter. In the other corner, a king strives to protect his people with the mysterious information revealed by his lover, a power-hungry sorceress. But good and evil are not what they seem. Duty, deception, magic and misguided love force these characters to question their loyalties and enter into their own personal battles.
"We chose Rinaldo not only because it was a perfect fit for the voices in our Advanced Opera Studies, but also because it provided the orchestra with an exciting score and wonderful opportunities to highlight solo instruments," adds Twaddle. "We're excited to be able to foster this collaboration between the U of M Symphony Orchestra and the Opera Theatre and to share this lesser known masterpiece with our audience."
Nikki Einfeld, Andriana Chuchman, Ileana Montalbetti, Christopher Enns, and Catherine Daniel are some recent grads, now doing significant professional work for companies all over the world, including New York's Metropolitan Opera, Lyric Opera of Chicago, San Francisco Opera, L'Opéra de Montréal and the Canadian Opera Company.
The production is fully costumed and staged with a minimalist set and was put together by the following people:
Conductor – Julian Pellicano
Director – Katherine Twaddle
Musical Preparation (voice) – Mel Braun
Vocal Coach – Laura Loewen
Fight Choreographer – Jacquie Loewen
Music Assistant – Christopher Kayler
Costumes are by Harlequin.
Rinaldo plays for two nights only, November 20 and 21, at St. Andrew's River Heights United Church (255 Oak Street at Kingsway Avenue). Performances begin at 7:30 p.m., and tickets are $20 adults/$12 students and are available at the Desautels Faculty of Music office (204-474-9310) or through Manitoba Opera at 204-944-8824 or www.manitobaopera.mb.ca, or at the door. Join us for this wonderful evening.