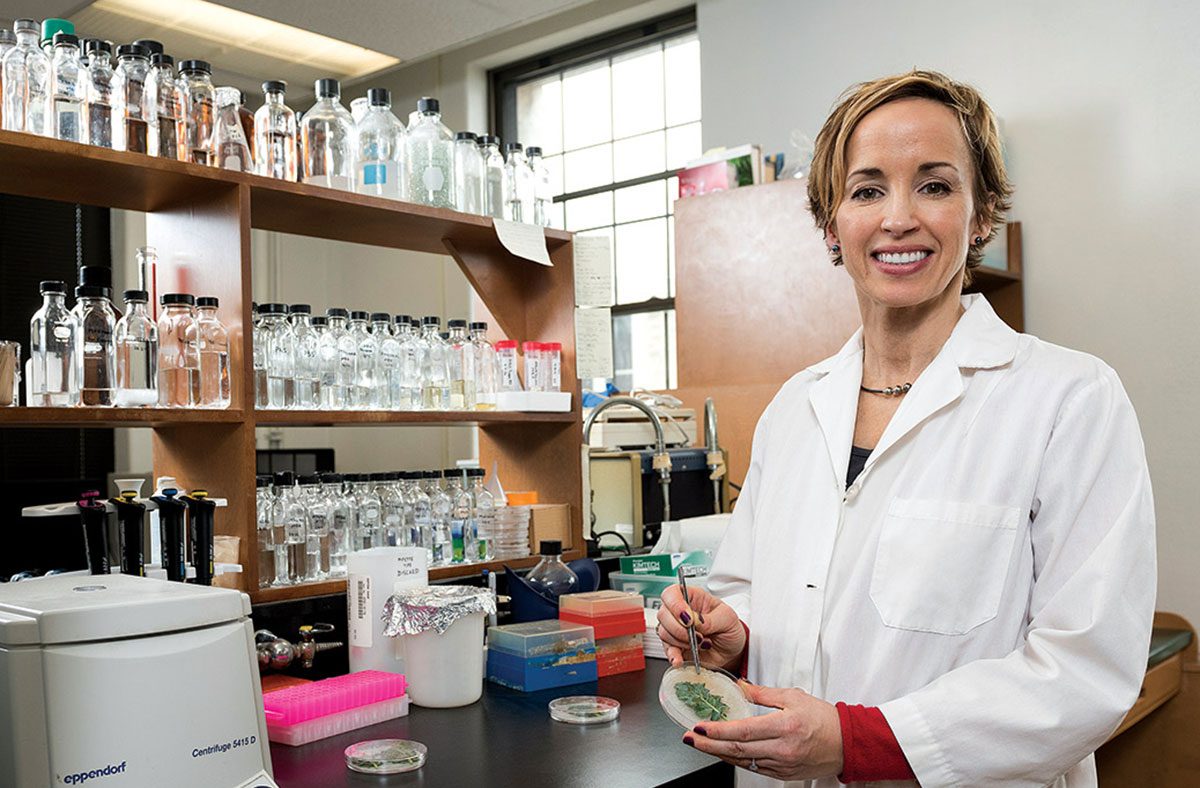 Bacteria – nature's biopesticide
February 23, 2017 —
From the Summer 2016 edition of ResearchLife:
Back in 1985, Teresa de Kievit's decision to enroll in the biology program at the University of Waterloo, in her hometown, made perfect sense. She had thoroughly enjoyed her biology classes at high school. The subject had come easily to her, and she had consistently done well. Plus, enrolling at the University of Waterloo meant she wouldn't have to move or commute. But biology, de Kievit quickly realized, was just a means for her to discover her real scientific passion. That passion, it turned out, was microbiology.
"After my first two microbiology courses, I knew that was the area in which I wanted to focus," she says, "I was completely enthralled by the topic."
That enthrallment prompted de Kievit to transfer to the University of Guelph in order to pursue a microbiology degree, an option not available in Waterloo. That same enthrallment then saw her through the PhD program at Guelph and a post-doctoral fellowship at the University of Rochester, and has continued for 15 years to inform her work and research at the University of Manitoba.
De Kievit joined the Department of Microbiology at the U of M in 2001, a year after taking an industry-based job in Winnipeg. Unsatisfied with that work, she approached department head Peter Loewen about a possible adjunct position, and was encouraged instead to apply for a faculty vacancy. De Kievit did so and was offered a job as assistant professor, an opportunity that let her get back to the classroom, back to the lab and back to her microbiology research.
That research is primarily focused on investigating bacteria as a possible safe alternative to conventional agrochemical pesticides traditionally used to control plant disease. The use of bacteria instead of chemicals, de Kievit explains, will eliminate the risk that pesticides pose to the environment, humans and animals, and provide a much safer and sustainable option for plant disease control.
De Kievit and her research group, consisting of five graduate students, are mainly paying attention to two bacterial strains that have been isolated from Manitoba soils. These strains, Pseudomonas chlororaphis strain PA23 and Pseudomonas brassicacearum strain DF41, were originally isolated by de Kievit's colleague, Dilantha Fernando, from the Department of Plant Science.
"Interest in these bacteria stems from the fact that they can suppress growth of fungal pathogens causing disease in important crops, including canola," de Kievit says. Manitoba is one of the largest canola producers in the world.
This process of suppressing growth is known as biological control or biocontrol.
"My group is interested in the bacterial genes and products that are responsible for biocontrol," de Kievit continues. "We've discovered that the bacteria produce an arsenal of antibiotics and degradative enzymes, which inhibit the growth of the fungus."
This is true for plants grown in the greenhouse as well as in the field. Having identified the bacteria's weaponry, de Kievit's next step was to figure out why the bacteria produce those compounds in the first place.
"Since it costs the bacteria considerable energy to make antibiotics and enzymes," she says, "there must be a benefit to the producer."
That benefit, it turns out, is a life-saving one.
As de Kievit and her team discovered, the compounds that the bacteria produce to inhibit the growth of fungus in plants also happen to protect the bacteria themselves from being consumed by organisms that normally feed on them. Bacteria grown in the presence of their predators automatically increased their production of the toxic compounds.
"These findings indicate that the bacteria are able to sense the presence of the predators, probably through chemical communication," surmises de Kievit.
"Such traits," she adds, "bode well for the ability of these bacteria to survive in the environment, which is essential for the success of any biocontrol agent. You can introduce organisms into a particular environment, but if they don't survive, they won't be able to elicit their desired effects."
This interaction between the bacteria and their predators is currently the main area of research for PhD student Munmun Nandi, who has been working with de Kievit for four and a half years. Toiling away in the lab alongside Nandi, Master's student Nidhi Shah is examining the expression of biocontrol genes that are regulated by PtrA and what factors influence that expression. In a related project, Kelly Duke is looking at changes that occur in the physiology of the canola plant when it is treated with Pseudomonas chlororaphis PA23, one of the lab's main bacteria of interest.
"We are interested in PA23 because it protects canola from Sclerotinia fungus infection when it's sprayed onto the plant," explains Duke. "We know that PA23 can attack the fungus directly, but we were curious to know if PA23 somehow helps the plant to become more resistant to infection by boosting its immune system."
Duke was introduced to de Kievit's research when she joined the lab part-time as a first year student. She also took a microbiology course with de Kievit that year, and found her to be an interesting and inspiring teacher.
For her part, de Kievit, who was recently named a full professor and also promoted to Associate Head of Graduate Affairs for the department, admits that while she loves and is excited by her research, she also loves teaching, especially the first year Intro to Microbiology course.
"It's impossible not to be captivated by this subject," she says, adding, "I know how impactful these introductory courses can be for students in helping them choose a career path."
After all, de Kievit's own career path was determined the moment she sat down in her first microbiology course as an undergrad, and the interest and excitement she experienced then has never abated.
That interest and excitement have followed de Kievit for three decades now, from one classroom to another and from the lab to the greenhouse and out to the field. They have made her into a great teacher, a great mentor and a great researcher, and have been instrumental in her determined search for a non-toxic and organic alternative to agrochemical pesticides.
Research at the University of Manitoba is partially supported by funding from the Government of Canada Research Support Fund.