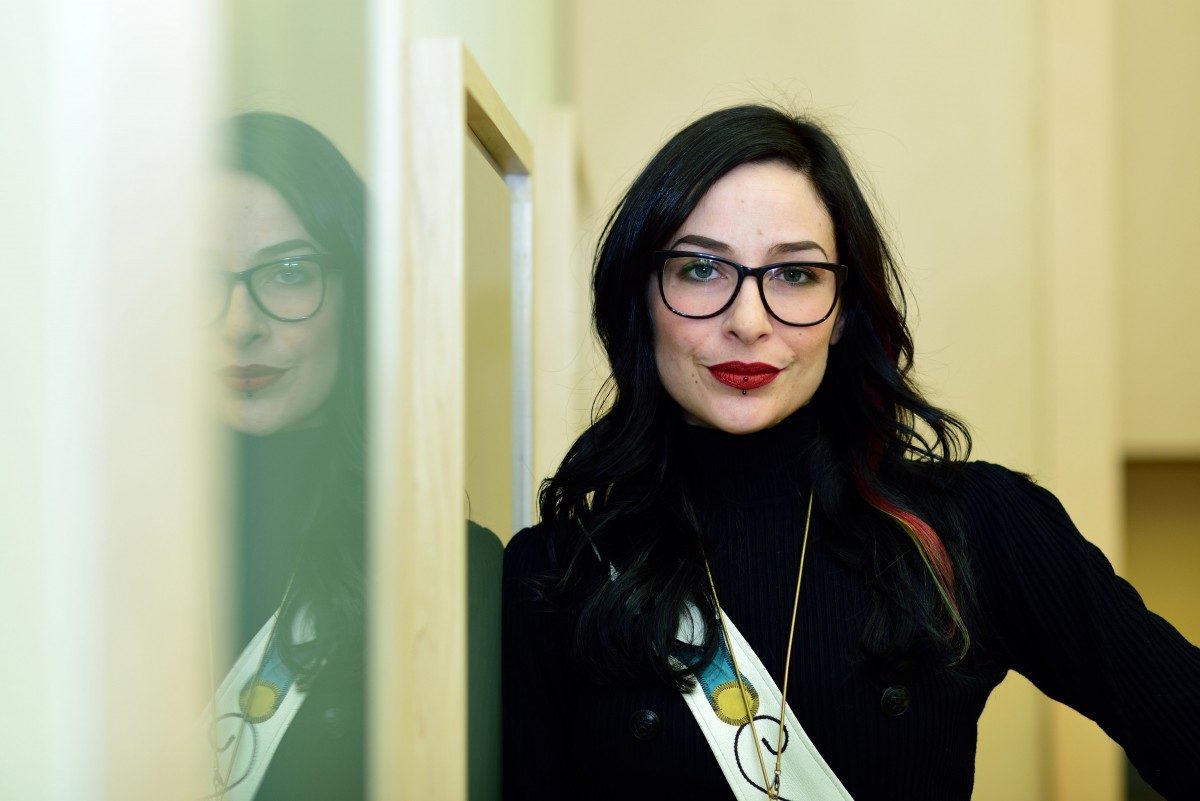 At Migizii Agamik, Access students share love and support
A community and a place to belong
February 27, 2018 —
It's all over the news, and no one can look away from the tragedy that stirs raw emotion in the hearts of all Canadians. A young Indigenous man is killed in Saskatchewan. The acquittal of his killer sparks outrage and ignites protests nation-wide. People demand changes to the Canadian justice system, and an end to racism and injustice. Nothing will ever be the same, nor could it be.
At Migizii Agamik, students find comfort in a safe place. Members of the community gather together in good times and bad. On one occasion, there is laughter, joy and celebration, feast and fiddling. On another, there are tears and sadness, a shared sense of anger, and profound loss. On Valentine's Day 2018, a special gathering was held here. It was an opportunity for everyone including students from the Access Program to express their deepest emotions openly, with love and respect for all those whose hearts were broken at the news of the Boushie verdict.
Kristin Flattery
As a radical political activist artist, Kristin Flattery creates performance art to start a dialogue on Indigenous issues. She will be presenting a show at Urban Shaman Gallery starting at the end of April.
"It will crack the foundation of Canada if we don't fix issues with Indigenous people," says Flattery. "There are good people out there. Join us and walk hand in hand with us. Help us change this together."
A U of M student with a bachelor of fine arts honours degree now studying education, Flattery started university with the Access program in 2011. It was recommended by her mom, Paula, who told her she never would have earned her medical degree without it. Last year, Flattery was student rep for Access. Currently she is Indigenous social media assistant for the U of M and social media rep for the Aboriginal Students Association.
As a mother of two boys, she stands in solidarity with the Boushie family.
"I feel the verdict was unjust. It comes down to systemic racism. We always tiptoe around the issue of racism. We need to focus (not just on the words we use but) on the issue and move forward to make it better. I have been coming to marches and vigils. I try to be positive. But we are constantly grieving. It's important to create dialogue and feel our emotions. What do we do with our anger? I make my pain into art, but not all people have that outlet."
Flattery says she is inspired by being around the elders. "They remind us of our ancestors. Listening to their knowledge is very important."
She calls Access a home away from home. "I don't know what I would do without the Access program. People here are our own cheerleaders, our big sisters and brothers, our little sisters and brothers. It's hard to know where you belong and can feel safe. It's here."
Charlene Hallett
Charlene Hallet remembers a moment when she found herself analyzing her son's skin tone, considering how others would see and treat him. Just thinking that she was even thinking about this broke her heart.
A Cree Métis mom of three, Hallett started university in 2015 at the age of 39. "It's the most difficult thing I have ever done. I was a stay-at-home mom for 12 years," she says. "I love school. I attend full-time. I am an A student. I have a supportive husband. Every day, I talk with my kids about big issues. I want them to be leaders and critical thinkers. As long as I have them, I will talk to them."
Growing up in a poor family in Winnipeg's North End, she didn't think she would go to university. "I was not sure I belonged there. I was not sure I had it in me."
But like three of her four sisters, she joined Access and now she's a third year family social sciences, human ecology student. "I fell in love with wanting to do more. When I learned Joan Durrant, (studying the effects of corporal punishment on children) was on campus, I had to go to university."
The Boushie verdict and the death of one of her son's classmates in a traffic accident left Hallett with a deep sense of loss.
"We are all related. We all feel that loss. But when I saw the Boushie family on television, I was so humbled by this mother. If she can do it, I feel compelled to carry on in her honour. Hug by hug, day by day, I feel a shift. There is movement, even if it's just in our own hearts."
In Access, Hallett says she always feels supported.
"We don't have to apologize for our tears. We must honour them. Letting it out is a part of our healing. It's okay to acknowledge our feelings… I have a good understanding of history. I have empathy. I do my part when I can. I feel empowered after today. I always feel supported in this space."
Chance Paupanakis
When the Boushie verdict was announced, Chance Paupanakis and his fellow members of the National Circle of First Nations, Métis and Inuit students were organizing events within an hour.
"We mobilized. We had a game plan. Social media really keeps us connected," says Paupanakis who spoke at a Winnipeg rally in response to the verdict.
"The verdict was a huge shock to Indigenous and non-Indigenous Canadians. We come together to share our stories and persevere in a society not sculpted to suit our way of life. We use our anger and turn it into love, and do good. We all have a lot of power as individuals to make change."
From Kinisao Sipi (Norway House) Cree Nation, Paupanakis remembers going to an Access orientation even before he started university. He is now completing an advanced arts degree with a political studies major and a native studies minor. Next, he plans to study law and work in the north, where hydro projects are creating problems for Indigenous communities.
"The fight will have just begun," he says.
Paupanakis calls Access a safety net for students. "It's a place for being Indigenous and being together. The program gives us the tools we need to have success. The staff do more than support us. They go out of their way. I don't know where I would be without it. It's one of the reasons why I am in university."