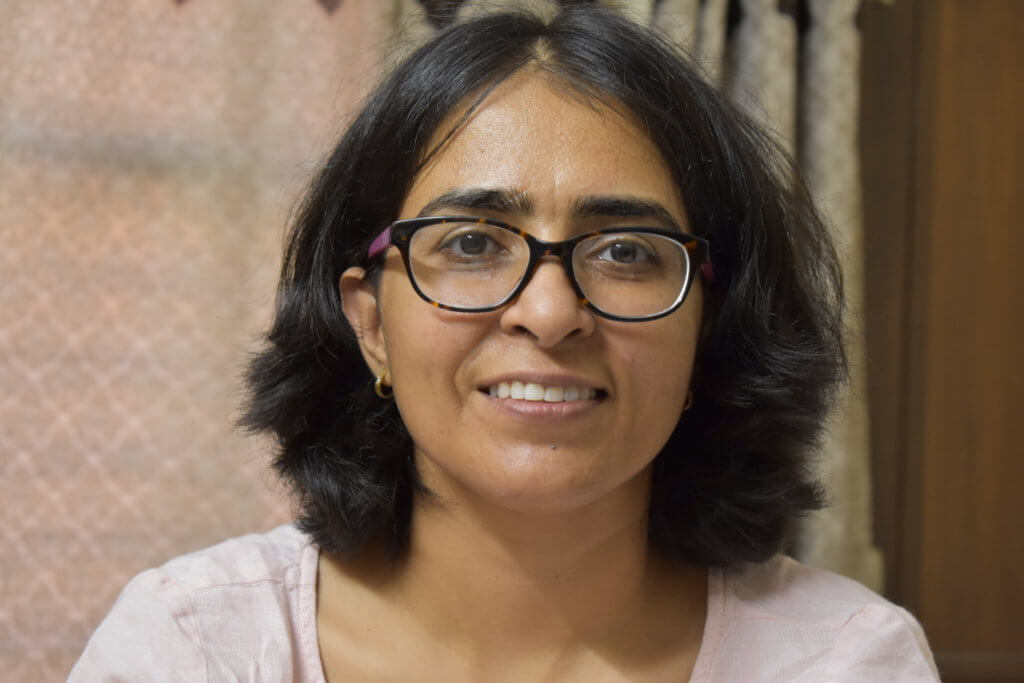 Asper student tops agricultural background with Master in Supply Chain
Parneet Sandhar returns to classroom after 16 years
March 15, 2022 —
Career advancement sparked Parneet Sandhar's interest to pursue a master's degree. Midway through her professional journey, she dedicated her time and attention to her son. As soon as he turned 15, she knew it was time to follow her interests wholeheartedly.
Having spent most of her career working for her family's catering business, she had no corporate work experience whatsoever. However, she had an immense amount of curiosity, which was all that mattered to her. With the proper education, Sandhar knew she would not only have all her burning questions answered, but she would also be able to re-emerge into the workforce with confidence.
Sandhar's new phase in life and career would begin at the University of Manitoba, where a dynamic, AACSB-accredited business school was housed. "I knew it would upgrade my academic credentials perfectly," Sandhar says.
Furthermore, the University's Asper School of Business — one of Canada's leading business schools and ranked among the world's top 8% — offered a Master of Supply Chain Management and Logistics (MSCM) program that complemented her agricultural background and brought her professional aspirations to life. It was also known for offering real-world experiential opportunities other business schools could not.
Sandhar was excited to join the MSCM — however, 2005 was the last time she had stepped foot in a classroom, and she wasn't exactly sure what she should expect.
She did not have to wait long for her doubts to calm. The program was well designed to help her swiftly connect with like-minded students, taking in their fresh perspectives as she mastered various software tools.
Most importantly, she discovered that the MSCM's premise was not only centred around enhancing professional skills but one's application of ethics, sustainability and professional practices in the supply chain industry as well. These lessons were especially intriguing to her.
"Executive Leadership and Responsibilities is the class I like the best," Sandhar confirms. "In this class, I am learning to question my previous notions of what is ethically right and wrong. I am also coming to realize why things cannot always be categorized as either right or wrong and how sometimes even the most righteous people side with morally wrong decisions."
Jointly offered by the Stu Clark Graduate School, the MSCM also covers the topics of: Managing People in Organizations; Operations and Supply Chain Management; Executive Leadership and Responsibilities; Quantitative Analysis; Business Processes Management; Negotiation; Global Transportation Principals; Sustainable Lean Management; Logistics Management; Purchasing and Procurement in Supply Chains; Supply Relationship Management: Recent Development in Supply Chain Management; Sustainable Supply Chain Management; and Advanced Supply Chain Management.
This expansive line-up makes the MSCM an unrivalled choice for learners like Sandhar vying for a career in the transport industry. It is just as ideal a pathway into rewarding roles within the fields of agriculture, manufacturing, forestry, mining, hospitality, government organizations, public services, regional health authority, infrastructure, education, or Crown corporations.
Ask Sandhar to summarize these lessons in just one word, and she'll insist on doing it in three (or five): life-changing, incredible, and academically challenging. She's already reached a feat she never thought she would ever be able to — bridging the gap between her non-corporate background and her plans for the future.
The International Graduate Student Entrance Scholarship (IGSES) has been a bonus. The award is reserved for international students like her with a minimum admission grade point average of 3.5. Without a financial worry in mind, Sandhar has effortlessly continued caring for her family while independently excelling in her journey to supply chain management mastery.
Soon, she will take on a four-month practicum component as either a co-op or an applied project — an Asper hallmark made possible by the Stu Clark Graduate School's network of connections within Manitoba and across Canada. Sandhar knows it will prepare her to follow in the footsteps of 40,000 Manitobans who are directly employed in the transportation and logistics sector.