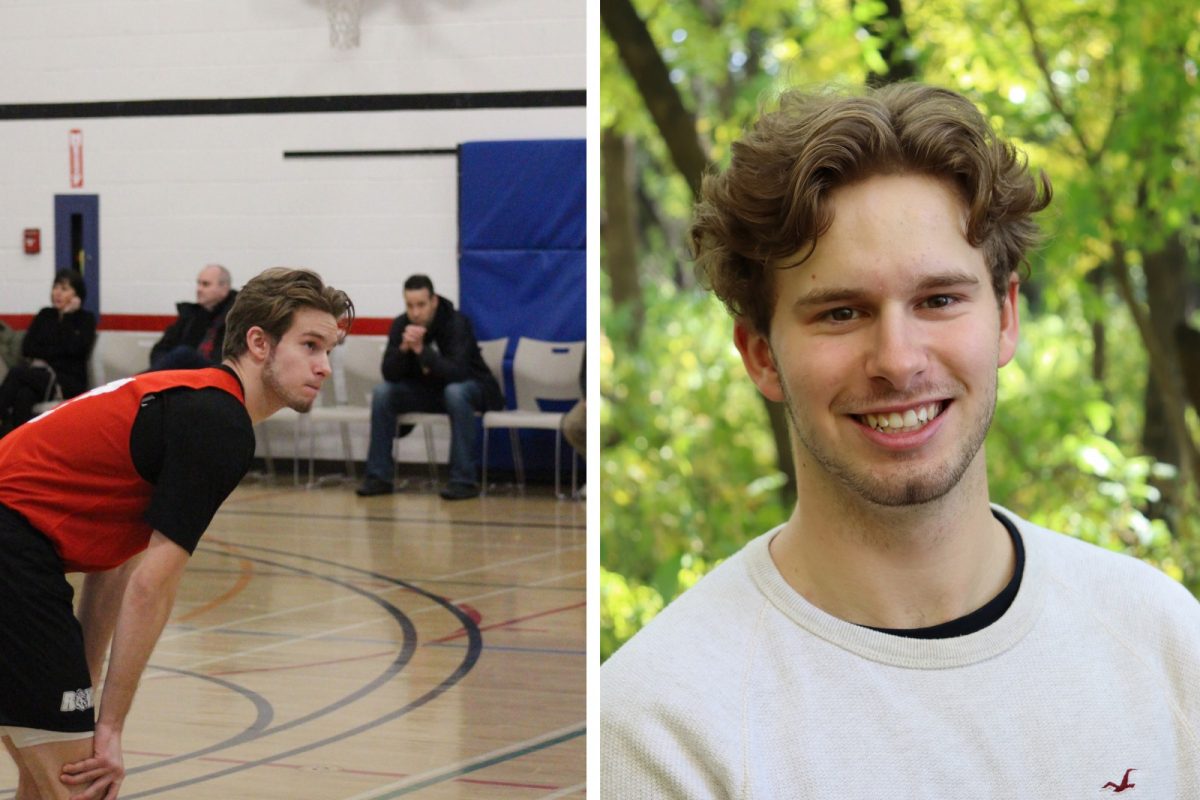 Asper student recognized for community involvement and academic excellence
Indigenous Business Education Partners present top award
December 5, 2020 —
Noah Bartlett, a first-year student at the Asper School of Business, is in his kitchen getting ready for a virtual interview in between his online classes at the University of Manitoba
"It's both fun and a challenge," jokes Bartlett. "I'm pretty grateful that classes are still going on and that I am able to pursue university."
Of French-Métis decent and born in Winnipeg on Treaty 1 land, Bartlett is the 2020 recipient of the Indigenous Business Education Partners (IBEP) Scholarship, an award valued up to $5,000. It's given to an Indigenous high school student entering the Asper School of Business who demonstrates a combination of academic excellence and community involvement. Bartlett shined in his application with a high GPA, participation in extra curriculars, and a commitment to his community.
In 2013, the Asper School of Business became the first school in Canada to offer an Indigenous ancestry admissions category for students who fall slightly below the competitive GPA cut-off, which varies year-to-year. One of IBEP's most prestigious awards is a $15,000 renewable scholarship awarded to an Indigenous student pursuing a business degree at Asper, helping to relieve stress about the cost of living and tuition.
Bartlett decided to apply to Asper after an encounter with IBEP staff member Riley Proulx at the University of Manitoba's 2019 Open House.
"I hadn't decided at that point if I wanted to go into business or if I wanted to be a teacher," he says. Before UM's Open House, he had already been accepted to another university and was applying to others. Bartlett credits the chance meeting with Proulx as the moment that changed his mind.
"The ability to go to UM and Asper, one of the top business schools in Canada, is definitely beneficial to me," Bartlett says. "That night made it clear that UM was the right option for me to pursue my future career goals.
Near the end of high school, Bartlett had realized that despite his passion for sports, he wasn't going to be a professional athlete. With sports being so engrained in his life, from playing to coaching, Bartlett decided to pursue a career as a sports agent. A path to a career in sports through the Asper School of Business may not seem like an obvious choice, but for Bartlett it was crystal clear. He plans to major in marketing and finance.
"Being a sports agent is something that can help me continue to be involved in sports. When I get my honours degree in commerce, it will open a lot of doors for me."
Bartlett talks a lot about the opportunities he believes completing his business degree will provide him, like the Asper Co-Operative Education Program. It's the biggest co-op program at the University of Manitoba and provides more than 100 Asper undergrad students placements with companies both big and small.
"The co-op program gives you an opportunity before you graduate to test different types of employment," says Bartlett. "Maybe it's not about sports, maybe I will be doing a co-op in year four and find out I love marketing and want to do marketing for a company. It's just amazing the opportunities that present themselves."
Bartlett is starting off his first year taking University 1 courses at the University of Manitoba and is eager for year two, when he will begin classes with the Asper School of Business. He still keeps in contact with Proulx, regularly emailing him and discussing upcoming volunteer opportunities and other ways to get involved with Asper.
"I am really excited for the possibility to be more involved with the community in other ways than sports," he says. "Find your passion and make a career out of it."
And Bartlett will do just that.
ABOUT THE INDIGENOUS BUSINESS EDUCATION PARTNERS
Since 1994, the Indigenous Business Education Partners has created a sense of community for Indigenous students studying at Asper. Outside of hosting regular events, IBEP offers services to its students, including scholarships and bursaries, professional development workshops, employer networking, and complementary tutoring through the Canadian Western Bank tutoring program.
For Indigenous high school students, ages 14 – 19 years old, looking to learn more about business, IBEP has teamed up with Shaw Communications to offer a free camp for those interested in marketing, finance, and strategy. There will also be an opportunity for teams to compete against each other to win cash prizes. The Shaw New Venture Camp will run virtually July 5 – 9, 2021 and welcomes participants anywhere in Manitoba with access to Shaw Internet. To register, visit the Indigenous Business Education Partners online.