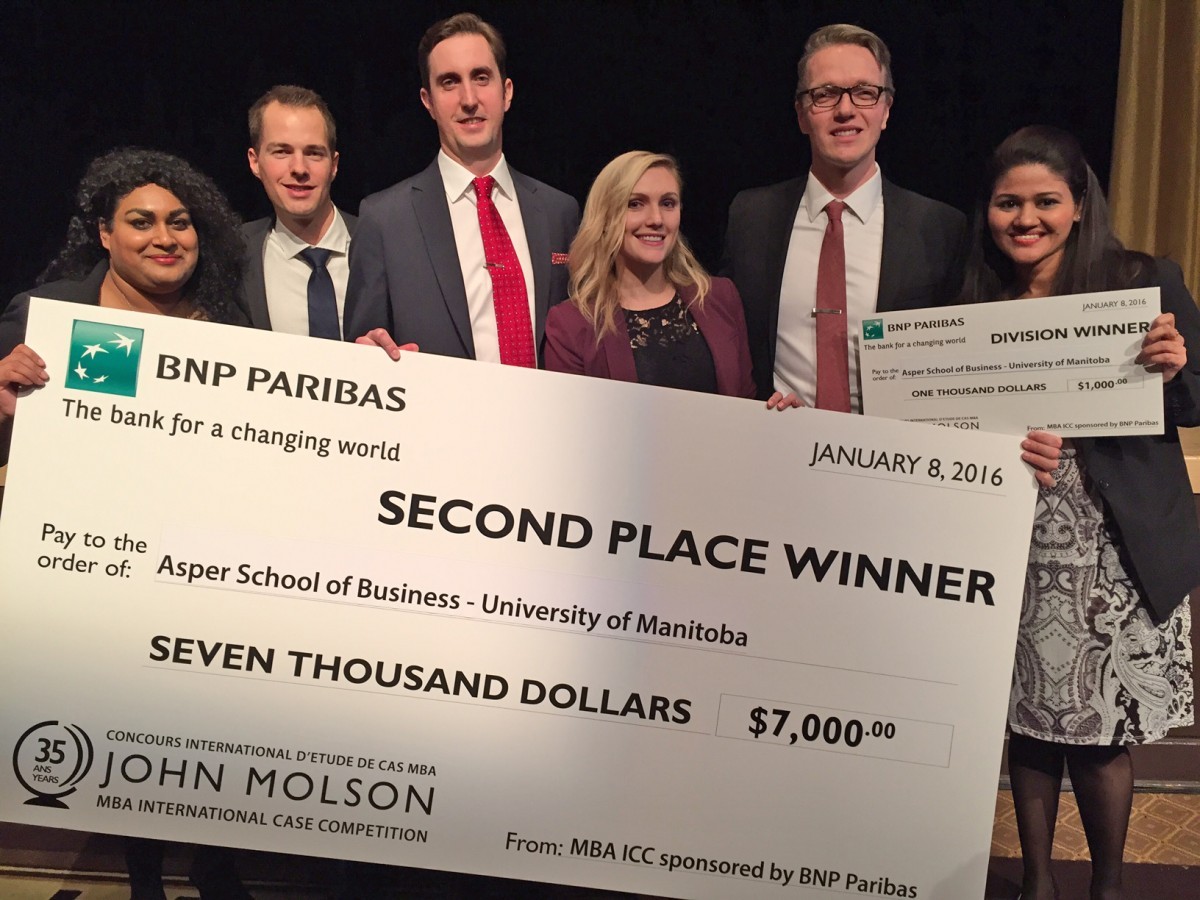 Asper scores best-ever Molson finish
January 12, 2016 —
The Asper MBA case competition team scored the Asper School's highest-ever finish at the prestigious John Molson MBA International Case Competition last week.
Teammates Amanda Macdonald, Jesse Perry, Eric Postma and Tom Epp did an outstanding job representing Asper and the University of Manitoba by winning their divisional championship and reaching the final competition, placing second overall.
"While this is the second time Asper MBAs have won a divisional championship at Molson, it's the very first time we made it to the final round," says team coach Judith Jayasuriya.
The competition, which took place in Montreal from January 3 to 8, is the oldest and largest case competition in the world, involving 36 teams from 5 continents, 150 outstanding MBA students from well-known business schools, and 270 judges from the Montreal business community.
The Asper team won every case leading up to the final round and led in overall points in the competition.
"The final case was extremely challenging," says teammate Amanda Macdonald. The team had three hours to analyze and evaluate an unpublished business case using the skills, knowledge and experience gained in their MBA program. They had no access to the internet. Their final product was a PowerPoint presentation demonstrating their insights into the business case and their detailed proposal for a solution.
The competitors were daunting. Some participating schools included Concordia, HEC Montreal, Haskayne, Schulich, Laval, DeGroote, and high-ranking business schools from Germany, Lebanon, Mexico, Dominican Republic, Chile, Sweden and the USA. The winning decision and the Concordia Cup went to Heinrich Heine University Düsseldorf, Germany.
Macdonald says the team worked incredibly hard before and during the competition. "We spent hours in pre-competition prep with coaches Marilyn Brennan and Judith Jayasuriya, and endless hours during the competition. We owe Marilyn and Judith a huge thank you, and the host of MBA alumni and business volunteers for their dedication and team support."