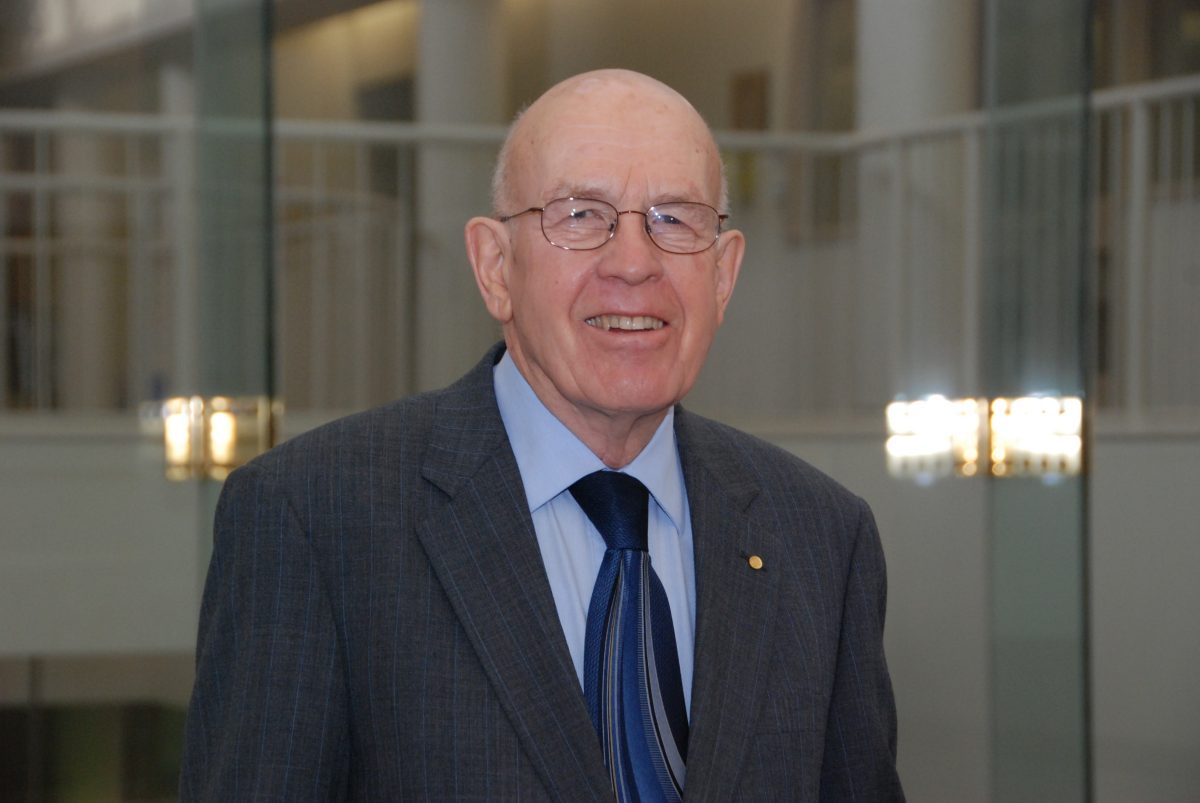 Honouring Dr. John Mundie's Legacy
Asper School of Business Dean Emeritus and Senior Scholar mourned by community on his passing on April 23, 2020
April 28, 2020 —
As the "faculty member's dean", Dr. John Mundie's 40-year career at the Asper School of Business is exemplified by the strong relationships he built within the faculty and with the external business community. With a warm and engaging personality, John created a family-like culture and his tenure was characterized by the Asper School's rapid growth and response to the changing culture of business education in Canada. Under his leadership, the School of Commerce increased in both student enrolment and faculty members.
Graduating from the School of Commerce in 1954, he was the first person to become director of the school after graduating and remains the longest serving senior administrator in its history. He received an MBA from Ohio State in 1955, then a PhD from Stanford in 1966. In 1955, he joined the school as a sessional lecturer and when the school became a faculty in 1970, John became its first dean. Dr. Mundie was named Dean Emeritus in 1985 and upon his retirement in 1995 he became a senior scholar in the faculty.
During his long tenure with the School, Dr. Mundie gave back in numerous ways; through his attendance at University of Manitoba events, alumni reunion lecture presentations and his support for students through the John Duncan Mundie Emergency Bursary Award.
Dr. Gady Jacoby, current Dean of the Asper School of Business and CPA Manitoba Chair in Business Leadership, noted that the School's strong connections to the business community were set in motion by Dr. Mundie, "We all have been fortunate to experience the wonderful legacy Dr. Mundie has left at the Asper School of Business and we will continue to enjoy it for years to come."
Asper School of Business Professor John Godard recalled knowing John first as an undergraduate and then graduate student in the late 1960s and early 1970s. "Those were very good days for the school…and he was a major part of them. He came across as a highly intelligent, kind, and thoughtful person. So, when I returned as a faculty member in the early 1990s, I was delighted to find that he was my neighbor on the sixth floor. The School had changed a great deal, but happily, he hadn't. He was always the epitome of what a dean, colleague, and human being should be."
Former Dean of the Asper School of Business and incoming University of Manitoba President, Dr. Michael Benarroch remembers John's kindness and dedicated attendance at University events, "John had a warm smile and his engaging conversation demonstrated his lifelong support of the Asper School, its community and its students."
Dr. Mundie will be missed by his wife of 64 years Margaret (nee Stevenson), children, Robert and Diane and grandchildren, John, Elizabeth (Lizzie) and Duncan, as well as his twin brother Peter (Anne) of Hudson, QC, and brother-in-law Bruce Roberton (Jean Ann).
If you would like to share words of condolences with Dr. Mundie's family please visit this link. An announcement will be made of a service to celebrate his life at a future date.