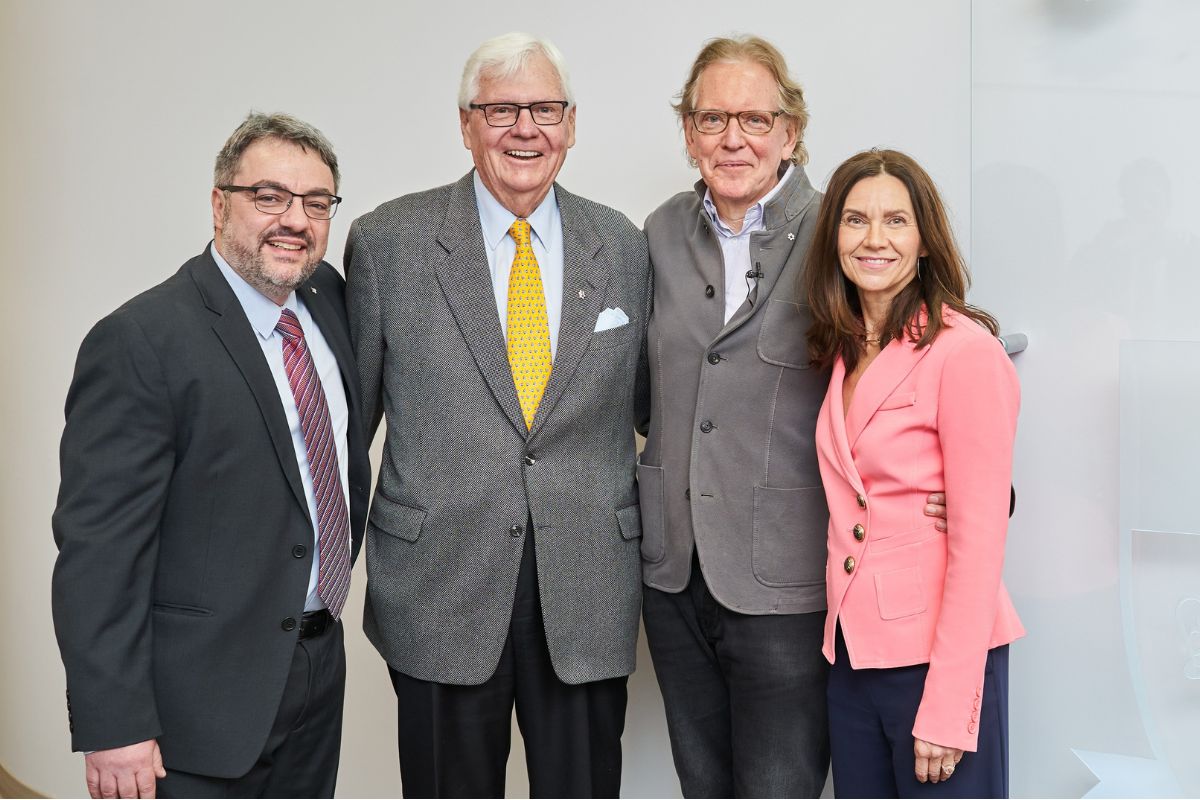 Asper experiential learning wins big at IDEA 2023
Landmark auction generates significant contribution to experiential learning at Asper
May 11, 2023 —
On May 4, more than 1,000 members of Manitoba's business, academic and governmental communities gathered at the RBC Convention Centre for the 2023 IDEA gala.
The Associates of the I. H. Asper School of Business presented the 2023 International Distinguished Entrepreneur Award to wine and beverage pioneer Anthony von Mandl, Founder, Owner and CEO of The Mark Anthony Group of Companies.
Visiting the Drake Centre in the afternoon for a student-focused Q&A, von Mandl shared stories about entrepreneurship, resilience and the wine industry before reflecting on his impressive career during his final presentation at the IDEA dinner.
von Mandl also made an unprecedented donation of a once-in-a-lifetime trip to experience the very best of the Okanagan Valley, which led to the introduction of a charity auction as part of IDEA celebrations.
This year for the first time in the award's 39-year history, The Associates held an auction to raise funds in support of experiential learning at the Asper School of Business. The inclusion of the auction at IDEA this year was conceived by the IDEA Committee Chair Arni Thorsteinson [BComm (Hons)/71, LLD/09] and successfully led by Paul Soubry [BComm(Hons)/84] and Ash Modha [BA/98].
The lively auction ran during the gala dinner and continued until May 5. Bidding closed with an outstanding final bid of $110,000, all of which will directly support experiential learning opportunities for Asper students. Congratulations go to Stu Clark [BComm(Hons)/76, LLD/2011] for the winning bid.
Half of the generous bid will support the Asper Student-Managed Investment Fund (SMIF), which allows undergraduate students to manage a real portfolio of equity and fixed income securities.
The other half of the bid will support experiential learning more broadly at Asper including case competitions, co-op education, international exchanges and more.
Bruno Silvestre, Dean of the Asper School of Business, emphasizes the importance of experiential learning in business education.
"With experiential and active learning, students learn by doing. Whether they learn on the job in our award-winning co-op program, expand their horizons on an international exchange or step out of their comfort zone to represent the Asper School in case competitions, our students benefit from the wealth of experiential learning opportunities we offer. They hone practical skills, build a network and connect with the business community, forming lifelong bonds and gaining tremendous hands-on experience.
"Thank you to Anthony von Mandl for this generous donation to the Asper School of Business, to The Associates for organizing the auction and to our business leaders for believing in the value of giving back to our students. A special thank you to Arni Thorsteinson, the IDEA Committee Chair, for creating this outstanding annual event."
Hear from students who have benefited from experiential learning and how funds raised from this auction will enrich their time at Asper.