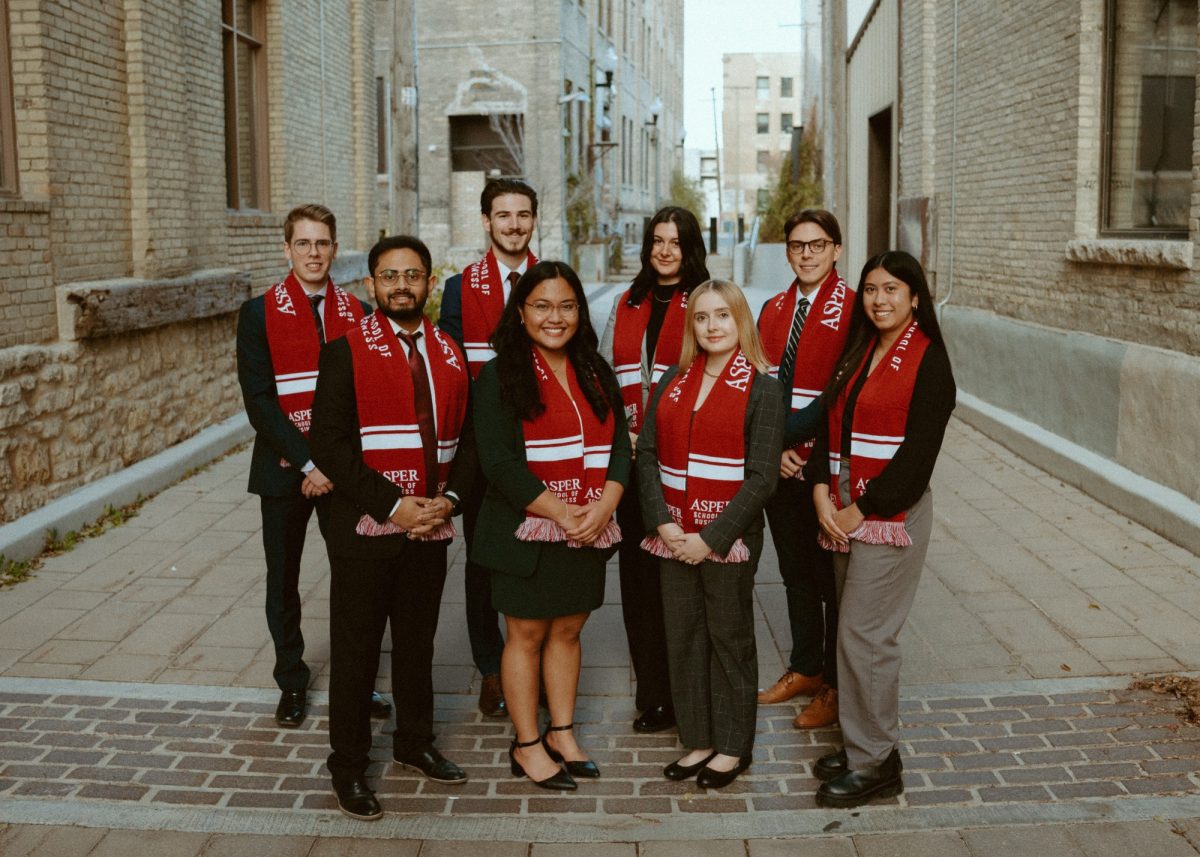 Asper Commerce Students' Association wins prestigious national award
Association shines through community work
March 22, 2022 —
Every year the Canadian Association of Business Students (CABS) hosts the largest and most prestigious student-run conference in Canada, connecting over 300 of the brightest student leaders from over 28 of the top business schools across the country.
In early March, the conference was held in Saskatoon, Saskatchewan where the Asper School of Business's 2021-22 Commerce Students' Association (CSA) was named the Most Outstanding Business Student Association. This distinguished award recognizes a student association and its executive team that has made the biggest strides in their management and execution of operations in the current year.
"I'm profoundly proud of the professionalism and hard-work demonstrated by this team. It's inspiring to work with such dedicated group of students," said Dr. Bruno Silvestre, Acting Dean and CPA Manitoba Chair of the Asper School of Business. "The Asper School of Business extends a warm congratulations to the CSA."
Despite all the challenges brought by the pandemic, the CSA demonstrated thoughtful leadership and led a variety of initiatives this past year.
The association provided free laptop rentals to students in need for remote learning, and awarded $10,000 in scholarships to their international student body. In addition, the CSA launched a complimentary ticket program for students in financial need, reserving five to 10 per cent of the tickets for events like the Business Banquet and Graduation Dinners for students who would otherwise not attend due to financial hardship. They also raised $11,271.95 in support of Cystic Fibrosis Canada during the annual Shinerama charity campaign and over $7,000 to-date in their current campaign in support of Resource Assistance for Youth (RaY) Winnipeg, a local charity that provides resources and programs for youth experiencing homelessness.
On the events side, the CSA hosted several networking events and received the first in-person conference in the CABS network since March 2020. The 29th annual National Business School Conference brought together more than 20 Canadian Business Schools. On top of that, the CSA continues to provide professional development opportunities for students with initiatives like the Mock Interview and Take-a-Student-to-Eat (TASTE) Programs.
"We continued to strengthen our relationship with the business community and organizations like The Associates and Young Associates. The Asper School is so lucky to have an organization like The Associates that continues to provide support to our students in our events and initiatives," said Connor Egan, CSA's President. "We also worked closely with the faculty throughout the year, during a period where the environment was rapidly changing around us."
The Asper Commerce Students' Association continues to serve as a link between the Asper student body, the faculty of the Asper School of Business and the broader business community.
2021-2022 CSA Executive team:
Connor Egan, President
Kyla Mae Dacanay, Vice President Internal
Adrian Socha, Vice President Finance
Alexandra Blake, Vice President Corporate Relations
Amanda Cerqueti, Vice President Professional Events
Haris Qamar, Vice President Academic Events
Cole Hutchison, Vice President Social Events