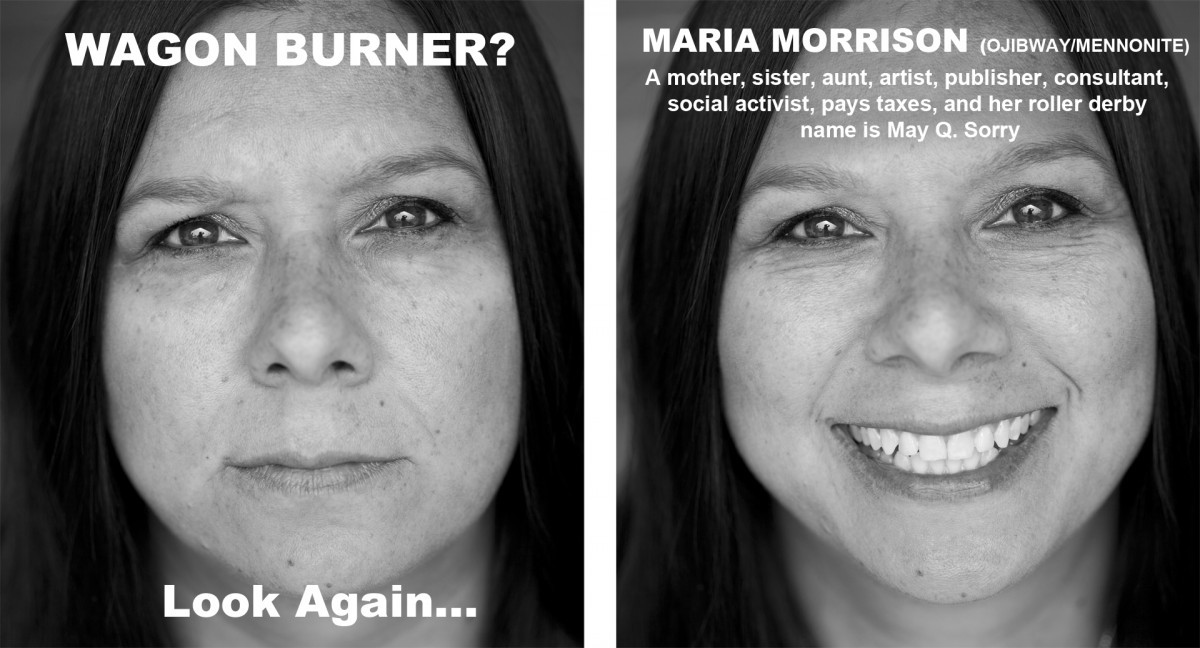 Art exhibit challenges perceptions
March 31, 2015 —
Lazy Indian.
Wagon Burner.
Government Mooch.
Youth at Risk.
 
These are all things that the Indigenous people who posed for a recent art project have been called. Images with their faces attached to these labels will be displayed on digital screens and in poster format throughout U of M's Fort Garry, Bannatyne and William Norrie campuses.
But KC Adams, the Winnipeg artist behind the project called "Perception," wants you to look again. A second portrait of each person features a different set of labels.
Instead of Lazy Indian, Leah Gazan (Lakota) is a mother, sister, auntie, professor, community leader, social activist, and circuit training goddess.
Instead of Wagon Burner, Maria Morrison (Ojibway/Mennonite) is a mother, sister, aunt, artist, publisher, consultant, social activist, pays taxes, and her roller derby name is May Q. Sorry.
Tired of hearing stereotypical and racist comments, Adams started taking the photos for Perception this past summer. For the first picture, Adams would say hurtful words to her subject as she shot them. For the second, she would get them to think of a happy moment in time, or a person who brings them joy.
"For Kim Wheeler, I said imagine you're walking down the street with your girls and you hear racial slurs. You can see her mama bear fierceness coming out," said Adams. For the second photo she had Wheeler think about her wedding day.
The result: a huge smile, accompanied by words Wheeler uses to describe herself. Instead of Government Mooch, Kim Wheeler (Ojibway/Mohawk) is a mother, writer, publicist, producer, homeowner, golfer, who paid for her own education.
"It's about how she sees herself versus the assumptions other people put on her," said Adams, adding, "It's not about accusing people that 'you think that,' but just illustrating that words hurt."
Adams says some people who've seen the project challenge her by asking, "aren't you putting down people who are in those situations?"
She points to Jenna's portraits as an example. "Jenna was a youth at risk, but that's never how she defined herself. We always have to look at people as to what they put on that right side."
So instead of Youth At Risk, Jenna (Anishinaabe) is a sister, auntie, two-spirited, activist, educator, author, drummer, signer, survivor, and megaphone girl at rallies.
Some of the individuals featured in "Perception" may look familiar. U of M Native Studies professor Niigaan Sinclair and Brennan Manoakeesick, program co-ordinator with CREATE H20 at the Centre for Human Rights Research in the Faculty of Law both posed for the Adams.
"(I participated) to out the concept of racism and to have a safe conversation with students, faculty, staff and others," said Manoakeesick. "In order to change racism you have to challenge how it's been normalized."
U of M campuses aren't the only place you can see "Perception." The project, which U of M is a proud sponsor of, made its debut throughout downtown Winnipeg last week. The university's office of Indigenous Achievement has been working with Urban Shaman gallery to bring "Perception" to campus.
"I am pleased to be a partner in bringing the Perception project to our U of M campus," said Deborah Young, executive lead for Indigenous Achievement. "The project uses the power of photographic images to raise awareness about racial stereotypes and hopefully, in doing so, will help dispel negative images of Indigenous peoples."
Adams, who did some of her post-secondary studies at the U of M is looking forward to "Perception" coming to campus. "I think that it's important for students who come to this school to learn about how words can hurt," she said. "For me, it's about creating a dialogue and openness."