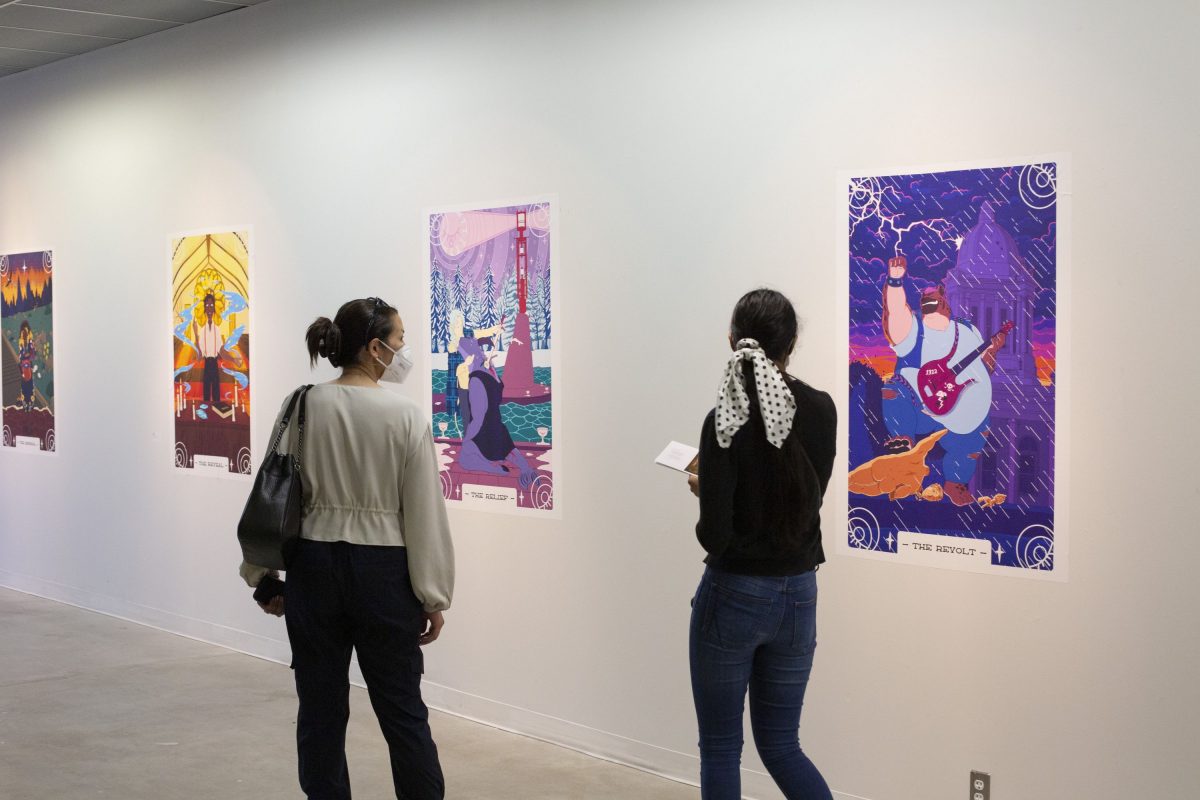 Art, design and planning students showcase work at two exhibitions this week
The BFA Honours Exhibition and the Faculty of Architecture's Year End Exhibition open on April 28
April 25, 2023 —
Friday is a big night for art, design and planning students at UM. On April 28, the School of Art and the Faculty of Architecture will be transformed into galleries where students will be sharing their works with the public.
More than 525 students will be exhibiting their works in the BFA Honours Graduating Exhibition and the Faculty of Architecture's Year End Exhibition.
The shows are inspiring examples of what the next generation of artists, designers and planners have been working on this past year.
2023 BFA Honours Graduating Exhibition
A School of Art tradition, the 2023 BFA Honours Graduating Exhibition is the result of four years of creative energy, growth and passion from 27 emerging artists.
Opening Friday, April 28, the School of Art's award-winning ARTlab will be transformed from a school to an exhibition venue for two weeks, where the hallways, studios and classrooms will showcase a wide range of media and styles, including photography, sculpture, ceramics, painting, drawing, printmaking, installation, video and design.
"The show spotlights fresh and innovative voices, says Alana MacDougall, sessional instructor and coordinator of the show.  "For most students, this is their first time being a part of an exhibition of this scale. Students are heavily involved in all stages of the process, from initial proposals to preparing the space and installing their work, to monitoring the show and engaging with visitors."
She notes that a large number of students are working with installation and new media. "This year, many students are exploring sound as a component of their works. There are also works in the show that invite viewer participation," she says.
"The show should be an exciting introduction to the work of emerging artists who will soon be graduating and joining the exciting art ecosystem in Winnipeg," says MacDougall.
BFA Honours Exhibition
April 28–May 12, 2023
School of Art – ARTlab
180 Dafoe Road, University of Manitoba
Opening Reception:
Friday, April 28, 5:00–8:00 pm
Faculty of Architecture Year End Exhibition
The Year End Exhibition annually showcases the work of over 500 undergraduate and graduate students from the Faculty of Architecture. The work is displayed in classrooms, studio spaces, hallways, entrance foyers and lounges. Descriptions of assignments are posted, and both students and professors are on hand to meet and discuss the nature of the work.
"We are truly excited to welcome the public and the university community back to the Faculty of Architecture to celebrate the work of our students and faculty at an in-person Year End Exhibition," says Mimi Locher, Dean of the Faculty of Architecture. "This event is a wonderful culmination to an active academic year."
Students from environmental design, architecture, city planning, interior design and landscape architecture will be displaying their work. Some of the studios on display include:
the Indigenous Planning Studio that worked with First Nations on planning projects identified by the partner First Nation, including mapping Cree placenames in Opaskwayak Cree Nation's territory, developing ideas for a new housing development with Sagkeeng Anicinabe Nation, and engaging community members in visioning the Long Plain First Nation's National Indigenous Residential School Museum's future.
designing a new residential area for Winnipeg within the context of the Regional Growth and Servicing Plan 20/50;
designing a forest school that blurs the distinction between the interior and exterior, built environment and natural environment, by bringing elements from nature into interiors or vice versa; and
designing public spaces in downtown Vancouver, within the context of the city's Downtown Public Space Strategy.
"Our buildings will be buzzing with conversation and music, and visitors can enjoy refreshments while viewing the work displayed throughout the classrooms, studio spaces, and hallways," says Locher. "I invite everyone to come by to see the work and help us celebrate our students."
2022-2023 Year End Exhibition
Friday, April 28, 2023
6:00 – 10:00 p.m.
John A. Russell Building & Architecture 2 Building
University of Manitoba
The Year End Exhibition is also open Monday, May 1 and Tuesday May 2, 2023 from 10 a.m. to 3 p.m.
Both the BFA Honours Exhibition and the Architecture Year End Exhibition are free and open to the public.
Stayed tuned for more information about the MFA Thesis Exhibition, which opens on May 26.