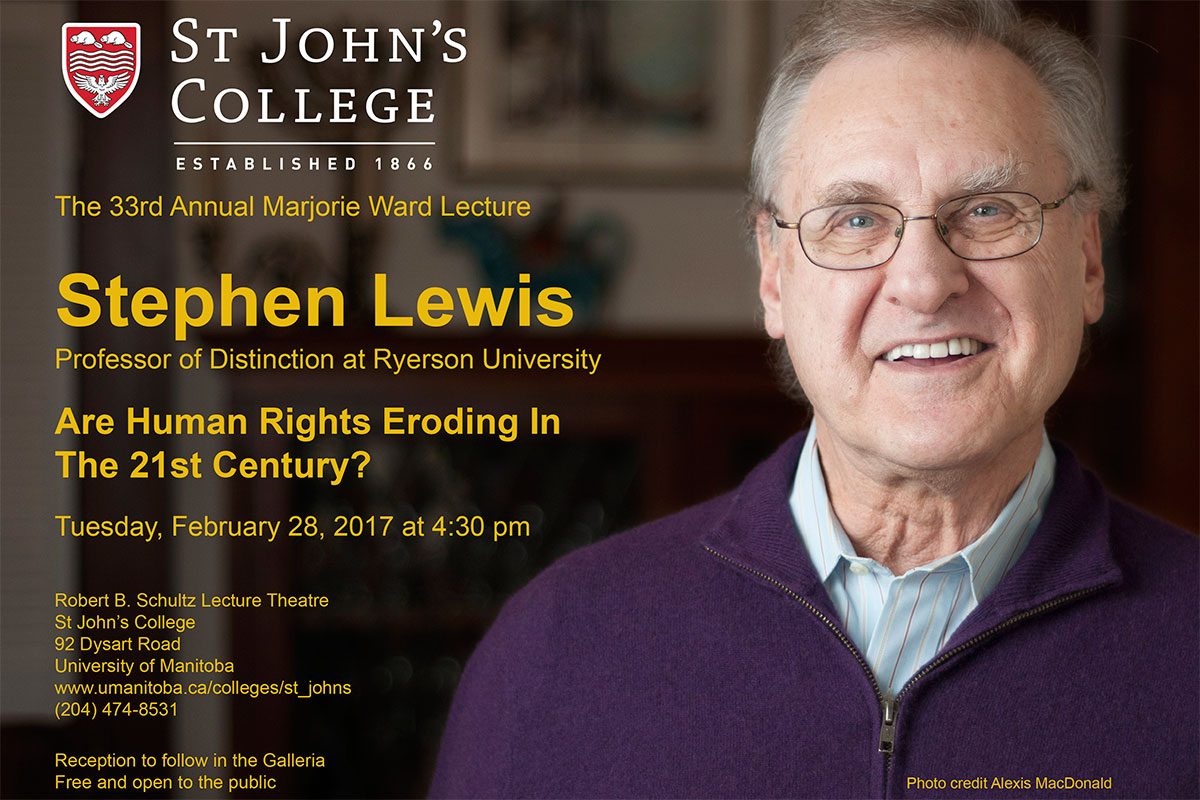 'Are Human Rights Eroding in the 21st Century?': Stephen Lewis speaking on campus Feb. 28
February 24, 2017 —
On Feb. 28, an iconic Canadian figure is coming to St John's College at the University of Manitoba as part of the Marjorie Ward Lecture Series.
Stephen Lewis, who "wrote the book" on human rights, will give a talk titled: "Are Human Rights Eroding in the 21st Century?"
Stephen Lewis is known as a Canadian politician, public speaker, broadcaster and diplomat. He was the leader of the Ontario New Democratic Party for most of the 1970s. After politics, he became a broadcaster on both CBC Radio and Toronto's CityTV. In the mid-1980s, Prime Minister Brian Mulroney appointed him as Canada's United Nations ambassador. Lewis quit politics in 1988 and worked at various United Nations agencies during the 1990s. In the 2000s, he served a term as the United Nations' special envoy for HIV/AIDS in Africa. In 2003, he gained investiture into the Order of Canada. He received an honorary degree from the U of M in 2007.
Today, Stephen Lewis is a distinguished visiting professor at Ryerson University in Toronto. He is the board chair of the Stephen Lewis Foundation, dedicated to turning the tide of HIV/AIDS in Africa and he is co-founder and co-director of AIDS-Free World in the United States.
The Annual Marjorie Ward Lecture is a significant event in the St John's College calendar. The lecture series was established in 1981 to honour Marjorie (Webster) Ward, former College Registrar, who passed in 2016.
Over the years, lectures have been presented on various aspects of life in Western Canada. Marjorie Ward Lecturers have included such well-known names as Glen Murray, Tracy Dahl, Robert Enright, Etienne Gaboury, Carol Shields, Ovide Mercredi and Bramwell Tovey.
What: 33rd Annual Marjorie Ward Lecture

When: February 28, 2017, 4:30 pm

Where: Robert Schultz Lecture Theatre

Everyone is invited to this free public lecture.

Public reception to follow in the Galleria.