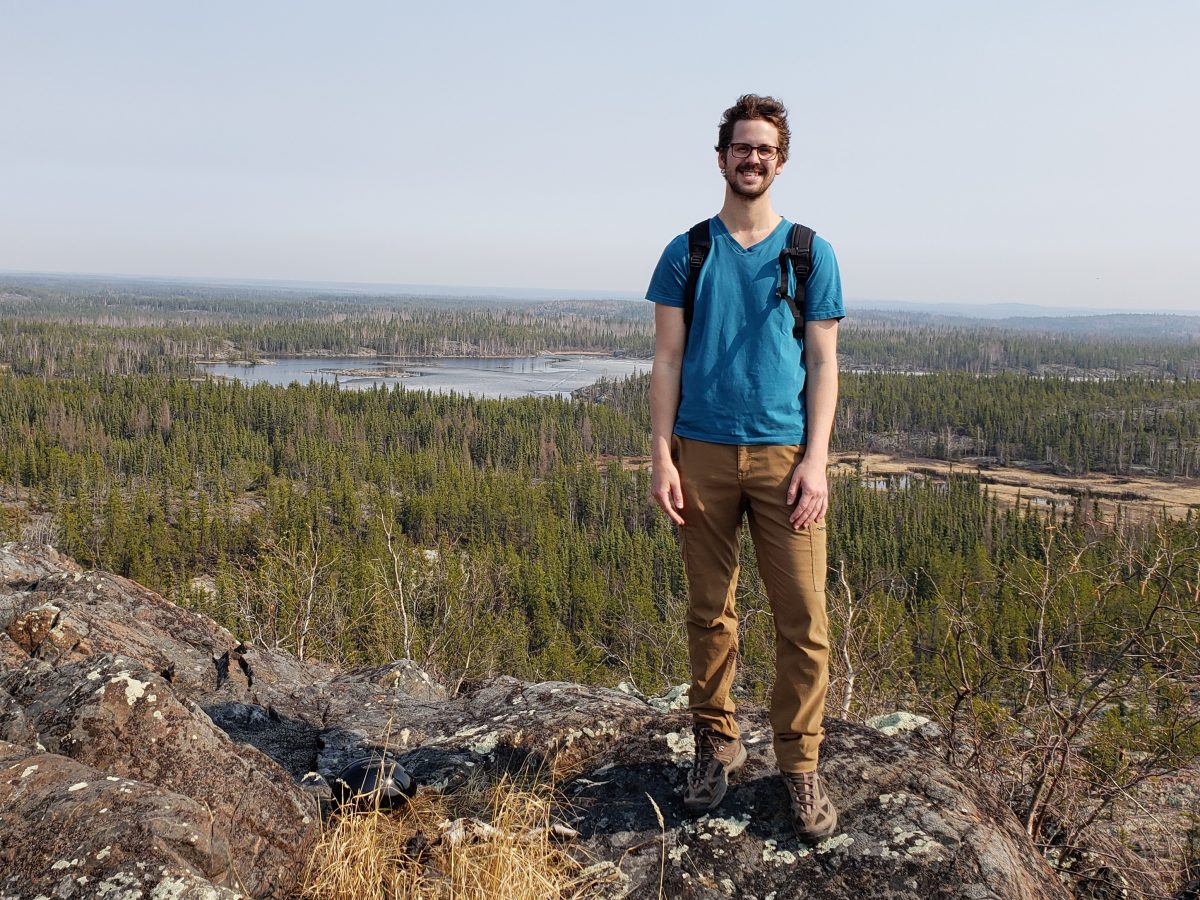 Archival Studies student enjoys connecting people to the past
Internship in Yellowknife adds unique experience to MA degree
September 16, 2019 —
If you had the chance to spend the summer in Yellowknife while gaining experience in your chosen field, would you take it? Jason Carrie, M.A. in Archival Studies student had that opportunity. We asked him about his experience and his studies in the Faculty of Arts.
Tell us about your background, past degrees and how you got to be where you are in your education.
I'm from Kenora, Ontario. After high school I went to the University of Waterloo and completed my B.A. in History with honours. During my B.A., I became increasingly interested in museums and decided to go to Fleming College to complete the Museum Management and Curatorship program. After I received my Ontario College Graduate Certificate I worked at the Halton Region Museum (now Halton Heritage) and volunteered at the Oakville Museum. Then, I moved to the West Parry Sound District Museum. It was while I was in Parry Sound working with members of the public researching their family history that I knew I wanted to switch to archives. But, I recognized that I would need to pursue a Masters degree.
Why did you choose Archival Studies? Why UofM? And, where do you hope your MA in History (Archival Studies) will lead you?
I chose Archival Studies after a personal experience assisting a daughter find her late father's photograph album that had been donated to the museum. It was a powerful moment that cemented my decision to apply to archival studies programs in Canada.
I chose the University of Manitoba for a number of reasons. U of M is close to home, tuition is more affordable in comparison to other Canadian programs, the student to professor ratio is exceptional, I was fortunate to be offered a Manitoba Graduate Scholarship, and our professors Tom Nesmith (now retired) and Greg Bak are well known in the archival community.
I hope that my degree will keep me in the Heritage and Culture field. Whether it is in a large archives or a small community museum, I have always enjoyed the challenge of connecting people to the past.
What can you tell us about your internship this summer?
My internship this summer took me to Yellowknife, North West Territories. I was part of a project at the NWT Archives to describe 5000 digitized photographs from the Native Press newspaper. The Native Press was an Indigenous newspaper which covered stories in the western NWT from 1971-1993. For my phase of the project we described photographs from 1971-1977. The NWT Archives partnered with the Tłı̨chǫ Government on this project and I worked from April to June with a Tłı̨chǫ contractor to describe the images.
Additionally, we conducted two identification workshops in Behchokǫ̀. Elders were invited to attend the workshop and identify people and places in the images. The workshops were about sharing images back with the community and improving the descriptions. The NWT Archives was invited to attend the Tłı̨chǫ 15th Annual Gathering in Gamèti. We brought 50 large scale photographs, two photo albums with over 300 photographs, and the 5000 digitized images to be displayed on a loop. The trip to Gamèti offered the chance to share photos with as many people from the four communities as possible.
My final task in August was to write the fonds description for the Native Communications Society (the parent organization of the Native Press from 1975-1993). I had the chance to interview former staff from the Native Press which helped me understand better the daily operations and administrative structure of the Native Press in addition to personal stories that brought the records to life.
What's the most exciting or unique thing that happened to you during the internship?
There were many unique experiences that I had during my trip to Yellowknife. Eating Easter dinner on a house boat off of Jolliffe Island in Yellowknife, seeing the arrival of the paddlers on the Trails of Ancestors annual canoe journey at 2:00 am in Gamèti, walking across Frame Lake in -20 C weather in May and sitting above Cameron Falls in July.
How does the internship add value or benefit your studies and research?
The internship component of the M.A. History (Archival Studies) allows students to put into practice the theory they have learned. Additionally I will base part of the third chapter of my thesis on my internship experience.
I am currently working on my last chapter of my thesis. It is on archives in the Canadian territories – on the challenges archives face in the north and how they have addressed them. I am also looking at the value and meaning of archives and why they are important for the north. I am highlighting how projects such as the NWT Archives Native Press digitization project are meaningful.
What's next for you?
I am currently working part-time as a student at the National Centre for Truth and Reconciliation. I plan on defending my thesis sometime in early 2020 and graduating in the summer of 2020. After I finish my M.A., I hope to continue to work in Winnipeg. There are some amazing archives and culture and heritage organizations in the city.
What advice would you give to those considering this M.A. program?
My advice to prospective students is simply to apply. Our program has had students with an array of educational backgrounds. The class sizes are small. The first year can be tough but, you come out with a strong understanding of the theoretical underpinnings of the profession. The internship will provide you with practical experience and often leads to part-time work and helps build a network with other professional archivists. Our students have interned in Winnipeg at places such as the NCTR, the Hudson's Bay Company Archives, the Manitoba Archives, the Canadian Museum for Human Rights among many other great places in the city. Students have also travelled nationally and internationally for their internships and had amazing experiences. The thesis component allows students to explore a topic of their interest in-depth and contribute to archival literature. Students from the program have gone on to publish in journals such as Archivaria. Students can also join the U of M Association of Canadian Archivists Student Chapter and the History Graduate Student Association which provide opportunities to network with other students and professionals in the field.
To close, my experience has and continues to be extremely rewarding, I've had so many opportunities that would have been impossible outside this program. I've enjoyed my time working with fantastic professors and my fellow students. I've had phenomenal internship experiences at the Hudson's Bay Company Archives, the National Centre for Truth and Reconciliation and the NWT Archives. During my time with the History Graduate Student Association I was lucky to volunteer with many exceptional students and professors who helped make the Fort Garry Lectures event a success each year. Thank you again for the opportunity to be featured.
Interested in pursuing a graduate degree in History (Archival Studies)? Attend the History M.A. Information Session on Friday, October 11, 11:30 am – 12:30 pm in Room 111 St. John's College to hear about all of the available History M.A. programs. No registration required.