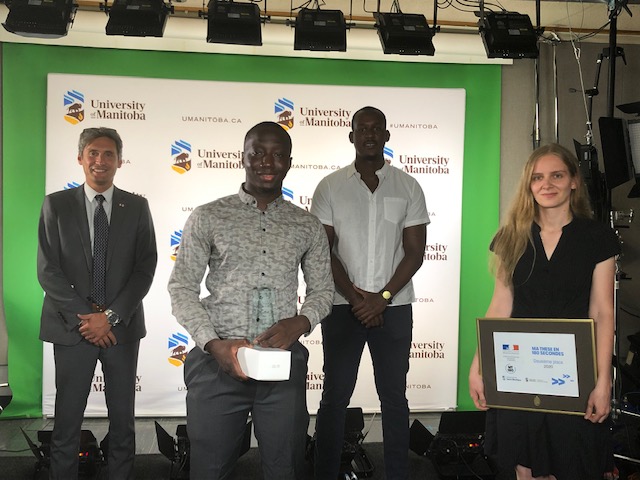 Applications now open for 'Ma thèse en 180 secondes' competition
March 5, 2021 —
Describing your research concisely in three minutes or less is a great skill to possess. Ma thèse en 180 secondes provides the opportunity to master your elevator pitch in French.
Launched in 2012, the French-language communication contest is modeled after the 3MT competition founded by The University of Queensland. This April, students in Manitoba will get the chance to compete for cash prizes, with the winner of the provincial competition advancing to the Canadian final and having a chance to move on to the international contest.
"As Manitoba has a large francophone community, it makes sense to give our francophone students the opportunity to participate in this national event," says Jean-Eric Ghia, associate professor of immunology and internal medicine at the Rady Faculty of Health Sciences and Honorary Consul of France in Winnipeg. "The objectives for the students are to convey in French the passion for their research while informing a diverse audience of Francophone people in an accurate, creative way."
The Manitoba competition will be pre-recorded on April 9, 2021 and be available to view online on April 15, 2021.
To be eligible to compete in the competition you must:
Be a current student in Manitoba registered in a Doctoral or Master's degree program; or be a student who was registered for Fall Term 2020, and who defended their thesis prior to December 31, 2020.

Master's students are able to compete in the UM event, however only Doctoral candidates will be eligible for the Canadian and international final competitions.

Be available to present at the national final in June 2021 if chosen as the winner of the local competition.
Be available to present at the international final in late September 2021, if chosen as the winner of the national competition.
Not have won jury or public prizes at a national competition for 3MT or Ma thésis en 180 secondes previously. (Students who have competed in 3MT are eligible to also compete in Ma thèse en 180 secondes.)
Do your presentation in French.
How to Apply:
Complete the application form.
Create a 30 second video in which you introduce yourself, indicate your department and program, and briefly explain your research.
Email the completed application form and video to deanfgs [at] umanitoba [dot] ca with the subject line "Ma thèse en 180 secondes."
Apply Today! Don't miss this opportunity to share your research, showcase your communication skills in French, expand your network, and stand out.
Application deadline to apply is March 22, 2021 at noon.
For more information about the competition, visit our website or contact jean-eric [dot] ghia [at] umanitoba [dot] ca
Watch the 2020 presentations Ma thèse en 180 secondes.