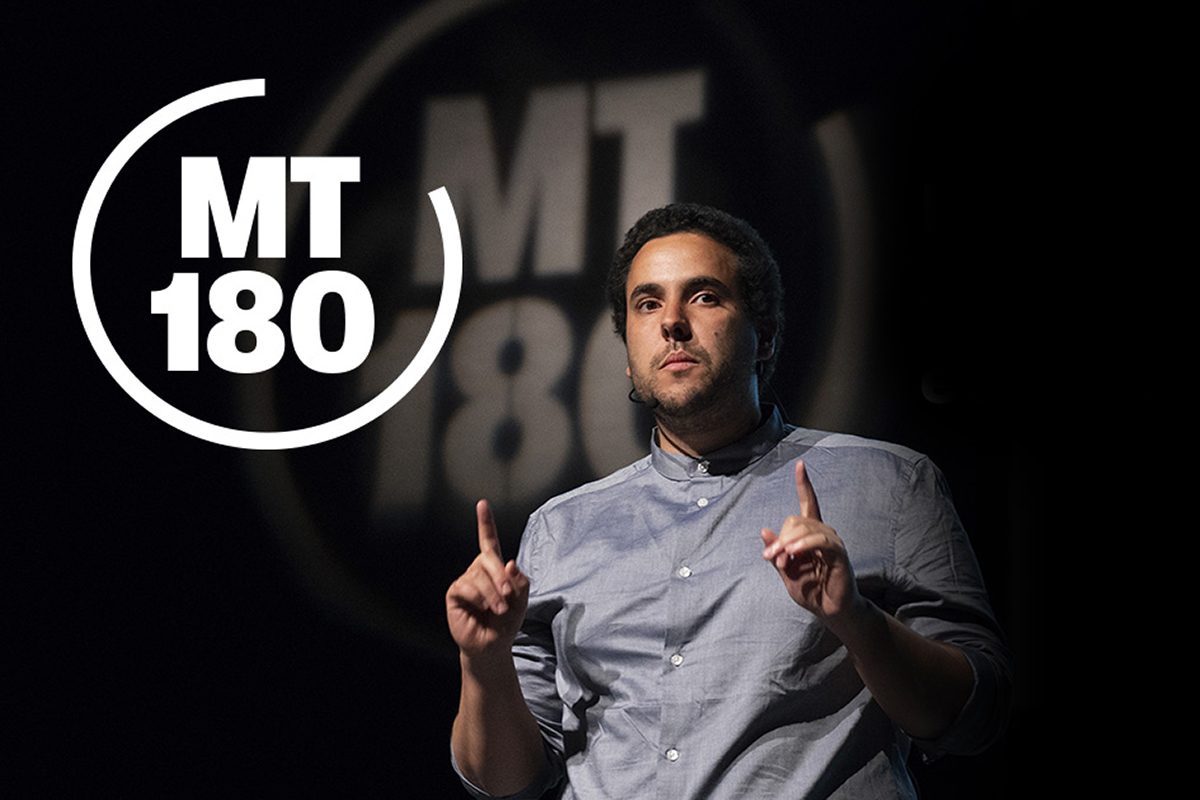 Applications for MT180 2022 competition now open
January 12, 2022 —
Calling all French-speaking graduate students: Applications for the 2022 Ma thèse en 180 secondes (MT180) competition are now being accepted, so start preparing your presentations! This is the third year that the Faculty of Graduate Studies (FGS) will be holding a Ma thèse en 180 secondes competition for current UM graduate students.
Ma thèse en 180 secondes is a French-language communication contest launched by Acfas (Association francophone pour le savoir) in 2012, modelled after the Three Minute Thesis competition founded by The University of Queensland in 2008. Each challenger, in three minutes or less, must present a clear, concise explanation of their research project, in French.
MT180 is designed to be a challenge for students to succinctly convey ideas and principles of research in a way that will be understandable by a lay or non-specialist audience.
"Trying to communicate a specific research aim is always challenging, especially when we share it with the public," says Jean-Eric Ghia, Associate Professor, Rady Faculty of Health Sciences, and Honorary Consul of France in Winnipeg. "In a world where science communication became a key element, "Ma thèse en 180sec" gives Francophone graduate students, located in Manitoba, an opportunity to enhance their communication skills and storytelling capacities.
"Essayer de communiquer un objectif de recherche est toujours un défi, surtout lorsque nous le partageons avec le grand public. Dans un monde où la communication scientifique est devenue un élément clé, "Ma thèse en 180sec" donne aux étudiants candidats à la maîtrise et au doctorat francophones, situés au Manitoba, l'occasion d'améliorer leurs compétences en communication et leurs capacités de narration."
Nolan De Leon, a master's student in physiology and pathophysiology, explained his thesis on using circular RNA for the prognosis and diagnosis of congenital anomalies and won first place at the second annual University of Manitoba MT180 finals on April 15, 2021. He also competed in 3MT and won first place in that competition as well.
"The [MT180] competition was a great way to introduce me to all of the wonderful work being done in our university and gave me a chance to hone my skills as an effective communicator," says De Leon discussing his experience. "As a scientist and an aspiring physician, I believe that communication is key to understanding problems and providing patients with the best care. By finding ways to turn our research into a conversation, we ultimately bring our ideas to life."
By finding ways to turn our research into a conversation, we ultimately bring our ideas to life." ~ Nolan De Leon
Kelley Main, acting Dean of the Faculty of Graduate Studies, says: "I hope our graduate students who speak French will consider competing in MT180. It is a great opportunity to present one's research to a non-academic audience.
"J'espère que nos étudiants de deuxième et troisième cycle qui parlent le français considéreront une participation au concours MT180. Il s'agit d'une chance unique de présenter votre travail de recherche à un auditoire autre que celui du monde universitaire."
Competitors will present in UM's MT180 competition on March 24 and have the chance to move on to the national final taking place on May 11, 2022.
Information on how to apply for MT180 can be found on the Faculty of Graduate Studies website.
Applications for MT180 2022 close February 13, 2022 – apply now in English or in French.
Applications are being accepted from all universities in Manitoba with graduate programs.  Current doctoral or master's students can compete at the competition being held at UM, however only doctoral candidates will be eligible for the Canadian and International Final competitions.